Why YOU need a gaming chair and which one is the best: My gamer chair test for gamers!
Welcome to progamingchair.com, THE place to go for gaming chair reviews, advice, videos and more. I'm Marco and my claim is to test as many relevant gaming chairs as I possibly can: And we're talking real tests here, which means I really have the chairs here and am not telling you made up nonsense.
Through my gaming chair experience I can tell you which gaming chair suits you. Because it's not just about good and bad, but also about whether the gamer chair fits your body constellation.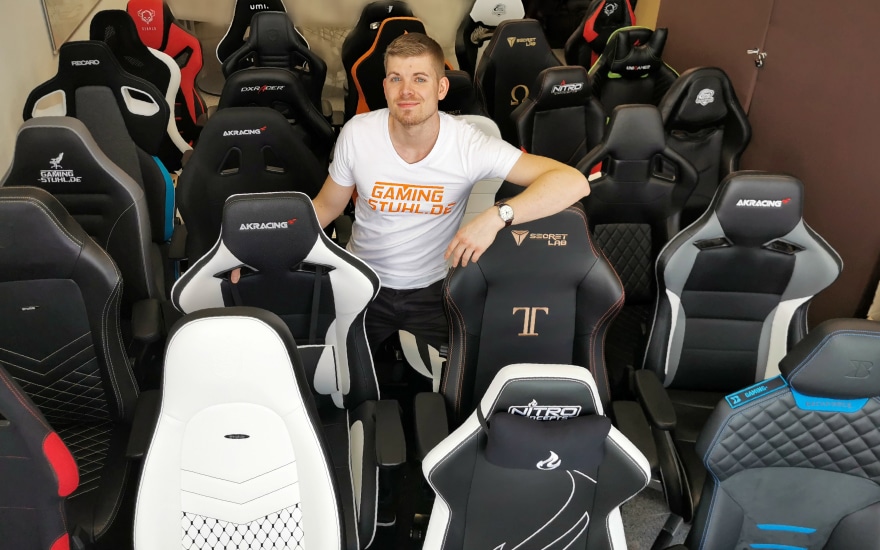 Why get a gaming chair at all?
When sitting, it is important that all areas of the body are supplied with blood as well as possible. By adopting an appropriately comfortable and ergonomic posture, we ensure that all risk areas are better supplied with blood. If you want to succeed with gaming and you are serious about it, then a gaming chair is a MUST, because no body is guaranteed to last 5 hours on a folding chair without signs of fatigue.
"If you sit on a comfortable chair, you feel good, and if you feel good, you simply play better."
– Marco, just now
I estimate that at least 98% of pros' sit on a decent gamer chair when they play. It's a worthwhile investment, after all, considering how many hours a day (or night) you spend sitting at your computer. There are probably quite a few of you who, like me, used to easily gamble 8 hours a day or even spend entire weekends at the computer.
Recommendation: The Backforce One gaming chair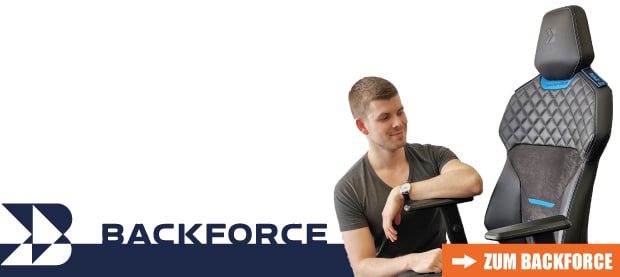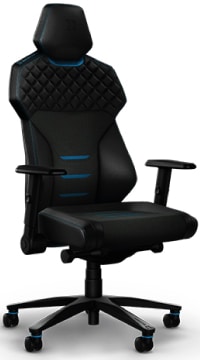 The Backforce One is a chair produced by hand in Germany. It is not only produced sustainably in a family business and is 100% recyclable, it also has a lot going for it ergonomically. It shines with its synchronous mechanism, a classy look and armrests that fold away completely. It also benefits from the manufacturer's 50 years of ergonomic experience.
In addition, it offers you an LED brooch on the backrest to its coordinated design and can be personalized by you. Find out whether the chair fits your body and what else it delivers in my ▷ Backforce One test.
The 4 most popular gaming chair brands
Secretlab purchase and size guide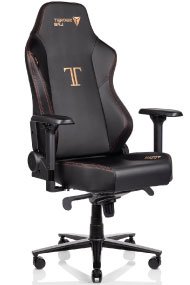 Secretlab is a manufacturer that has gained massive popularity in recent years. The brand produces absolutely high-quality chairs, which are available with a wide variety of covers. Of course, the models follow a high standard: 4D armrests, knee rocker mechanism, high-quality materials and also adjustable lumbar supports are in the program.
For the sake of clarity, Secretlab concentrates on 3 models: the OMEGA, the TITAN & the TITAN Evo. Here is something for every body, without confusing the buyer with countless models.
Noblechairs purchase and size advice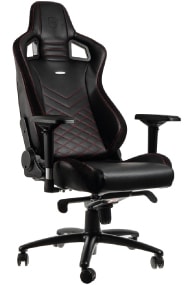 With the EPIC model, premium manufacturer noblechairs launches the world's first genuine leather gamer chair. The high-quality and uniquely precisely crafted materials catapult the new brand to the top of the gamer office chair charts in terms of seating climate, aesthetics & quality. This is achieved by using the latest manufacturing techniques, known from the automotive industry.
The range is innovative and well thought out – no inflation alarm like DXRacer. Among the ICON, EPIC & HERO series, everyone will find their perfect gaming chair.
Info and advice on DXRacer gaming chair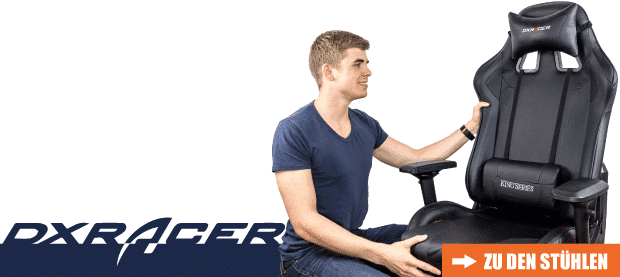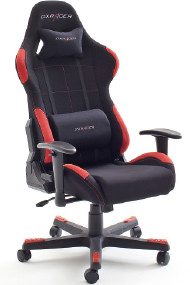 DXRacer, as one of the biggest and oldest brands, also makes some of the best gamer chairs – along with the other three top brands. Here you get unmatched quality from cheap manufacturers, multiple adjustment options, cool designs and suitable swivel chairs for every height and weight. In the size advisor you can find all models in comparison!
I have already had the opportunity to test several models and have written a report with video about the DXRacer from the King series. Here you can find the currently most popular gamer chair test: ▷ DX Racer1
Best gaming chair from AKRacing for your size and stature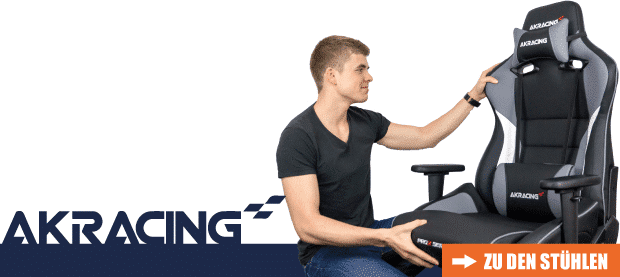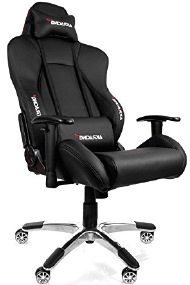 AKRacing is one of the gaming chair giants. Only a short time has passed since the launch of the DX Chairs, and AKRacing has followed up – with damn good desk chairs. Here, too, everything is right: the chairs look great, they are ergonomic, stable and, above all, quite comfortable.
The wide range is sure to have a suitable fabric or PU leather gamer chair for you. Here you can find the test report on the Master Pro chair: ▷ Master Pro and here the ▷ Core Ex Wide in test.
Find the right gaming chair for your height
A very important topic that many people don't even realize: Your gaming chair has to fit you, i.e. your height and body weight. Otherwise you run the risk of…
▷ Marco helps: live chat, email or comment◁
It's absolutely important to me that you make the right decision from the start. Dismantling a gaming chair after assembly and sending it back is an absolute ordeal. Ever tried to get a gas spring back out of the seat? Or ever taken a 30kg package like that to the post office? Annoying! 😀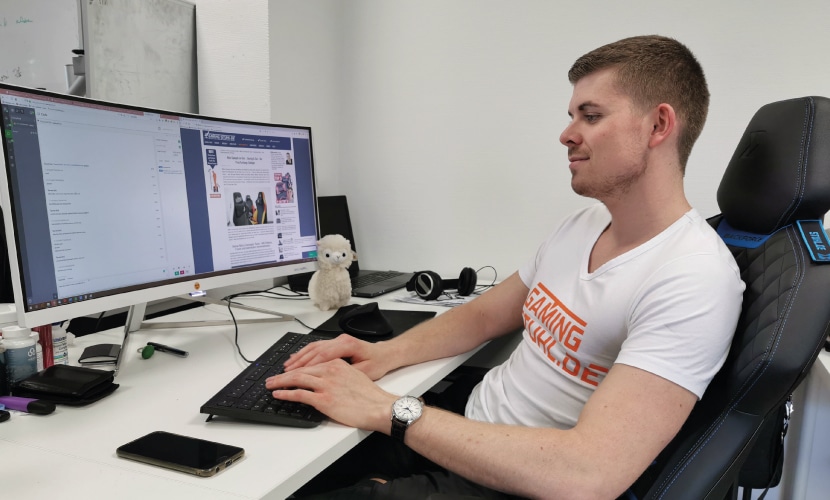 You can always contact me if you are unsure: You can send an email to marco@gaming-stuhl.de, comment on the corresponding test reports or ask me questions in the live chat, which at least always runs when I'm on the computer. And that is often the case.
In the best case scenario, you'll buy the PC gamer chair that's right for you right from the start.
Find the optimal chair that is tailored to you:
I always preach: your personal gaming chair should be compatible with you. Body size & weight must fit your new seat: Rely on the size guide I've created for you: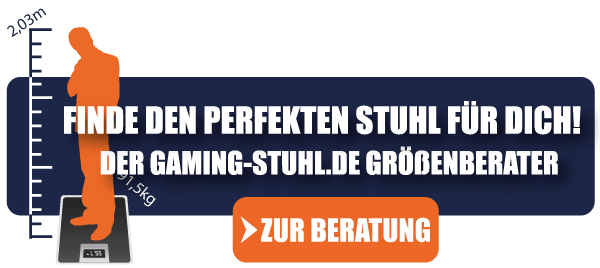 Gaming chair test: 5 years experience, YOU need to know before buying!
For those less involved in the topic, it's hard to figure out what you really need in a gaming chair: Is it the synchro mechanism, the rocker mechanism, the 4D armrests, or the cover material after all? Is the base important, and the casters?
All these questions have been on my mind for 5 years. Therefore, I would like to give you an overview of the individual functions and variants that gaming chairs generally offer.
Structure: The uninteresting drop in the bucket
Meanwhile, I neglect the assembly of the gaming chairs in my reviews. Because let's be honest: They can all be assembled, but do we really care how long it takes us to assemble them? Whether we have to screw for 10 or 15 minutes is completely irrelevant if we use the chair for 5, 10 or 20 years.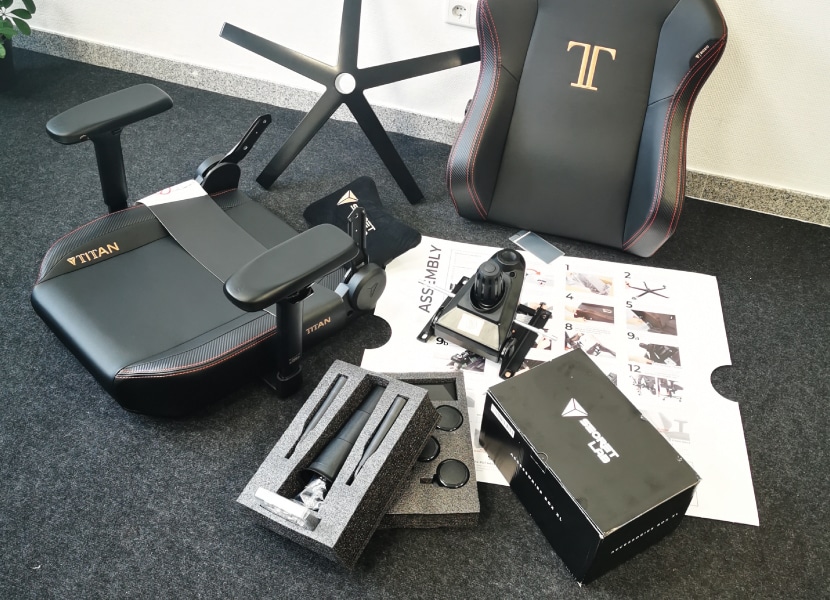 In the end, what counts is quality and comfort. If we sit on it for 300 hours a year, that's 18,000 minutes. Screw 10 or 20 minutes of assembly, the focus is on the final result of the gamer PC chair.
In short: the basic things to know:
The frame: Wood or steel?
The vast majority of gaming chairs have a steel frame. This framework consists of steel tubes and sometimes "steel wires" that give the chair its shape.
The foam is then often poured onto this framework. In cheaper models, the foam is usually not poured, but the upholstery foam consists of cut foam, which is laid on.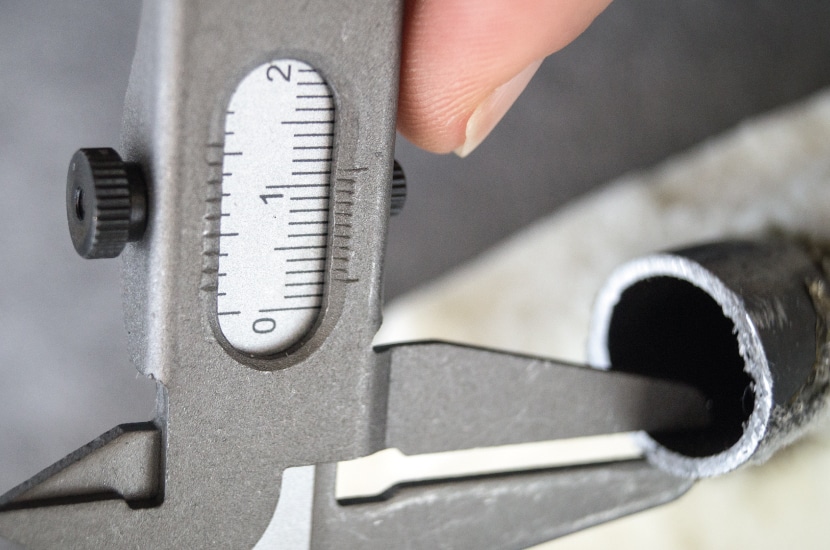 Many manufacturers give a significantly extended warranty on the steel frames: why not? The steel tubes usually have 1-2mm thick walls and are basically non-destructible if welded properly, which should be the case with most PC gaming chairs.
Wood: unstable and cheap? No, ergonomic!
Especially some German manufacturers do not rely on steel frames, but on wood. One or the other may prematurely cry out….
"öööh, that is much more unstable than steel and therefore worse!"
I can not blame him, seems logical: But it is not so simple. The advantage of a wooden "shell" is that the body weight is completely evenly distributed. With the steel version, the cushion is held by straps and steel wires, through daily use, the cushion sinks in the long run, even if only minimally. This does not happen with the wooden frame. The cushion has a completely even contact surface and no possibility of sinking. This makes for some small advantages from a purely ergonomic standpoint. We sink in less and remain mobile on our PC Zocker chair. Theoretically, of course, wood is less durable than a steel construct: but that doesn't mean the wood will break quickly. The materials are also very durable.
The cover: genuine leather, imitation leather or fabric?
People often ask what is best. However, I can not tell anyone, because it always depends on some personal factors: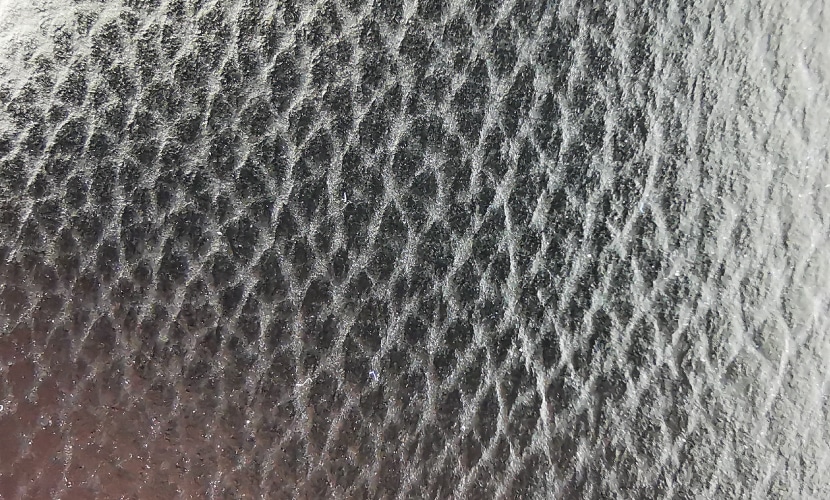 Genuine leather: Genuine leather is very expensive for producers to purchase, so genuine leather gaming chairs are also usually very expensive. Advantage: Genuine leather is breathable, feels good and gives you the feeling of owning a particularly high-quality gamer chair. Disadvantages: Genuine leather needs to be maintained – do you really want to do that?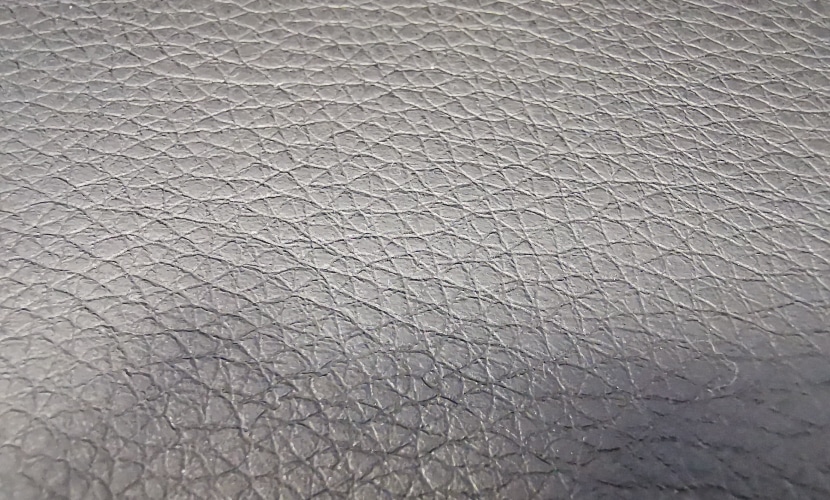 PU leatherette: Most gamer chairs are covered with PU, i.e. polyurethane. Here there are different classes, also called "Grades". Higher Grades are correspondingly higher quality than lower Grades.
PU is basically less breathable, whereby on High Grades definitely less sweat than on lower Grades.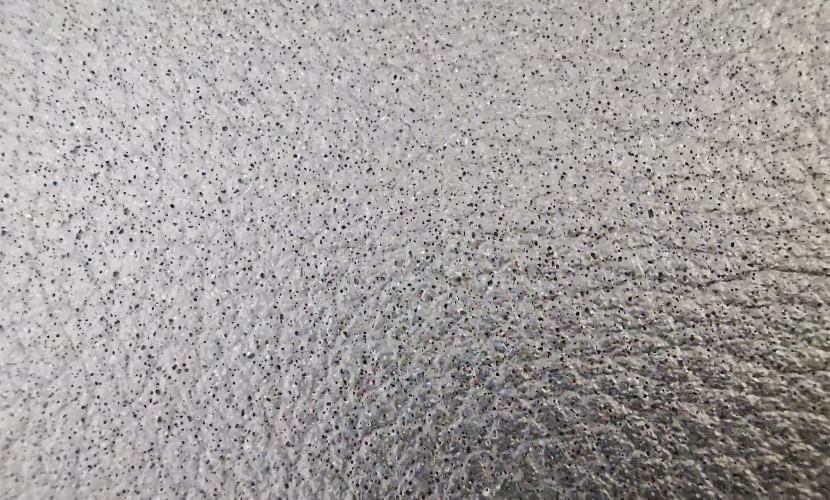 Faux leather made of hybrid material: This faux leather provides variety. Unlike normal PU leather, this type of cover is breathable. Made of PU and vinyl, it is abrasion resistant, breathable and pleasant to the touch.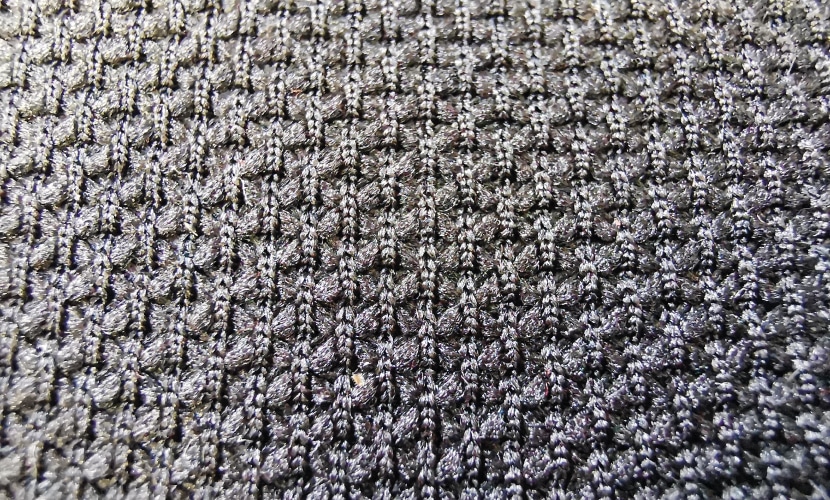 Fabric cover: Fabric is breathable, which is the biggest advantage. It is also more suitable for cat owners, where the cats could damage delicate leather of even the best gaming chair in comparison. In return, you have to make a greater effort to clean it if it gets dirty.
Faux leather made of PVC: Almost a no-go for me, I always call it paddling pool leather. It is not breathable and feels like the thick PVC tarpaulin of a paddling pool. Serious drawback: fatty substances like even skin grease will cause softeners to dissolve out of the cover. Bad for you and for the durability of the leather.
The upholstery: HDF, Ultracomfort & Co.
There are many descriptions for the same foam: sometimes it is called Ultra Comfort, sometimes HDF (high density foam). But basically it is always a cold foam with different values in compression hardness and density.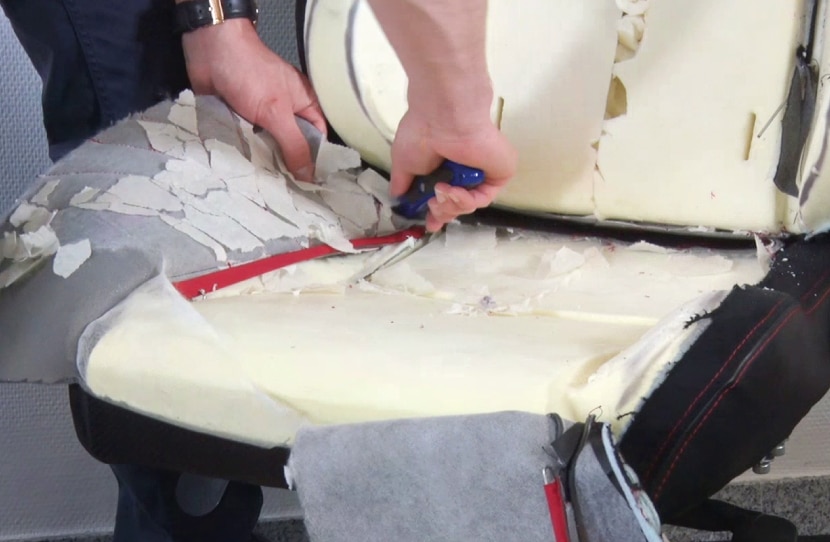 The density is usually given in kg/m³ and tells us how much the foam weighs per cubic meter. Together with the compression hardness, this gives us information about the hardness of a cold foam.
As a rule of thumb, cold foams with a density of 40-50kg/m³ or more are considered high-quality and permanently elastic. Larger brands often also specify the foam densities and rarely stay in ranges below 50kg/m³. Consequently, very high-quality foams are usually used.
The mechanics: Rocker mechanism, knee-rocker or synchronous?
There are 3 different mechanics for your gaming chair. The normal rocker mechanism, the knee rocker mechanism and the synchronous mechanism.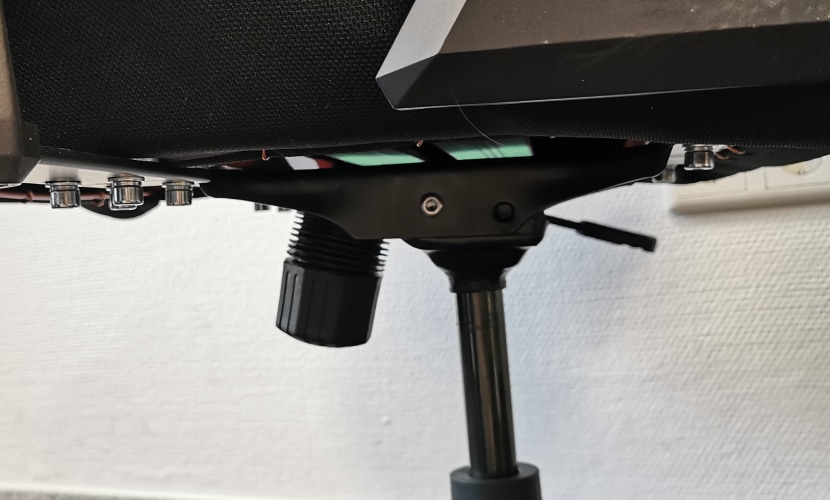 The normal rocking mechanism is the basic model. When reclining, the seat and backrest always remain in the same ratio. The rocking is a bit heavier here than with its big brother, which follows right after. The rocking is somewhat reminiscent of a rocking chair. It is mostly used in gaming chairs up to $270.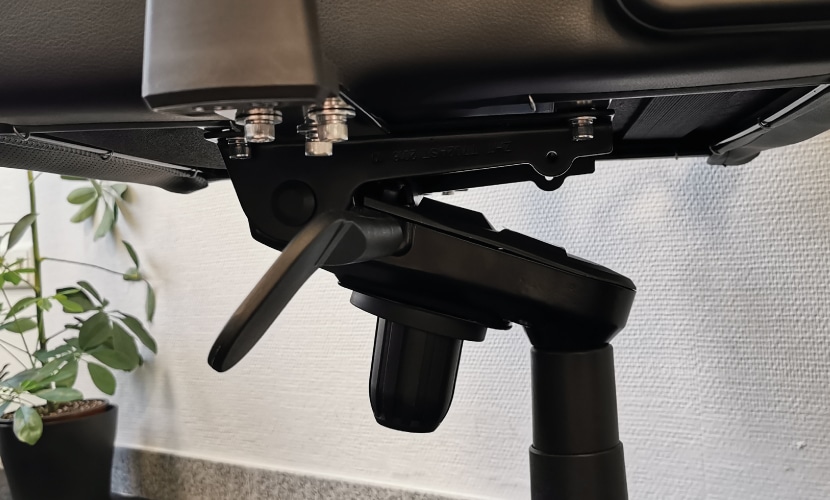 The knee rocker mechanism is an improvement of the rocker mechanism. The pivot point is shifted forward toward the edge of the seat. This makes rocking easier and more comfortable.
The synchronous mechanism is the supreme discipline among mechanisms. It is usually used in high-priced and ergonomic office chairs, but also in some gaming chairs.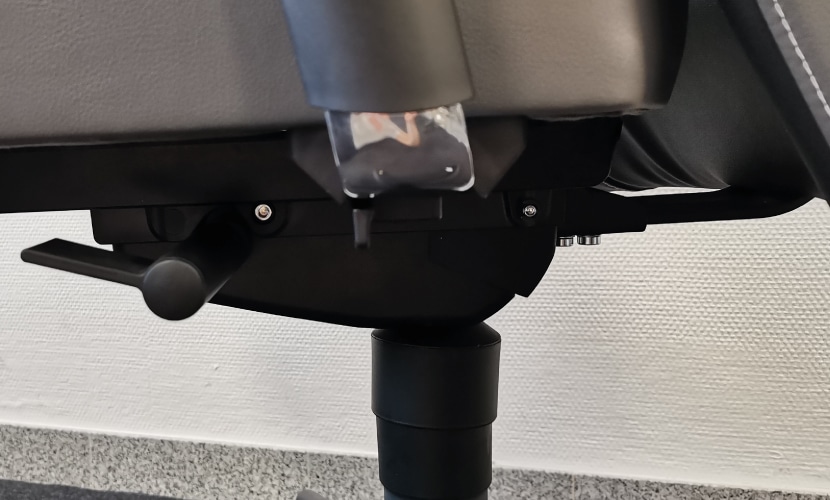 The backrest and seat move in a different ratio to each other when reclining, usually 2:1. So if the backrest is tilted back by 6°, the seat only tilts 3° with it. With the rocker mechanisms, it is a ratio of 1:1.
The synchronous mechanism changes the angle between the upper and lower body and ensures that important parts of the back move more and the intervertebral discs are supplied with more nutrient fluid. The spinal column is relieved.
However, synchronous mechanisms have so far only been available on chairs costing $500 and up. If you want to spend less, however, a rocking or knee-rocking mechanism is not a bad idea. These mechanisms are also worth a lot and raise the ergonomic potential of a gamer chair.
The backrest: shape, lumbar support & neck cushion
The backrests of gaming chairs are in the vast majority of cases modeled on the shape of sporty seats from the car, which was also the basic idea of the gaming chair. The side bolsters and bulges are often the distinguishing features.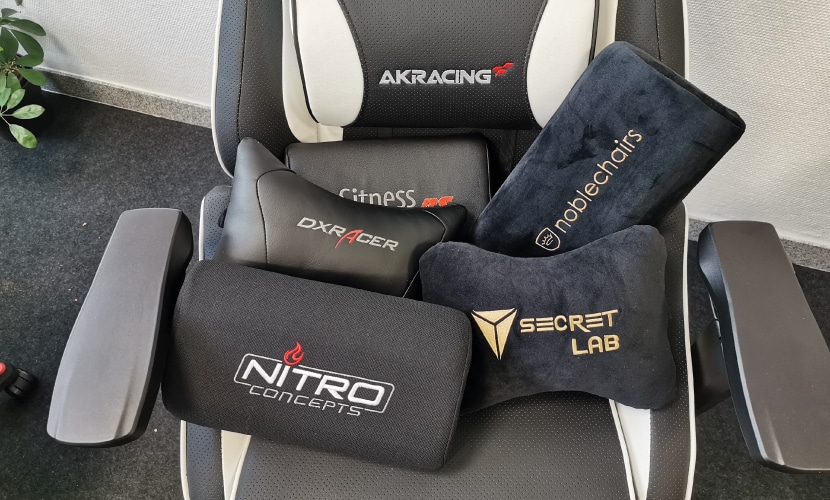 Here, care must be taken to select a suitable racer chair with a matching backrest. Many models are rather made for small and slim people, on which broader built gamers are restricted in their shoulder room. So that's what needs to be considered.
The lumbar support: Do something for the lumbar spine!
A lumbar support is supposed to support the lordosis. Surprise! To explain: our spine is not straight, but curved. The lordosis is the curvature of the spine forward, in stronger expression is often spoken of the hollow back.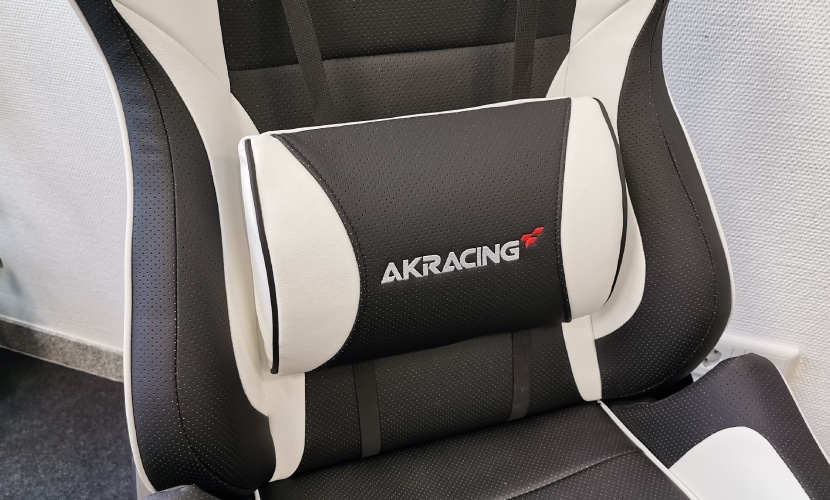 So the lower part of the back is meant simplified. This part is also called the lumbar.
The most common form of lumbar support in gaming chairs is the lumbar cushion, which fills this cavity and thus relieves the surrounding muscles.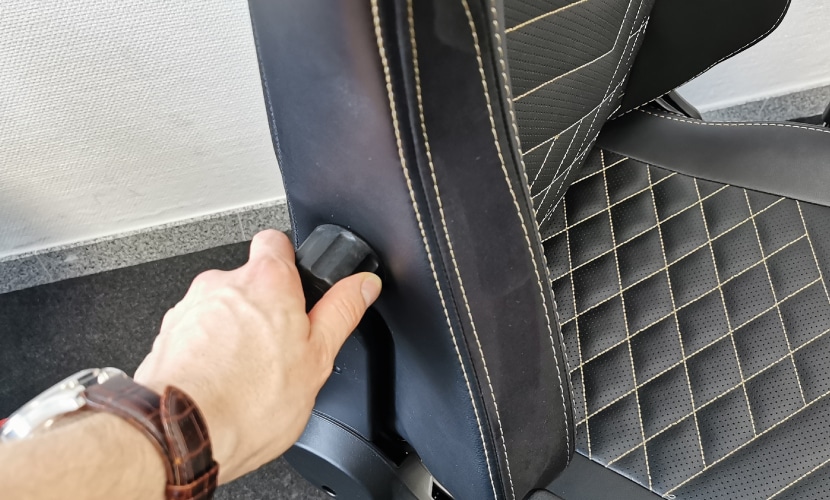 This type of lumbar support is becoming increasingly popular: the lumbar support can be optimally adjusted by means of an adjusting wheel. It can be used to reduce or increase the curvature in the lumbar region.
The neck pillow: Lordosis no.2
We also find lordosis (curvature forward) in the neck, in the area of the cervical vertebrae. This refers to the area between the head and shoulders, i.e. the neck. For this area, neck cushions are supplied with most chairs for the PC, which are intended to relieve the lordosis in the area of the cervical spine.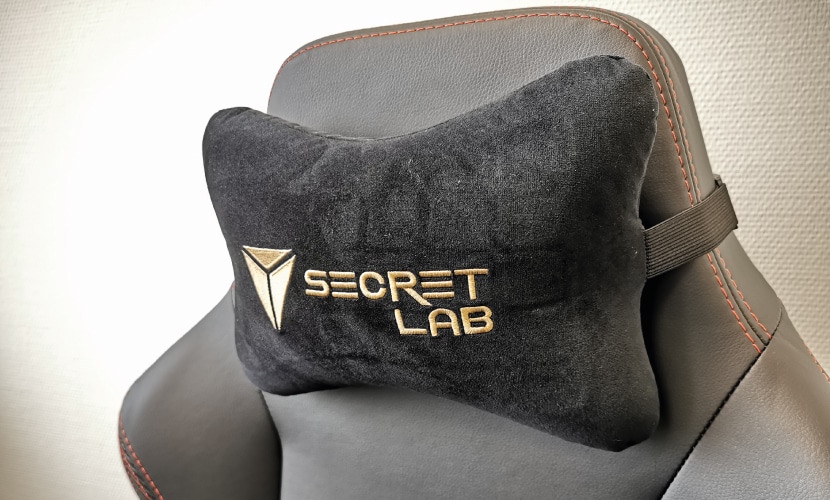 The seat: this is important
In the case of the seat, two important intertwined points come into play: the shape of the side bolsters and the amount of space.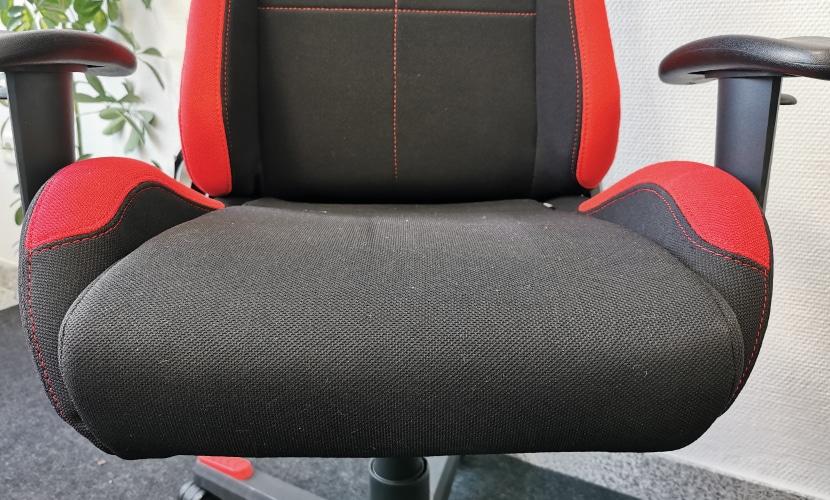 For car seats, the side bolsters on the seat surface make perfect sense: During turbulent drives, we don't fly through the car in curves; we are held in our seating position. We always sit in the car with both feet on the pedals.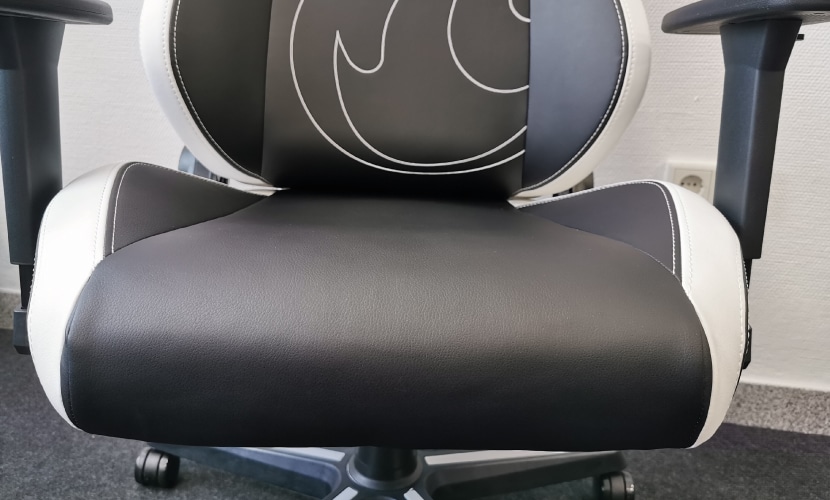 It should look cool in front of the computer, but not be too restrictive. We don't always want to sit exactly the same way, but sometimes sit differently, cross-legged or spread our legs.
Here it is important to ensure that the side bolsters do not represent a restriction. Behind the side bolsters are steel tubes and upholstery, one chair has more upholstery, the other less. In both cases, space may be lacking in the end, and in the second, with insufficient padding, may even cause pain when sitting.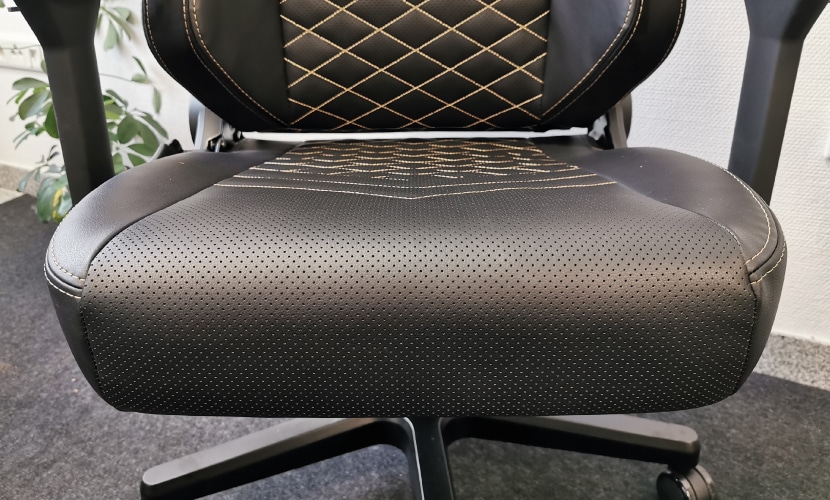 That's why it's so important to pay attention to the right dimensions when buying a gaming chair. You can find information about this in each of my reviews. Everything else that is important for the seat, namely the upholstery properties, has already been explained above.
Armrests: 3D, 4D, 5D, Einstein & Softtouch Pad
The big question about the adjustability of the armrests: In many online stores, the "D" still stands for "dimension," so the armrests are supposed to be adjustable in dimensions. I used to write it that way, too.
Unfortunately, the armrests are neither a portal gun, nor are they about string theory, quantum physics & Einstein, but actually about "Directions". A 3D armrest can therefore be adjusted in 3 directions.
This can be helpful and increase the comfort, but it should not be overestimated. Other points weigh heavier in my opinion. As long as it's not a 1D, i.e. pure height-adjustable armrest, you can get by with almost anything, although a maximum-adjustable armrest also allows the perfect position without compromises in case of doubt.
Do you like it hard, soft or padded?
In the inexpensive segment, the surface of the armrest, the pad, is often made of hard plastic. That can sometimes cause irritated elbows. That's why soft-touch armrests are very often available as an alternative. This means that a soft plastic is used as the armrest, which gives way and protects your elbow.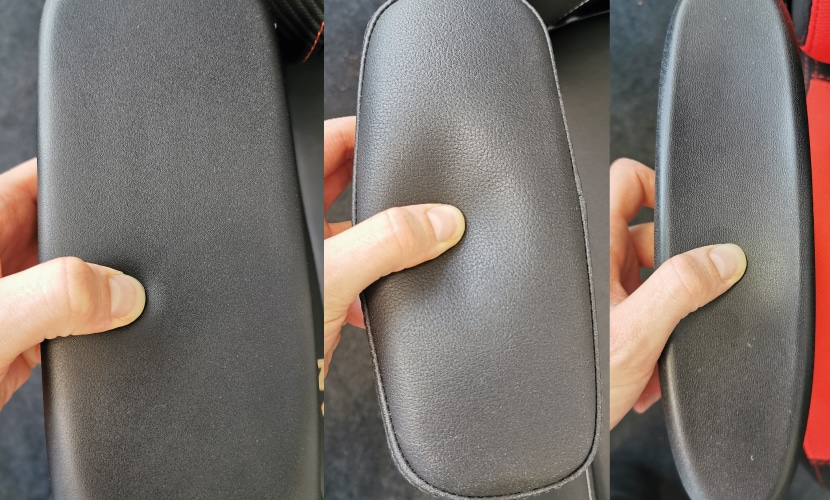 The deluxe version is the upholstered armrest, but it is extremely rare among the various manufacturers.
Wheels: Inliner, hard or soft floor, hybrid & with rim
The rollers are mainly there for the optics. Some manufacturers advertise with particularly large rollers: It also looks cool, but ultimately does nothing for comfort. The only thing that matters here is whether the rollers run smoothly and whether they glide over the floor loudly or quietly.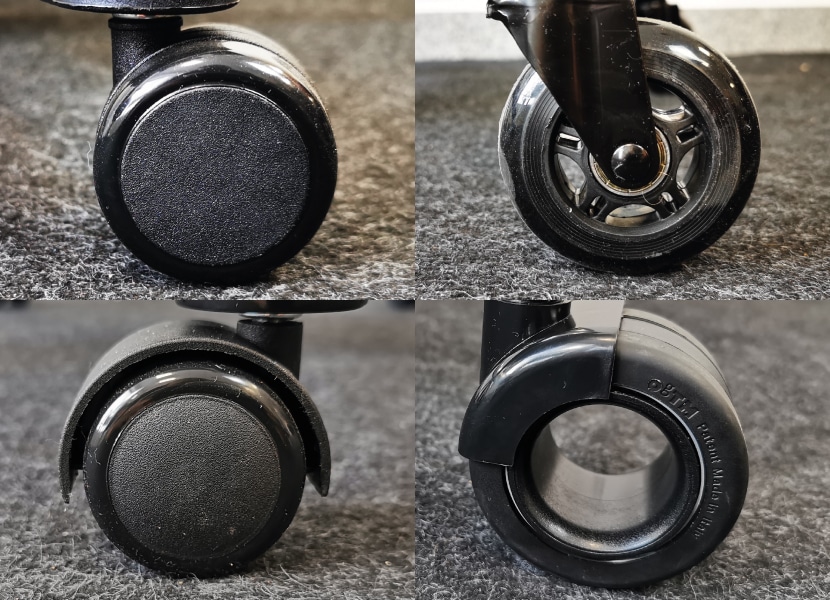 Hybrid casters are the most commonly used casters. They run on both soft and hard floors and thus fit pretty much every user.
Inline skate wheels are the absolute smoothest and quietest wheels ever. Anyone who has ever ridden inline skates knows this: the rollers do not make a sound and just glide away. However, this type of roller is rarely used, but can be retrofitted.
Side fact: In the office area, such very smooth-running castors are not permitted because the chair can roll away too quickly with them and people can thus accidentally find themselves on the floor after sitting down. Theoretically, this is relevant, but certainly not for practical use at home.
So if you're looking for a purely functional chair, the casters are often negligible. If optics is the be-all and end-all for you, then cool casters should not be missing.
Base: aluminum, nylon or steel
The base, also called the swivel base or 5-point base, is the part of your chair in which the castors are located. In the middle is an opening for the gas spring, which leads into the mechanism underneath the seat.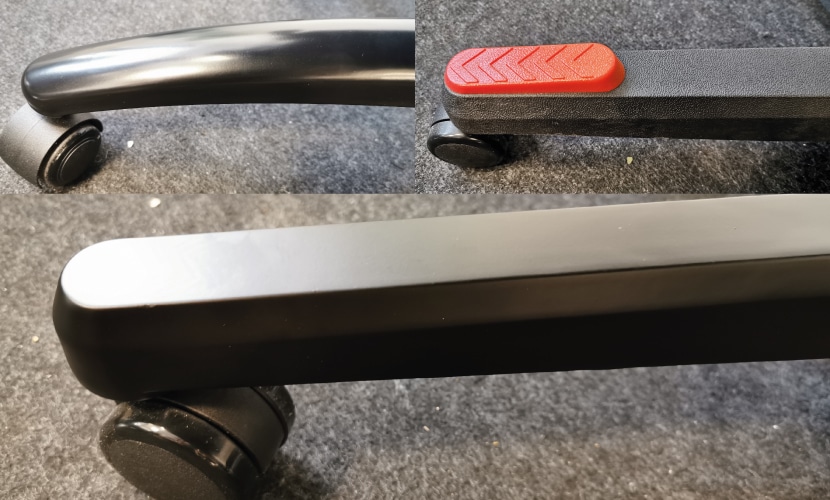 Various materials are used for the base or also turnstiles: Aluminum, nylon and steel. Nylon is a plastic, the other two metals. I have already seen all types of base crosses, differences in robustness I could not make out so far.
Visually, however, the base crosses often differ: they are available in brushed, powder-coated, glossy, matte or colored lacquered. Foot crosses fulfill their purpose purely technically and can also look cool.
Quality and processing: Difficult subject
The vast majority of us are looking for a gaming chair of high quality, accompanied by decent workmanship. The first conclusions can be drawn from the specifications of the materials used: I consider a PVC cover to be inferior compared to a PU cover.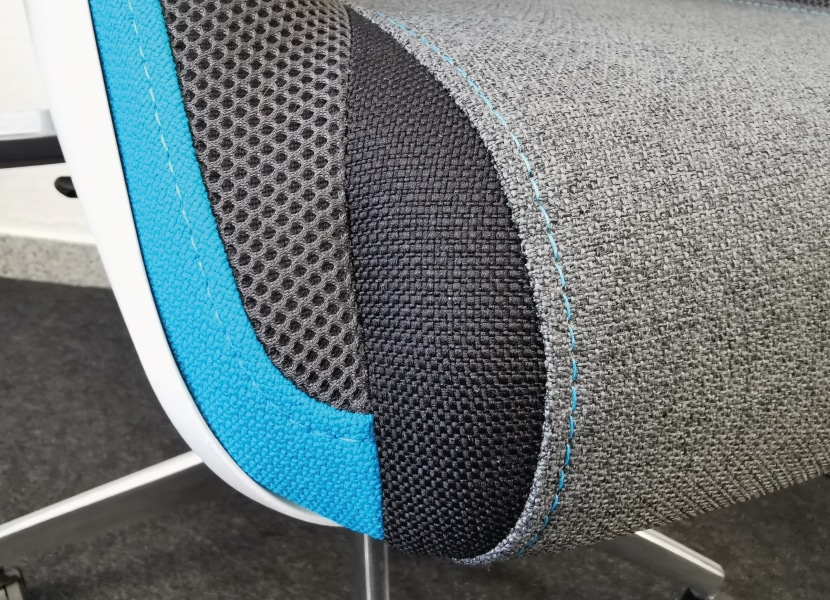 Otherwise, it is hardly possible to recognize the quality and the standard of workmanship just by the product description of a chair, because every store finds the offered products awesome anyway and presents them as super-premium. For this you need people like me, who share their impressions and bring clarity with unadorned, real photos and videos.
For me, it is always important whether the seams run straight, whether the covers smell strongly, whether the cover throws unnaturally many folds and was covered sloppily and the overall impression. When we hold a product in our hands, we usually have a good feeling for whether it is of good quality or not.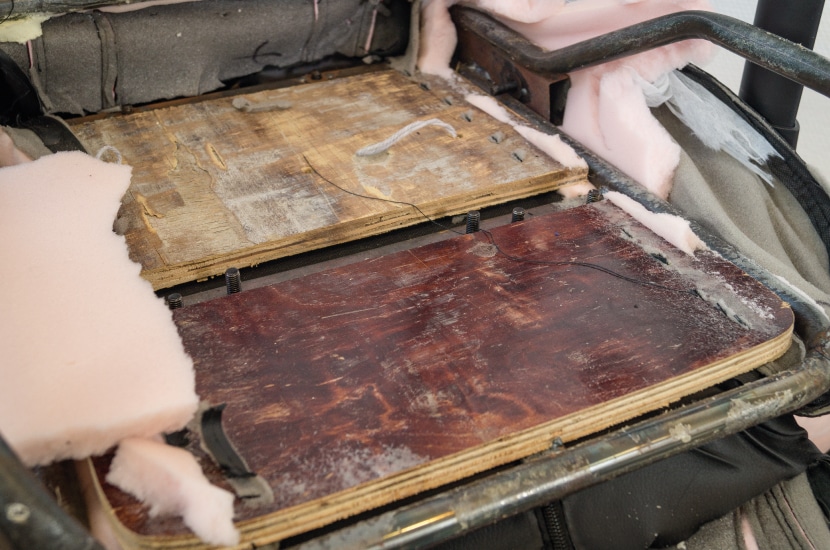 It also happens that I cut two chairs apart to look at the so famously important inner values. And then you can see in detail what distinguishes a more expensive chair from a chair for around $100. Here, for example, I found old rancid wooden plates in the seat in one of my reviews of cheap gaming chairs.
Forget the blah about height adjustability and 360° rotation!
Pretty much every office chair, swivel chair, gaming chair that is on casters can also be adjusted in height. That's absolutely standard, as is the fact that I can turn 360° on the chair.
Yes, which desk chair can't do that?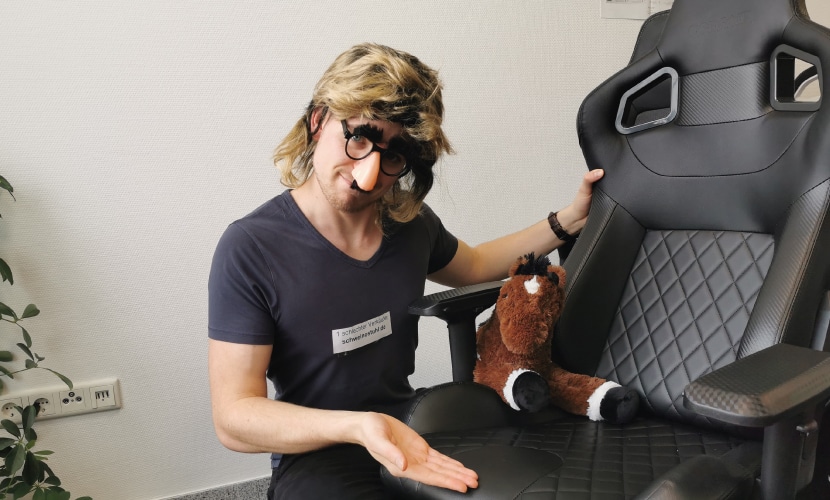 Don't let anyone tell you about the horse!
If a manufacturer doesn't have much to offer, they'll just cull on the height adjustability or 360° rotatability in the product descriptions. If the chair offers nothing else, then you just mention things that go without saying. It certainly works somehow, if you have nothing else to praise about your own product.
It's like when BMW builds a crappy car and then advertises: "Our car has fenders and a hood!". Oh, really?
So don't let the often very strange advertising copy overwhelm you, because sometimes there's less to it than meets the eye.
Cheap gaming chairs up to 100 dollars...
If you've been around my site for a while, you know that I'm not a fan of cheap gaming PC chairs up to $100 or even $150. If you don't know my article on this, check it out here: Cheap vs. Premium. There you'll see me break down and compare an EPIC and a cheap gaming chair up to $150. These cheaper models are mainly traded on Amazon and rarely provide a "real" gaming chair feeling. You won't get much more than a standard PC chair here. You have to go for the big brands.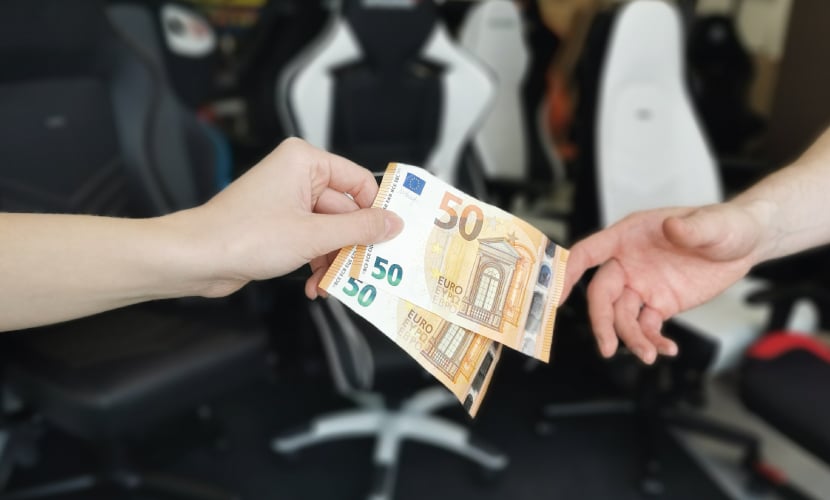 The cheapest gaming chairs I can still recommend
If you really need to save money when buying your gaming office chair, let me give you a few tips. What you shouldn't do is spontaneously run to Ikea and buy the next best office chair you can get your hands on – likewise, don't rely on Amazon deals if you don't know if the reviews are all real. Rely on tests.
My cheapest recommendation is currently not a PC chair up to 100 dollar, but you can still get it for just under 200 dollar. This is the Racer1. You can find my video about it with all the information here: ▷ Racer 1 Test. The ▷ S300, which can do a bit more than the Racer1, is also available for $330.
Essential differences that separate the high-quality gaming office chair from the inferior one: