Secretlab OMEGA in test: My experiences & offers for Ω
Finally I can add another of the current top brands to my website – I have the Secretlab OMEGA in test. Among many of my videos you have asked when I'm going to say a few words about the manufacturer Secretlab, now it's time. The manufacturer itself should already tell you something, because whoever has informed himself about gaming chairs via Google, often gets ads on Facebook from the brand.
Secretlab has particularly trumped in the past with the cool designs of the chairs, which also made a very solid impression in terms of quality. So there is real potential to take something from the market from the big top dogs. Whether I really like the OMEGA, which body sizes it fits and whether I would recommend a purchase to you, you can find out now!
The essentials are already in my video. A few pictures and details about the body size you can take from this report.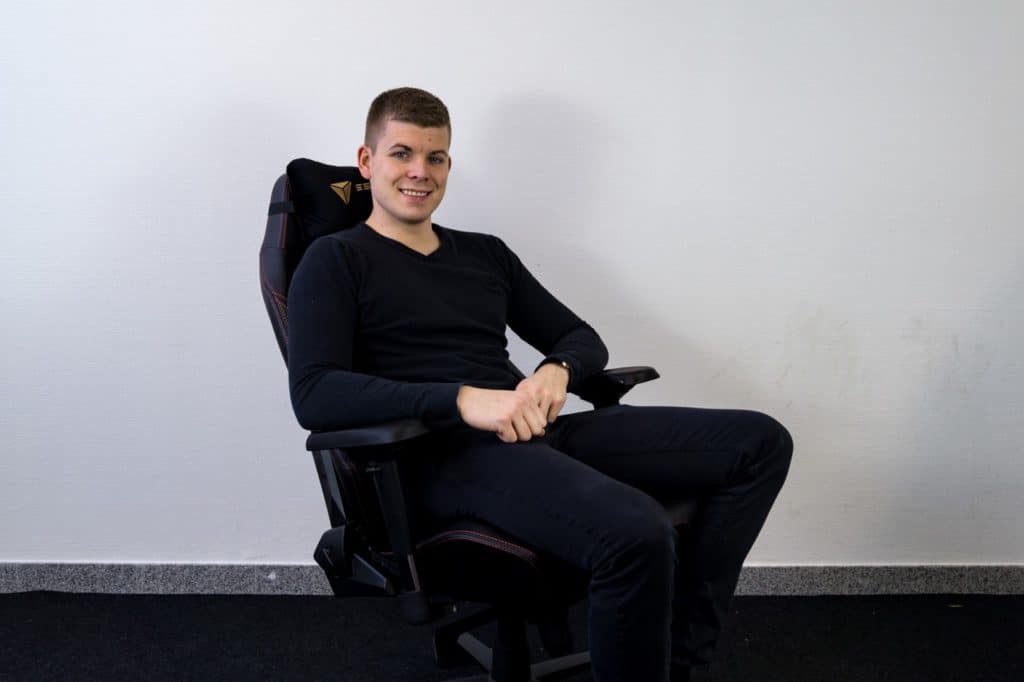 Features & Benefits of the OMEGA
Let's start in short format with what makes the Secretlab OMEGA: Of course, we find in the chair all the usual features that you can expect from a chair in the price range between $334-649. These would be:
The OMEGA in the test - Can it convince?
Now again just as detailed as in the video, but with high-resolution images: I'll introduce you to the individual functions and show you the workmanship of the chair. You will notice that everything sits and fits as it should.
The OMEGA's dimensions are more suitable for slim to normally built people. The dimensions are basically the same as those of the competition, but there is one very important restriction: The seat is theoretically wide, but the side bolsters limit the legroom. So, since you can't make your legs infinitely wide here, the chair is less suitable for bulky people. For the "normal" stature (what is normal?) but fits perfectly.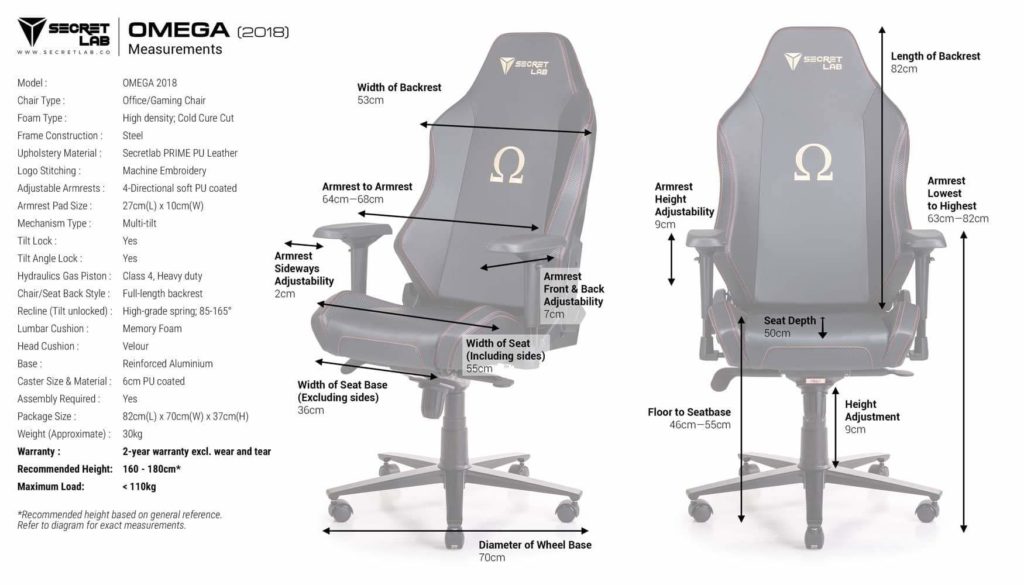 Especially cool: fabric, PU and faux leather possible
I've never seen that from any manufacturer before. There is the faction that likes imitation leather and the faction with the cats at home who prefer fabric. Secretlab offers both with the OMEGA, TITAN & THRONE: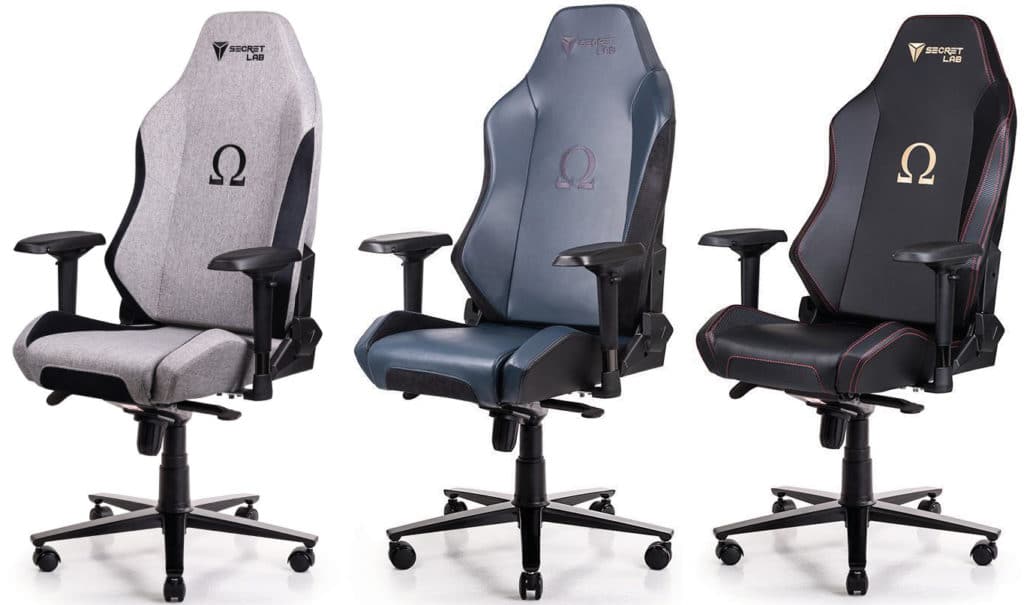 You can get the chair with so-called "Prime PU leather" or "▷ SoftWeave", i.e. fabric. I think that's cool! So everyone gets their money's worth. Even the real leather fans: Napa is certainly pleasant, but $649 is of course also a house number.
Design: Versatile and simple on demand
At least TITAN and OMEGA Series are rather elegant chairs. Basically, the 3 series remind me of the 3 at noblechairs. They started with a more sporty model and it gets more and more elegant towards the top. I find the design of the OMEGA definitely office and gaming suitable and very nice simple and elegant.
With fabric cover the chairs look special, but already very cool. The color accents are also pleasantly subtle with all color variations. I find my black OMEGA with golden embroidery and red stitching very successful.
The base of the Secretlab OMEGA is made of aluminum and is painted matte black. This alone makes a very nice impression visually.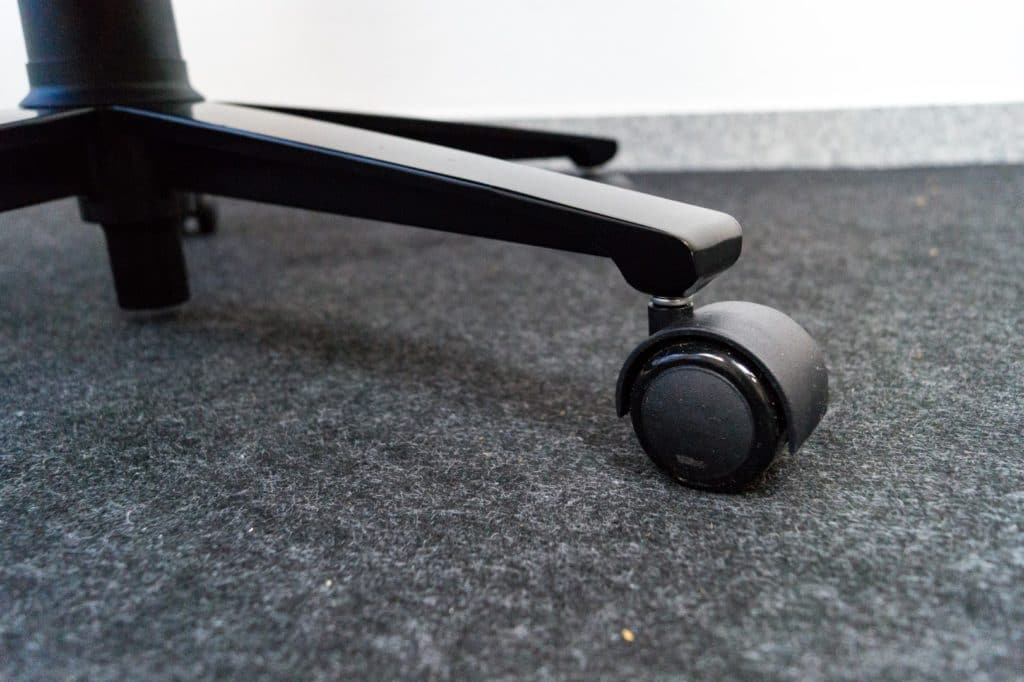 The casters are pleasantly quiet and light. So you won't make any noise at home. With a size of 60mm, they are also pretty standard: The noblechairs HERO, for example, has wheels of the same size. Some chairs use larger casters – the Core Ex Wide, for example, has 63.5 mm – but I don't see why larger casters would help. That's why I don't care whether they are half a centimeter larger or smaller.
Field test: My experience with the features of the Secretlab OMEGA
Now it's all about the OMEGA's features. You'll now learn what the chair can do, how its features work, and then finally my assessment of the seating comfort. In just 2 minutes, you'll know whether the OMEGA is worth the money or whether you should keep looking.
Rocking mechanism infinitely variable
Of course, the OMEGA comes with a rocker function. The mechanism can also be locked in different positions, so that everyone will certainly find their favorite sitting position. Only the synchronous mechanism is better than a rocker mechanism – but such a mechanism is very rare, chairs like the Backforce One or Backforce One Plus, for example, have one integrated.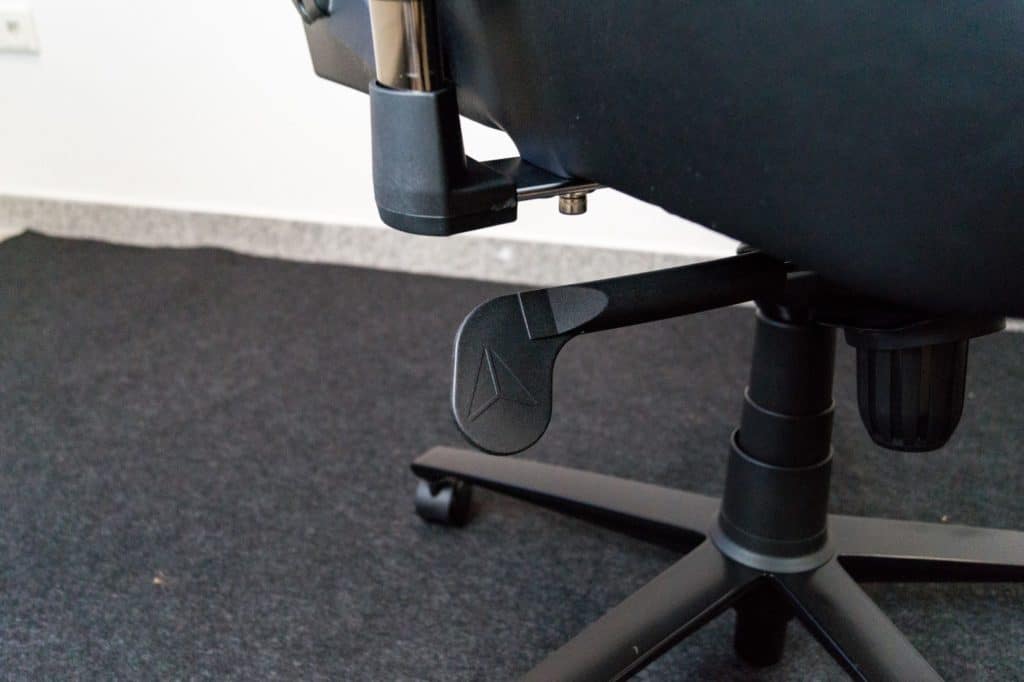 "Have a break, have a 165° reclinable backrest."
Who doesn't know this famous phrase? Either you're sitting at your desk and just don't feel like studying/working anymore, or you've been gaming for half an eternity and are failing non-stop – you need a break at some point. It's nice when you don't have to go to the bed or sofa, but simply tilt the backrest back 165° to the seat with a lever on your right and take a few minutes to reflect.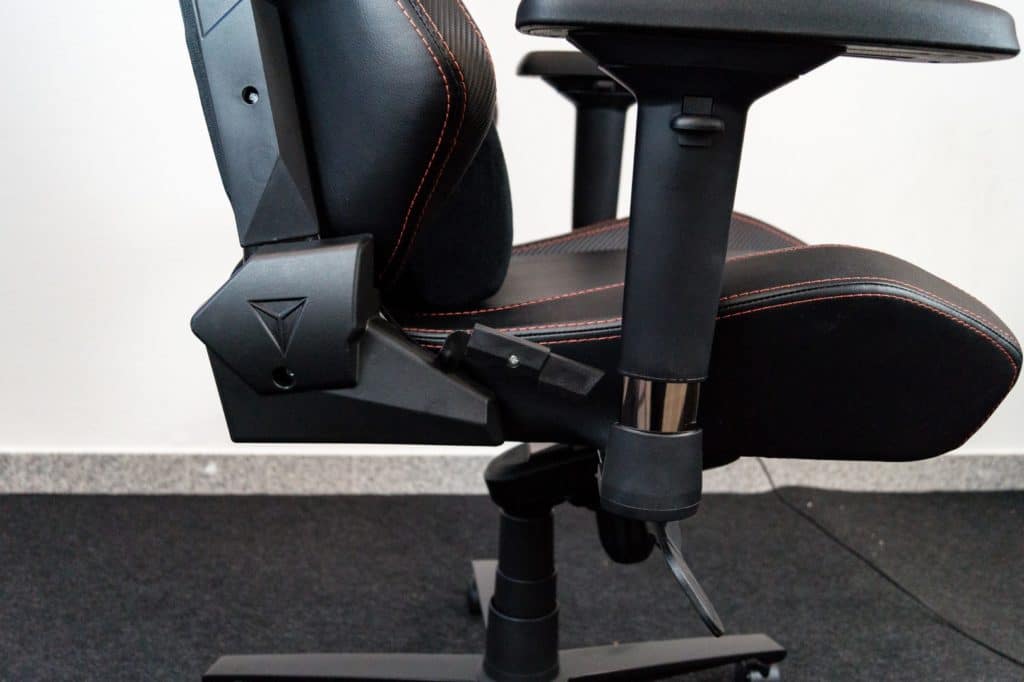 You can also fall asleep on the chair. It's happened to me a time or two at work. It's not a solution for a healthy 8-hour sleep, but it's fine for a power nap.
4-Direction (4D) PU armrests
The armrests can be adjusted in 4 D̶i̶m̶e̶n̶s̶i̶o̶n̶e̶n̶ directions. The "D" stands for "direction". Not dimension. You can see what this means in the video above.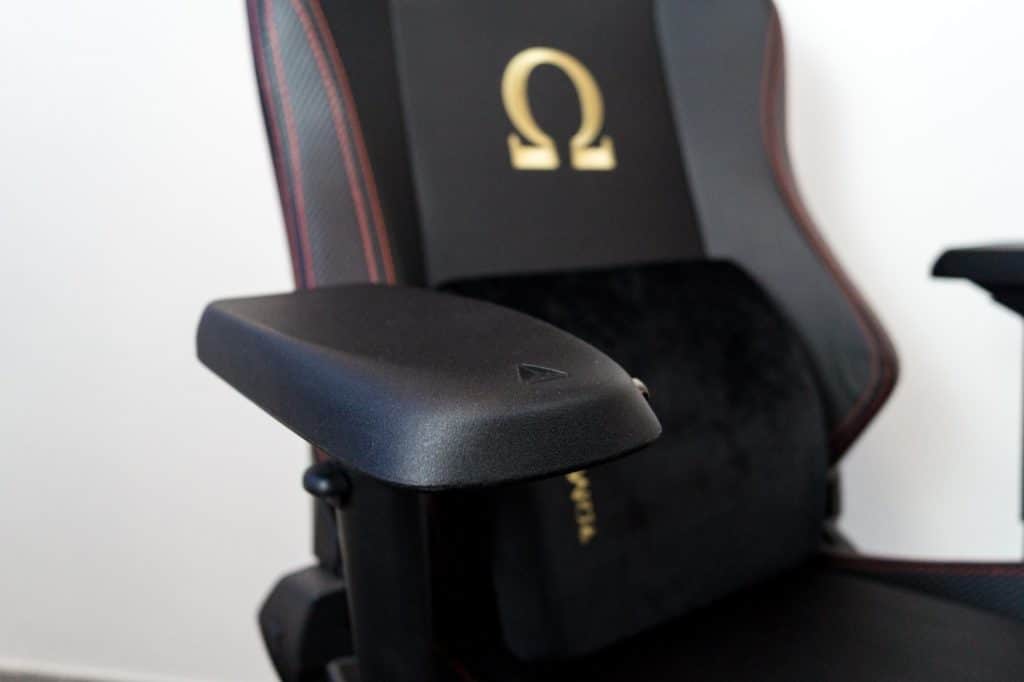 The surface of the armrests is made of soft PU, plastic. Hard plastic is not used so that elbows are protected. Hard plastic creates too much unpleasant friction – so everything is done right with the OMEGA.
Lumbar and neck pillows: Velour & memory foam
Of course, there are also lumbar and neck pillows. Fortunately, the pillows are covered with velour, a fabric. So they are less rigid compared to artificial leather pillows, feel much more comfortable in the bare neck and are not cold when you just take a seat. I like that extremely well!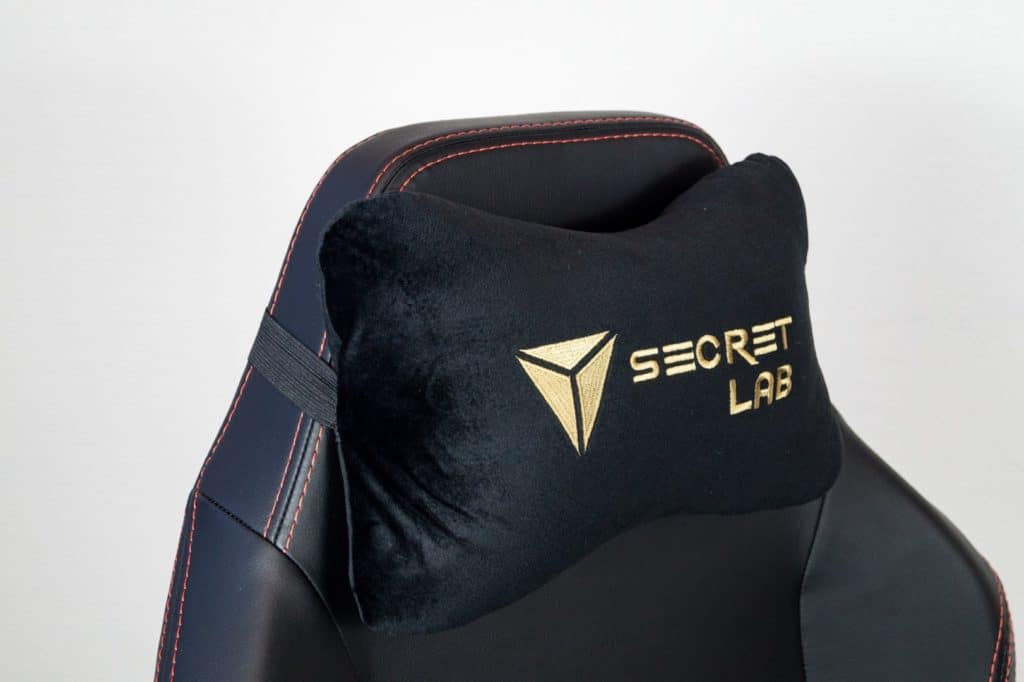 Since I got my first fabric pillows, I haven't used a PU pillow. To be honest, I find them really uncomfortable by now.
Lendenkissen ohne Befestigung - überhaupt nötig?
It needs two holes in the upper backrest area to fix the lumbar cushion. If we do not have such holes, then we cannot attach the lumbar cushion. This is now the case with many current models, which do without the racing seat holes for optical reasons. But think about whether you need the cushion at all.
The backrest is pre-curved in the lumbar area anyway. I personally do not need the cushion despite a slight hollow back, I prefer to sit without it. Who has a more pronounced hollow back, the cushion must then probably straighten more often.
But don't feel forced to use the cushion. If you find it rather unpleasantly disturbing, then just leave it out.
Seating comfort: the OMEGA is this cozy
I rate the seating comfort as very good. You notice before and after sitting down that you are sitting on a high-quality chair. It is very comfortable to sit on. The only small point of criticism: The side bolsters on the seat are very pronounced and stand a bit high. This limits the legroom. For me, this is still within reason, but it will certainly be uncomfortable for somewhat bulkier gamers. However, the chair is not made for massive gamers anyway.
Body sizes: My recommendations & Secretlab's
The chair is loadable up to 110kg. Secretlab recommends the OMEGA for gamers between 160-180cm tall in weight classes of 50-80kg. I am with my 189cm and 89kg so a bit too tall and fat. So I should actually rather take this one: Secretlab TITAN Test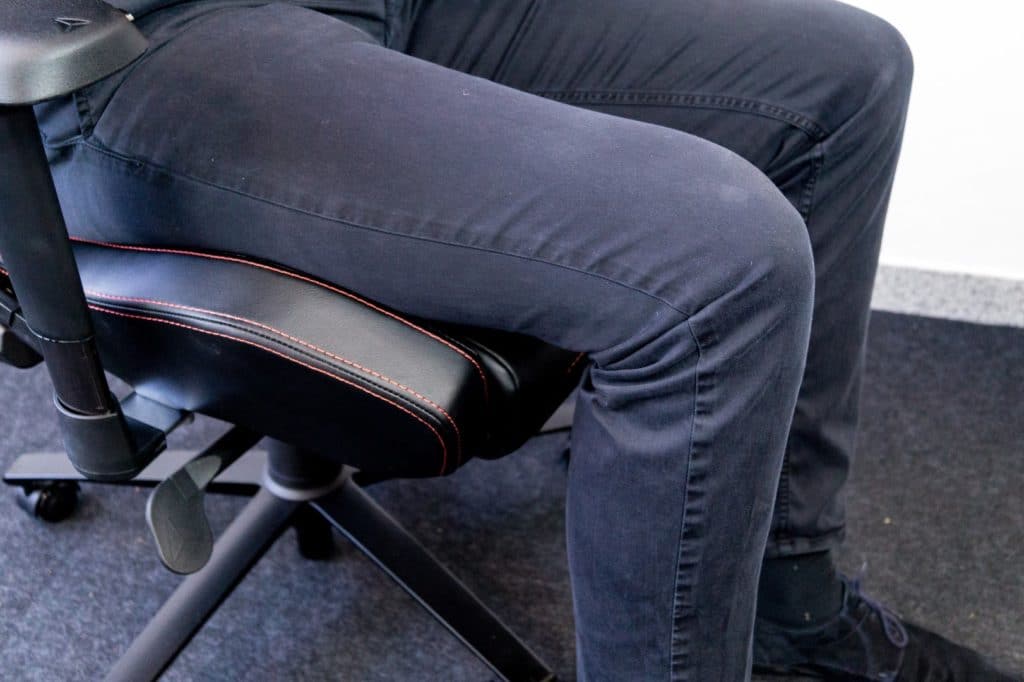 In my case, you can see that there is still sufficient space between the leg and the end of the seat. The rule of thumb says that there should be about two finger widths of space. With a height of 189cm you have no problems with the length of the seat.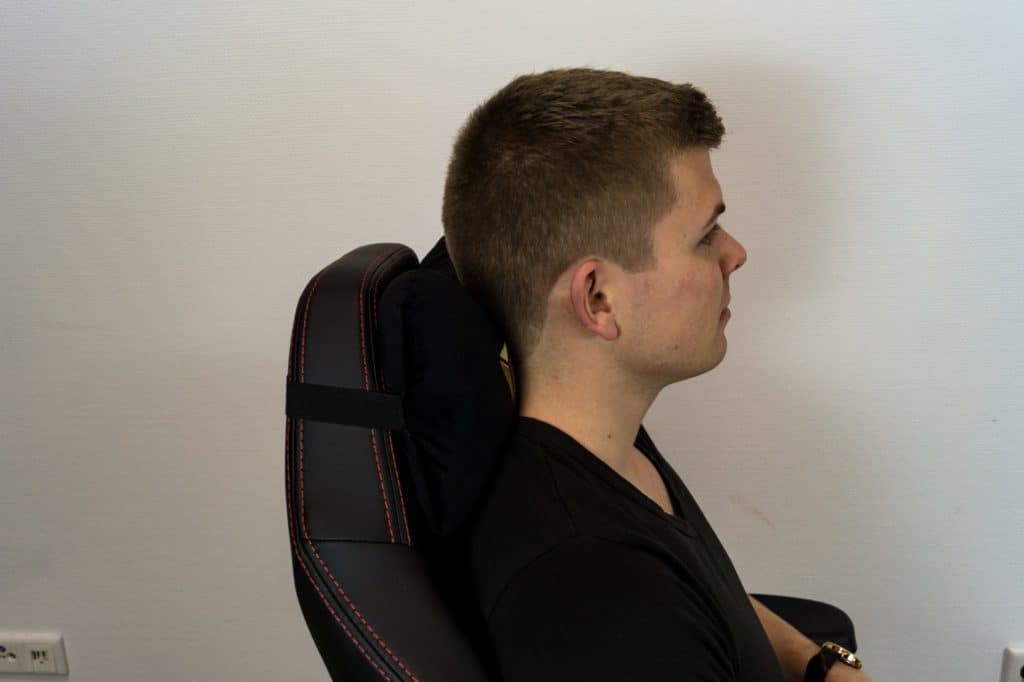 The backrest is a bit trickier: According to the manufacturer, the OMEGA is only suitable for gamers up to 180cm. I can almost agree with that, but I would say that 185cm is still possible if the chair is absolutely necessary.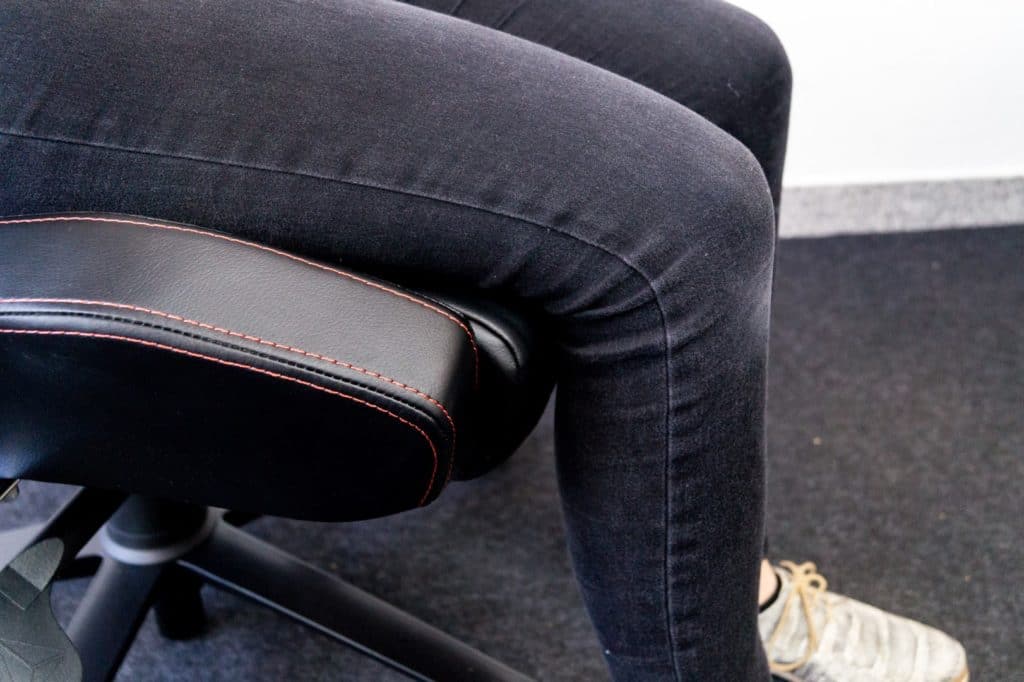 Here is a photo of my test person with 167cm height. Also here it still goes. The manufacturer states 160cm as the lower limit. That may go with a different torso and leg length ratio, but my test person would perhaps already have difficulties with 7cm less height. So but it fits very well!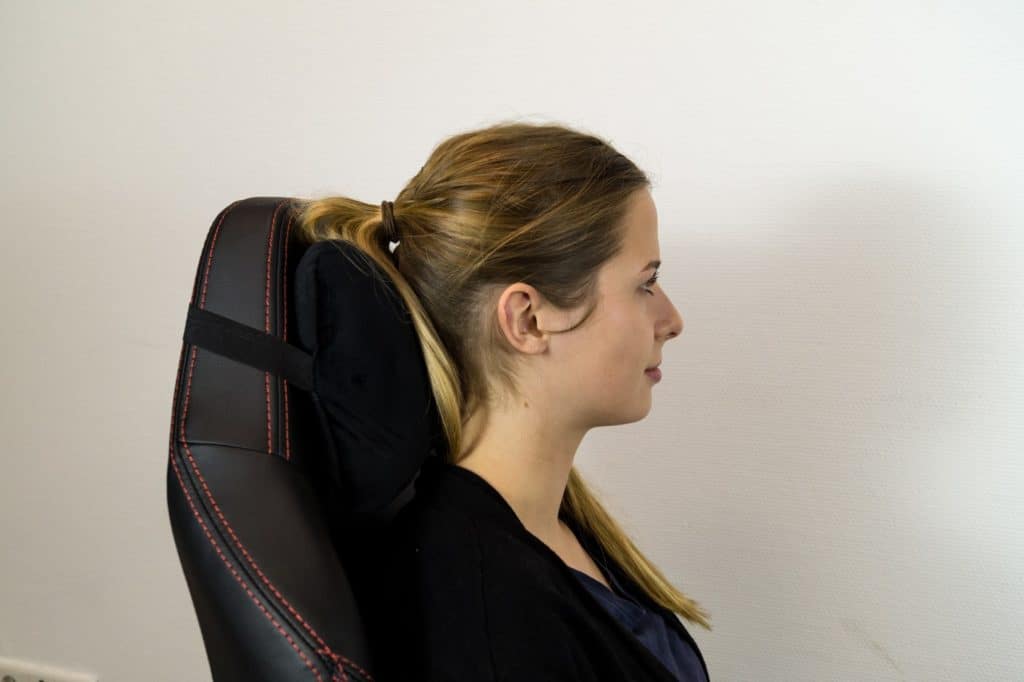 The only limitation: the adjustability of the neck pillow. As you can see from the elastic band, it is already pulled down to the maximum. And already there it has to readjust the one or other time. Body sizes under 165cm will have problems here.
I also almost agree with the assessment: However, I would shift the limits by 5cm: So from 165cm to 180/185cm. My partner with her 167cm still sits very well, but the seat could be too long for people under 165cm, in addition, the neck cushion can not be fastened low enough. But that becomes a problem with pretty much every chair. With other constellations between torso and leg length, however, this may still fit 1a even at 160cm – I do not know.
Buy Secretlab OMEGA - Best price?
Finding the best price is little difficult. Secretlab does not use external distribution and handles sales & shipping of its own chairs itself. According to the manufacturer itself, the chairs can therefore be offered at lower prices, and that seems to work: Some series are completely sold out.
So if you want to buy the OMEGA, take one of the links from this article, like ▷ this one: You will get directly to the manufacturer and may even benefit from discounts.
Really cheaper through direct sales?
A question I asked myself. In my opinion, you undoubtedly get a super chair that is worth the money. And models at DXRacer and AKRacing are also often actually more expensive without offering great advantages (My opinion). In this respect: Yes, the chairs are worth their money. But you don't necessarily make a super bargain either. The price is good for the performance, but also not significantly better than some competitors: noblechairs, for example, surprises with equally good prices.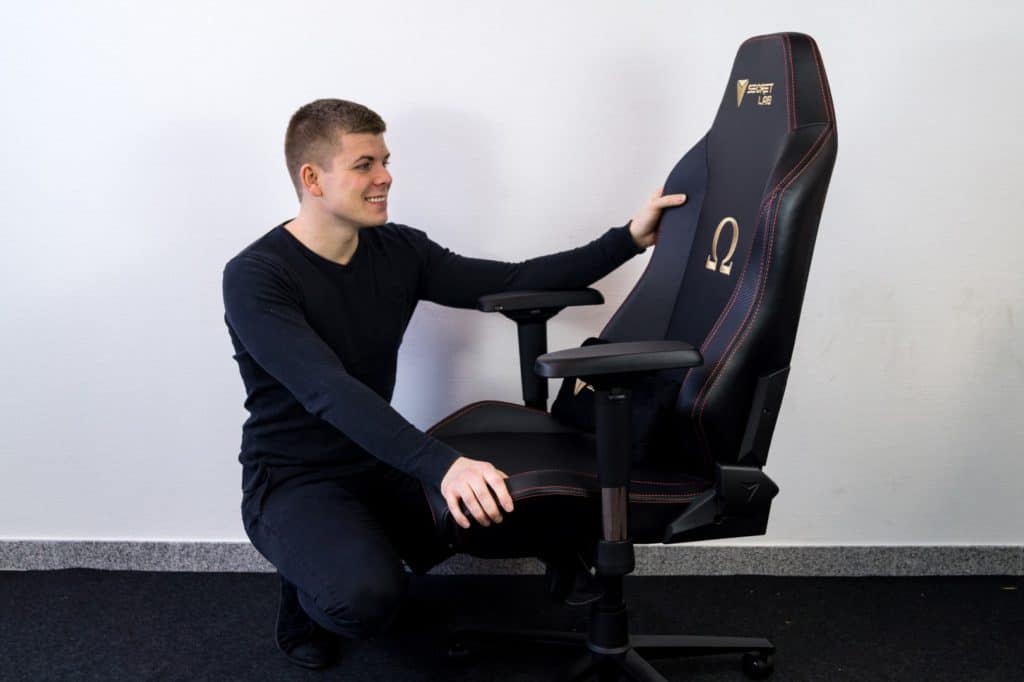 Conclusion: Buy OMEGA or go to the competition?
If you like the designs at Secretlab or OMEGAS, I see no reason to look any further. In my opinion, the chair is great, it has everything you need: 4D armrests, a lockable rocker mechanism, 165° tiltability of the backrest and above all: comfort and high-quality materials.
A pleasantly thick padding, tightly covered and valuable PU leather, precisely finished seams. If it fits your height, then you can buy the OMEGA without hesitation! Click here to go directly to the store: