Razer Iskur in test - Disappointing - Good lumbar support? + Experience with customer service
I was curious about today's Razer Iskur review myself, but at the beginning mainly because of the price. It came on the market for $380, which seemed very expensive to me compared to the competition – but the price has already settled at around 400€ in the meantime.
Exciting for me was therefore the question of whether this new type of lumbar support justifies such a surcharge, irritated I was at the same time about the use of PVC as a cover. With the now adjusted price, the question arises a little less, but whether the lumbar support is as good as it looks and how I like the comfort compared to the many other models, you'll find out in a moment!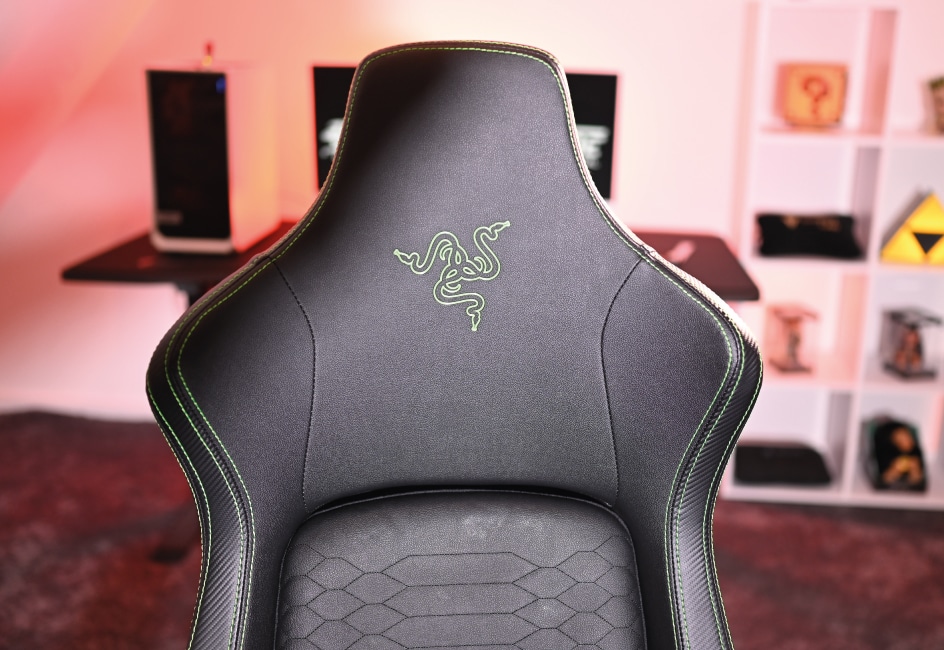 I also had contact with Razer's customer service in connection with the Razer Iskur test: My lumbar adjustment did not work. You can also read about the struggle with Razer at the end of the report. In advance: I do not agree with all the praise that the web sings about the Iskur.
Features & functions of the Razer Iskur
For the Iskur, Razer has come up with a new concept to support the lumbar spine. This is the main differentiator from other gaming chairs.
Show the best price of the Iskur on Razer🠗
Show the best price of the Iskur on Amazon🠗
Seat comfort: Is the Razer Iskur comfortable?
Even though I would like to, because the Razer Iskur would certainly sell well, I cannot really recommend the seating comfort in the Iskur test. I don't sit badly on the chair, but there are much more comfortable chairs in this price range in my opinion.
The upholstery hardness is perfectly fine and not the problem. It is much more a mix of the pronounced side bolsters and the special lumbar support: For me, this is not a meaningful lumbar support, I can only sit on the Iskur when it is completely retracted. Otherwise, I actually tend to get back pain.
Sadly, I was glad when I was able to finish my Razer Iskur test, my back has been craving alternatives. You'll find out what bothered me about the side bolsters and lumbar support in detail in a moment.
Cross-legged test on the Iskur
The Razer Iskur does have side bolsters, both in the seat and back area, more pictures later. The question is: Can you still sit cross-legged on it?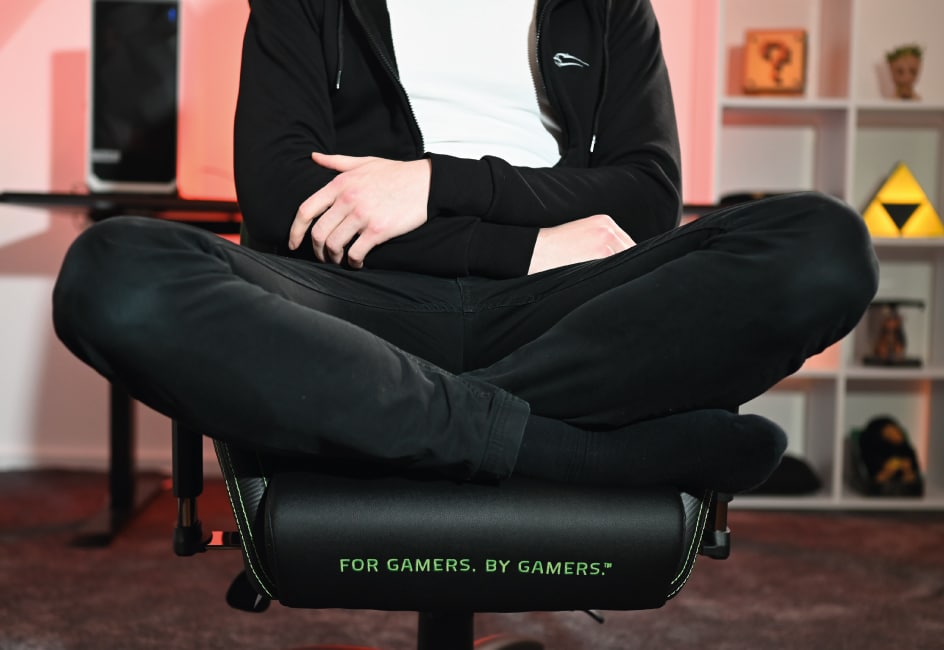 Yes, even with 189cm height it just barely goes. My girlfriend with 167cm has of course no problems, but with me is then also end. Anyone taller than 189cm will probably no longer be able to sit cross-legged here, unless he has shorter legs than me, which is of course possible.
Size advice: how tall and heavy you should be
In my Razer Iskur test, it became clear after the first few minutes that the chair is only suitable for a limited target group.
The first small problem arises with the neck pillow, but I do not weigh that soo heavily, because many do not use the neck pillows anyway.
Whereas, if you already advertise with high-quality memory foam pillows, which do not seem so memory-like to me (more later), they should perhaps already be usable.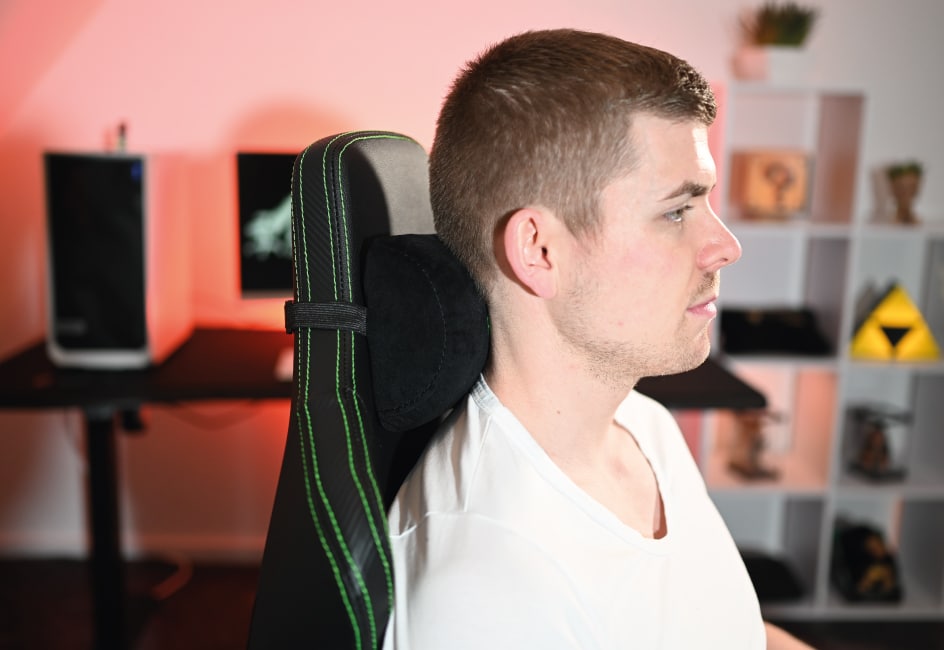 Nevertheless, I can only pull the cushion down just far enough for it to sit in my neck, even with an actually tall 189cm body height. Since the Razer Iskur does without strap holes, the cushion cannot be attached to them, nor is there a magnetic function. You have to be at least 189cm tall if you want to adjust it correctly, Razer itself recommends 170-190cm.
Seat & Backrest: Side bolsters & Square
You shouldn't be too wide either. The Iskur still relies on very pronounced side bolsters on the backrest and seat.
I think side bolsters are out. In the meantime, most people have understood that they can only be a nuisance on a PC chair and are of no use except for design reasons.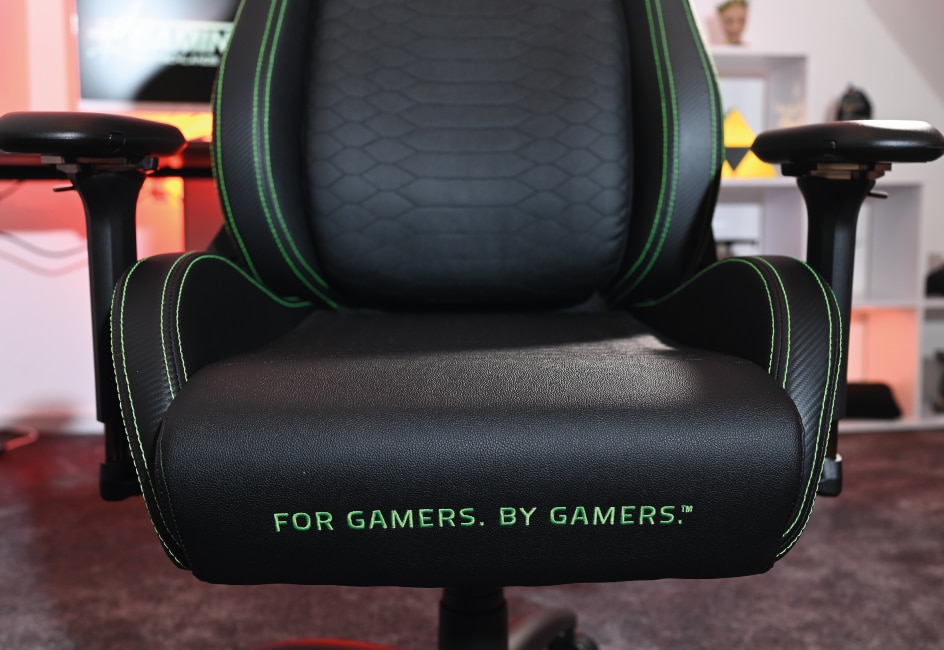 There are also fewer and fewer new chairs with side bolsters coming onto the market. The major brands have long since dispensed with them on most models. Of course, this is not a drama, they do not have to disturb, if you are not too wide for the chair. However, this is a careless way to cut off part of the target group, although you can still pick them up with the next production. The Enki and the Enki X have already been announced, and I have already ordered the Enki.
The side bolsters of the seat are very steeply constructed and therefore limit the siz surface for wider-built gamers. I would say that you should be of average build at most. Particularly muscular or simply wide legs won't necessarily find room.
The seat depth is completely ok for my girlfriend with 167cm, even with 165cm you should still be able to sit here and also get the feet on the floor.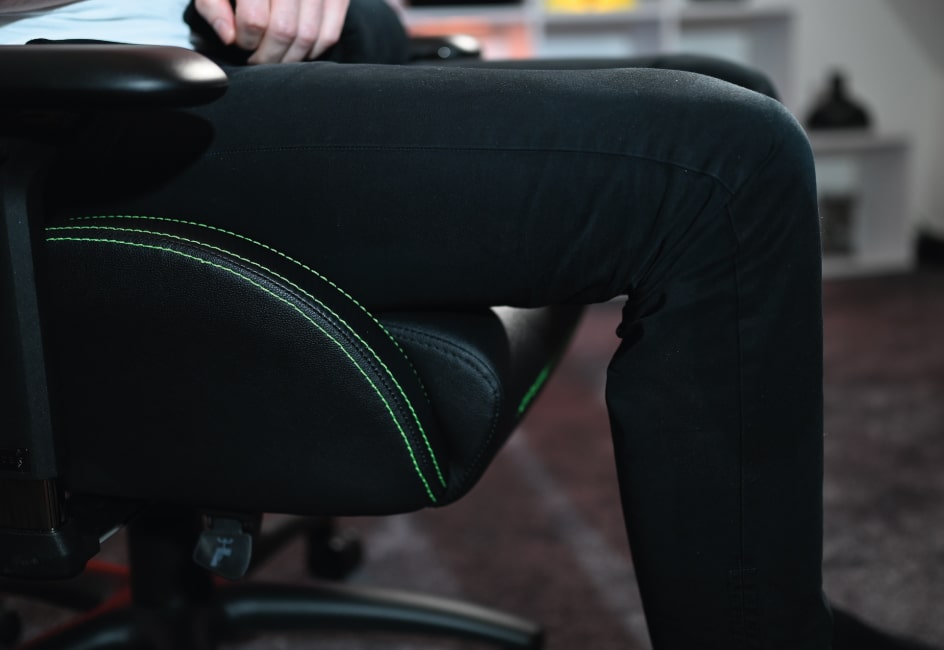 At 189cm, the seat is still long enough. Two fingers wide should be a guideline between the lower leg and the seat, but the 4 fingers are also very good and sufficient. Razer recommends the use up to 190cm, because of the seat I would also agree.
The backrest, in turn, does not allow for excessively broad shoulders. In the shoulder area are here again noticeable side bolsters in use. With my cross width, however, this is still completely fine, I think even 5cm more go clearly.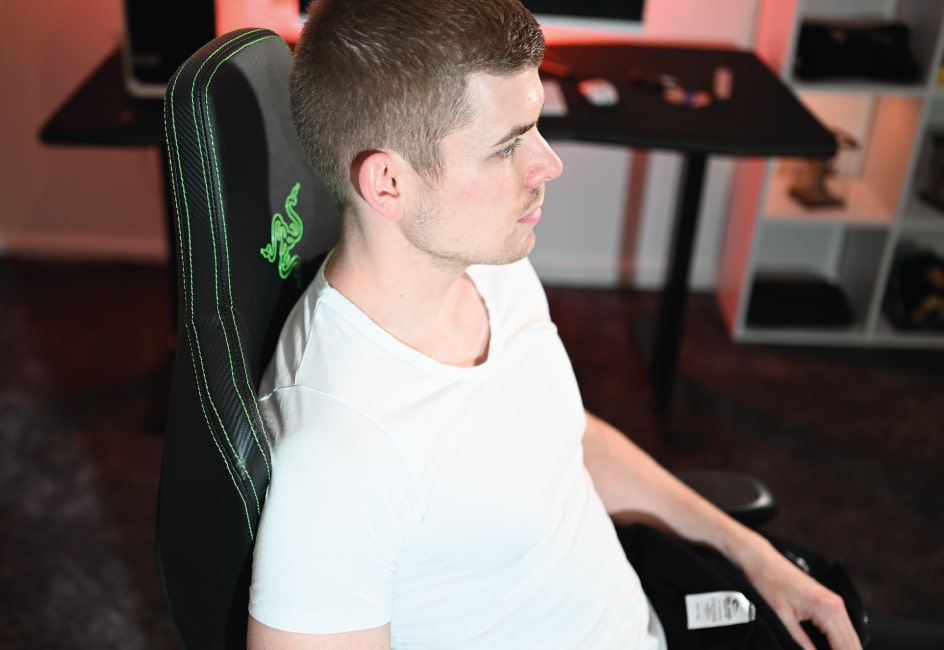 But: Those who are even taller than me may have reached the limit earlier. My shoulders are still below the bulge and therefore very free to move. Those who have their shoulders a bit higher will have their arms very keyboard-centric, with the shoulders bulging slightly forward, as is often the case when typing or gaming.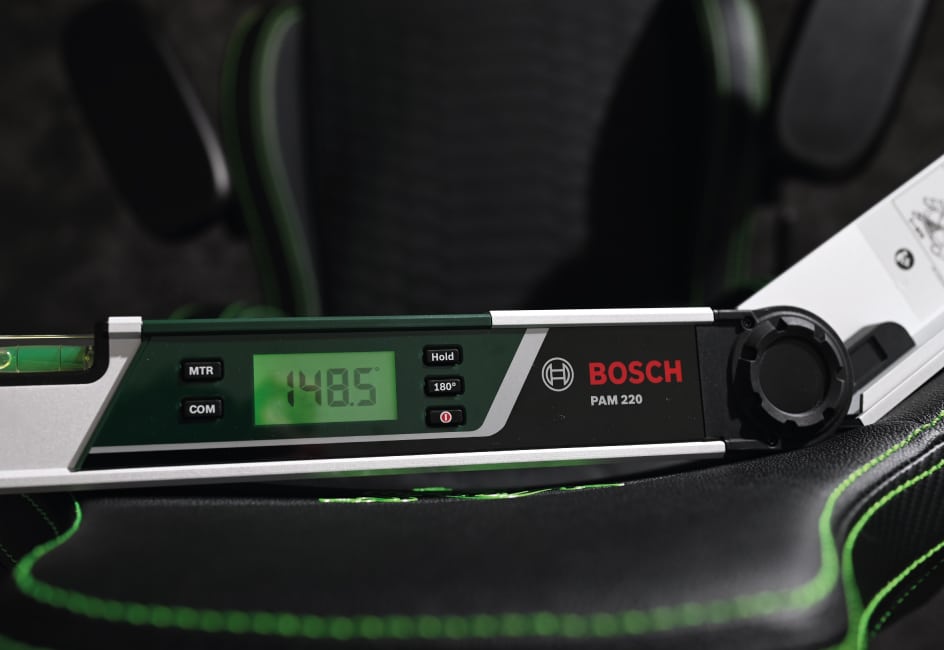 I measured the shoulder cheeks with my protractor: As always the note, the values are not 100% or the measurement method can have small errors. In any case, I come here to an angle between backrest & sidewall of about 148-150 °. For comparison: typical racing chairs have 140-145°, chairs with a very wide design like Secretlab TITAN Evo or noblechairs HERO are more likely to have 160-165°.
The angle could therefore be a bit more open.
Conclusion: Suitable body proportions for the Razer Iskur
I'm neutral about the neck pillow, otherwise I'd have to say that the Razer Iskur won't work below 190cm. But as I said, many do not use it at all.
In my opinion, the Razer Iskur is ideal for gamers from 165-190cm with a slim to average build. Even 195cm would still go, then the seat depth is not perfect, but ok. If you are too wide, you will be limited by the side bolsters. The neck pillow can only be used as a pillow.
Lumbar support: For me an aberration
Razer is praised from all corners for the lumbar support, I especially wondered why not a single office chair manufacturer would have come up with this idea until today, if it would be so great. And that is exactly the point: I do not like the lumbar support here, it rather causes me back pain.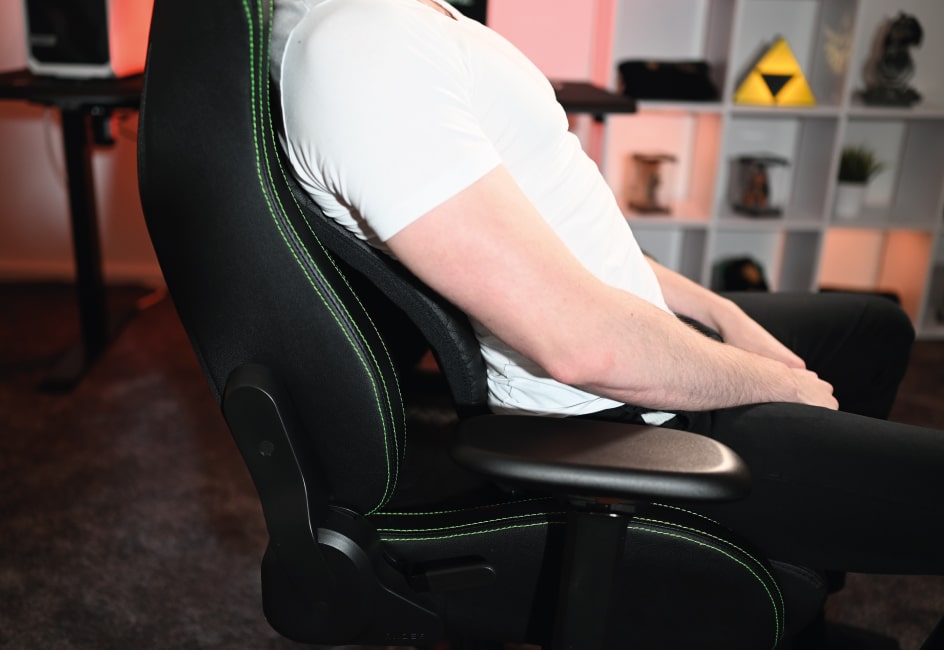 Lordosis supports are actually supposed to fill our hollow back as accurately as possible and thus achieve a relief of the surrounding structures & intervertebral discs. However, the support of the Razer Iskur is much too extreme for me and has been developed past its actual use, because this model is simply much too montrös.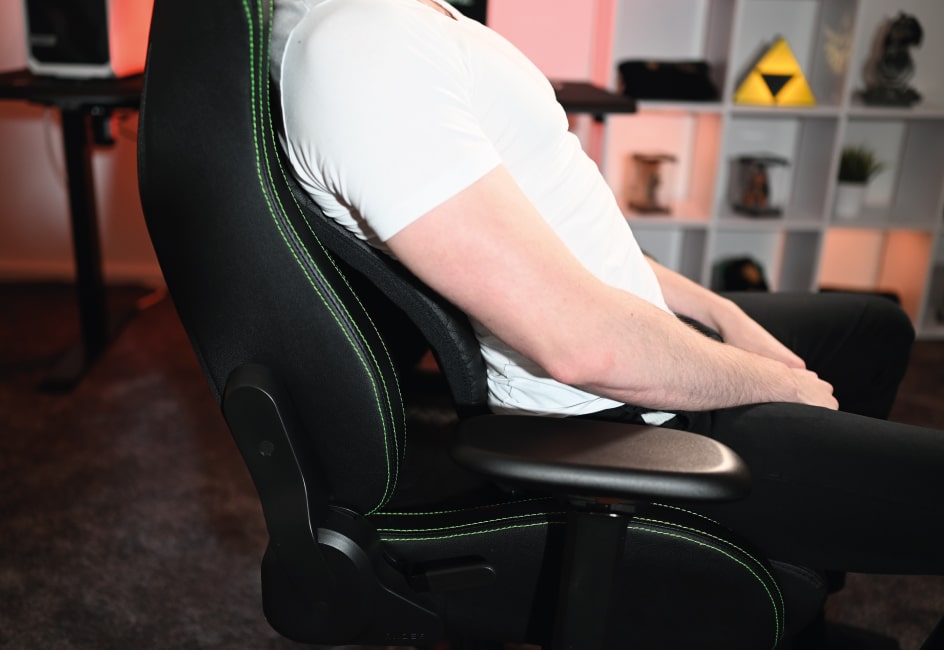 Thus, the support is in its initial state.
And so it is completely extended.
Who exactly is that supposed to be good for? Sure, you can also set positions in between, even steplessly. However, I could not use any of these positions, the support makes my stomach stick out extremely, it pushes me into a much stronger hollow back than I actually have.
The support rather gave me back pain. I have had them in my test period of 2-3 weeks only retracted and found them not even so pleasant.
Lumbar support makes poor sitting posture more comfortable - sense of an ergonomic chair?
Before my Razer Iskur review, I watched a few review videos about the model, I'm always interested in what other reviewers think of it. One of the videos praised that the lumbar support was comfortable in this position: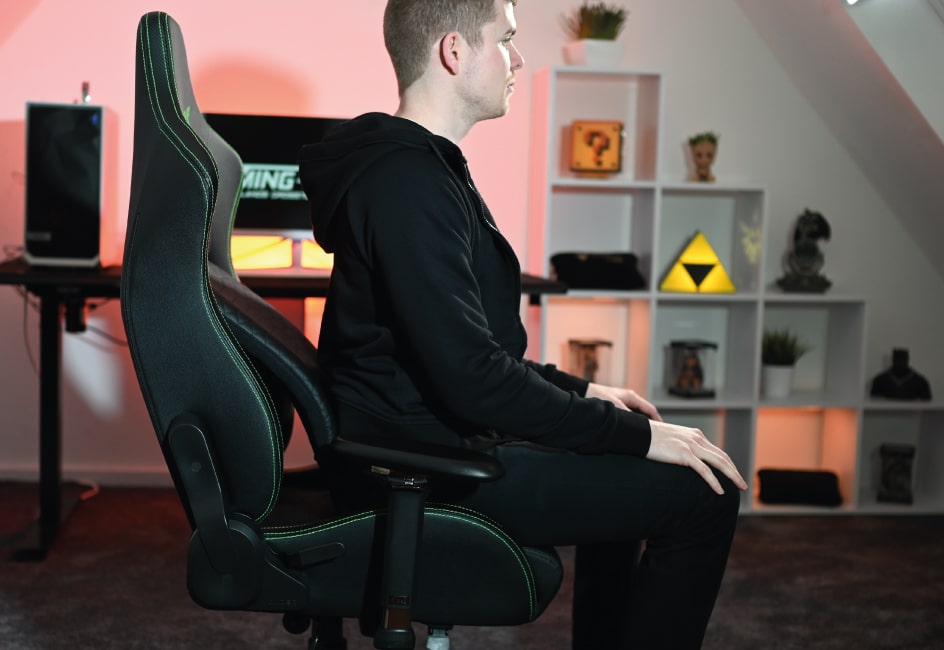 So if you sit on your chair like that more often anyway, the support would be great because you would have a slight support in the lower back. For me, this is absolutely no argument, my most ergonomic chair should not support me to take a crappy posture better.
Because sitting like that is anything but good for your back. In the long run, you let your shoulders droop, make a hunched back and thus strain the majority of your back.
My chair should help me to sit better/ergonomically and not help me to be able to hold bad postures longer.
Show the best price of the Iskur on Razer🠗
Show the best price of the Iskur on Amazon🠗
Conclusion about the lumbar support: Razer is perhaps not without reason the first with this technology.
I don't see Razer's lumbar support for the Iskur as a super cool innovative technology for better sitting, but rather an idea that probably no manufacturer of ergonomic office chairs would ever implement because it simply doesn't make sense.
Of course, I can't ignore the fact that apparently a lot of customers are very happy with it. I certainly am not & cannot comprehend it either. A lumbar support is supposed to support the lordosis, not bend the entire back into a weird position.
Other features of the Razer Iskur in detail
We've dealt with the Razer Iskur's lumbar support enough, let's continue with the other features that are left: Not all of these are bad either.
Memory foam cushion: Barely any memory, poorly adjustable
It is advertised as a memory foam neck pillow, but it does not really deserve its name. I know the memory foam pillows from Secretlab, noblechairs and the Razer Enki. All of them are pillows that live up to their name.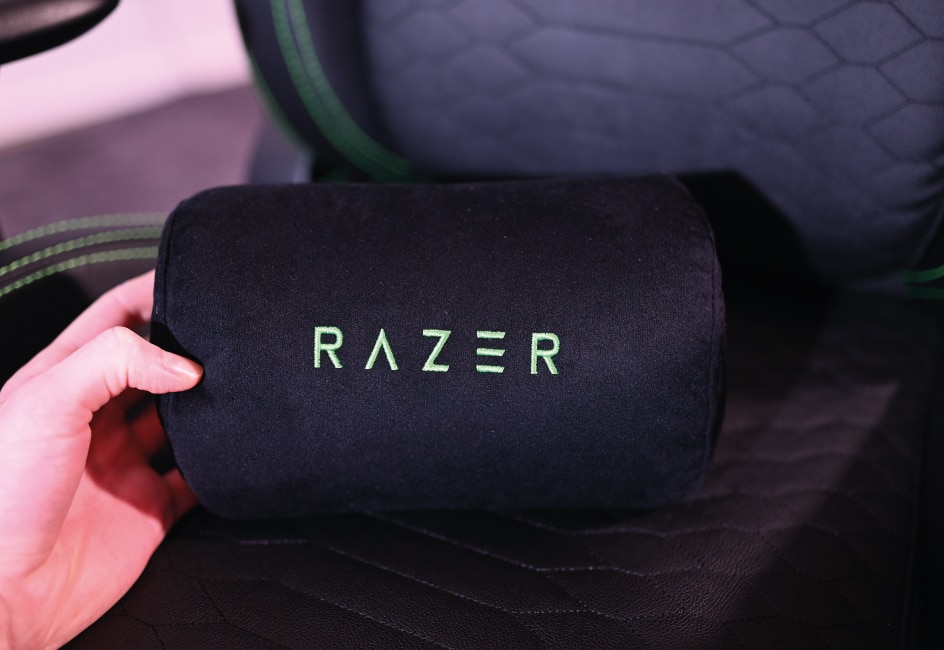 But not the Razer Iskur. Razer apparently knows how to do it; the Enki's cushion is top-notch. However, this one hardly has a memory effect and behaves almost like a normal fabric cushion with cotton padding. I do not know why they have saved here.
The adjustability is also problematic. At 189cm, I'm not exactly short, but only just tall enough to be able to adjust the neck pillow correctly. This can only be put over the headrest and since the headrest with the side bolsters very quickly becomes wide, it can not be pulled down far enough for smaller people than 189cm.
4D armrests with metal & soft plastic
The Razer Iskur is equipped with 4D armrests, which I am also very happy with. There is a button on the front of the armrest that we have to press to be able to adjust the armrest. This is to prevent us from accidentally adjusting the armrests.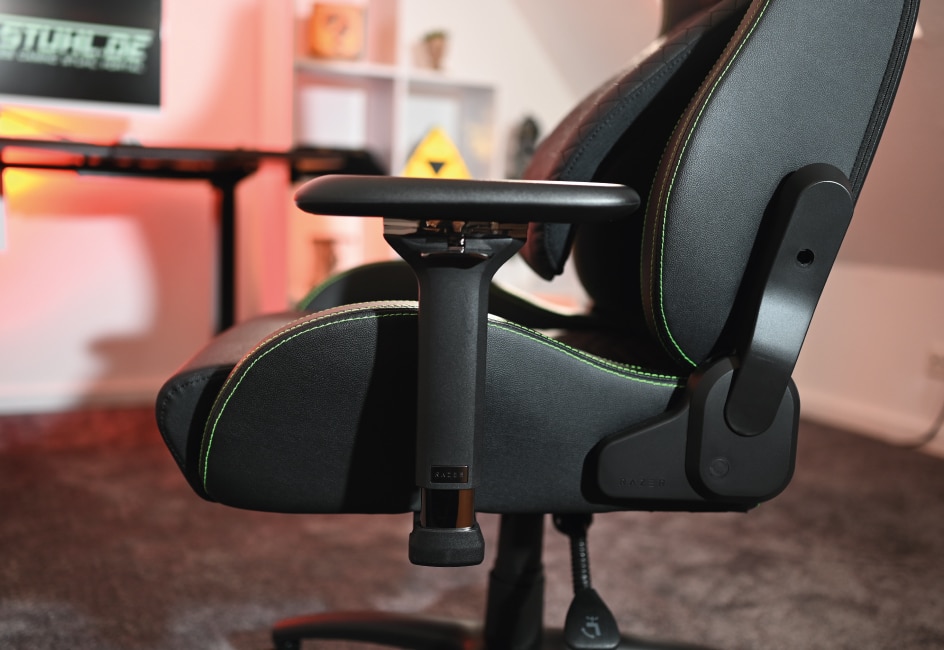 Furthermore, the knobs & levers are made of metal, which creates an image of value and also haptically gives the feeling of valuable materials.
Of course, the armrest support is equipped with a soft plastic that comfortably beds our forearms.
Extended rocker mechanism & 139° backrest tilt
In the Razer Iskur test, we are dealing with an extended rocker mechanism. Thus, we can rock and also determine our position in every position compared to the simple rocking mechanics.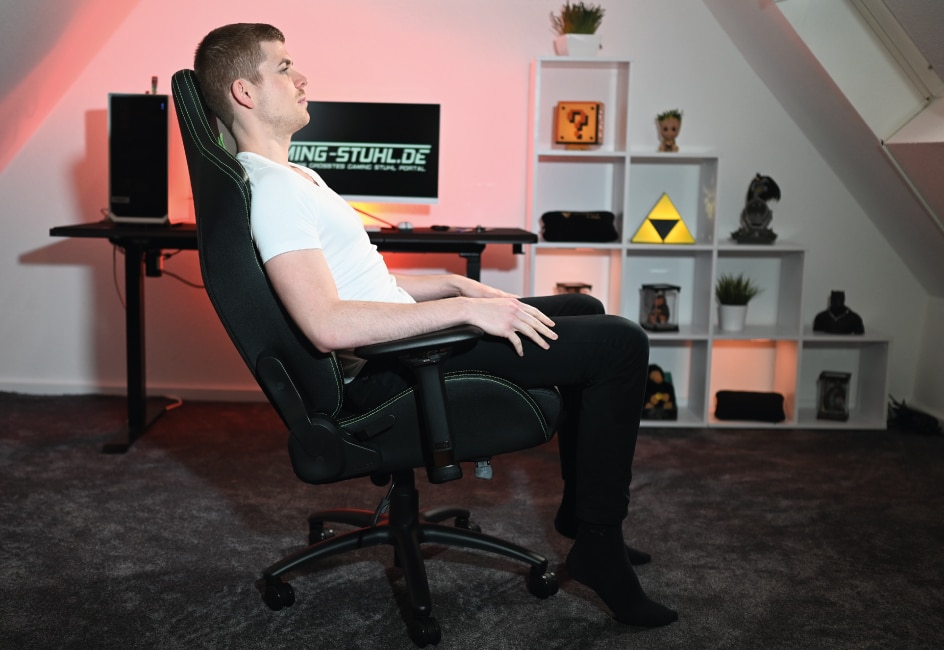 This also works very well.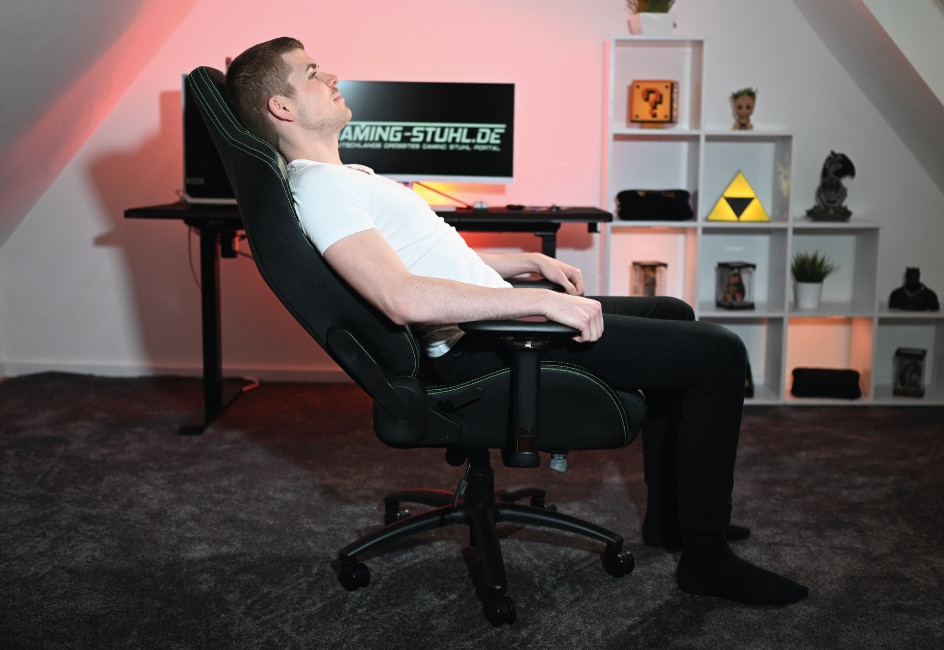 The backrest can also be tilted backwards by up to 139° with a lever on our right. This should allow us to recline nicely for video consumption.
60mm casters & metal base
The base of the Razer Iskur is made of powder-coated metal and looks quite plain.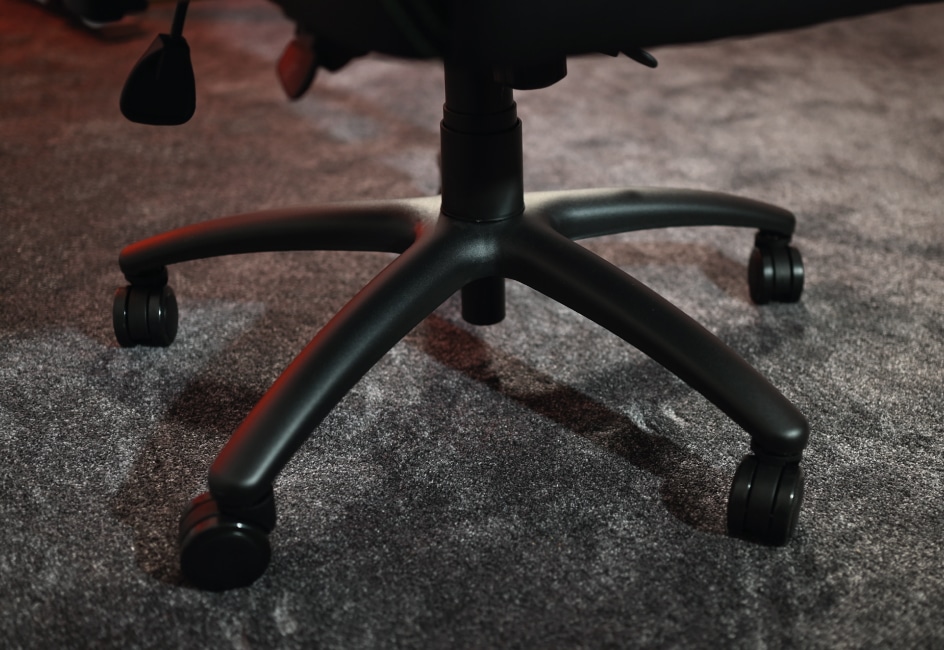 Inside this base are 60mm plastic casters that should do their job on hard & soft floors.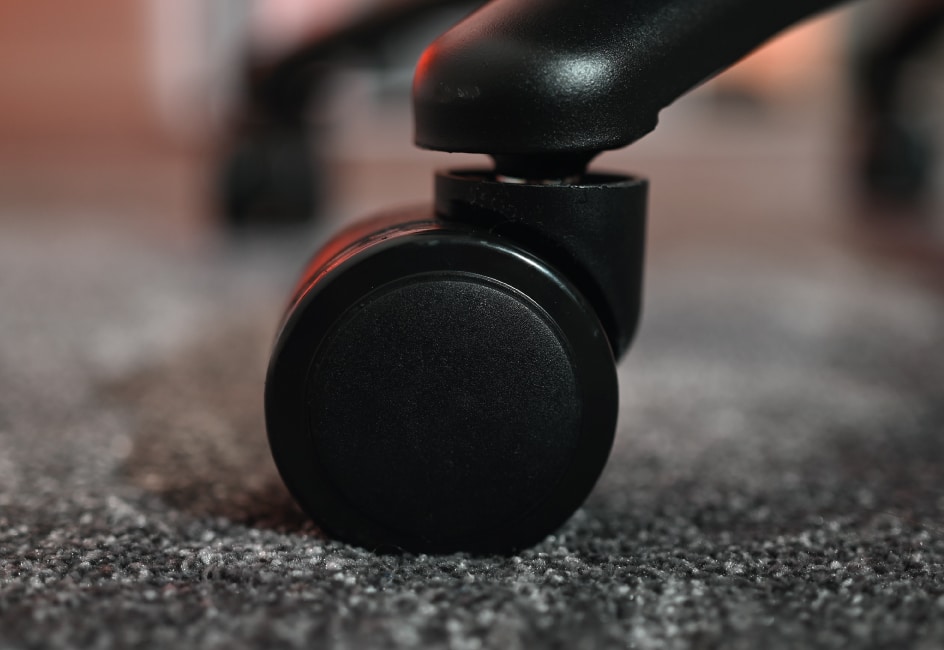 Here everything works as it should, the rollers are smooth running and quiet.
PVC cover - Why Razer, why?!
I haven't had a gaming chair covered in PVC in ages, and there's a reason for that. PVC is more robust than the most commonly used PU covers (polyurethane), but it is also not breathable. And that's rather not so cool for seating.
PVC is waterproof. That's why waterproof mattress covers are also made of PVC. I once lay on one of these in the hospital, I was not allowed to get up for 24 hours and my bed was damp for 22 hours. The mattress is protected, but it's pretty disgusting for the patient.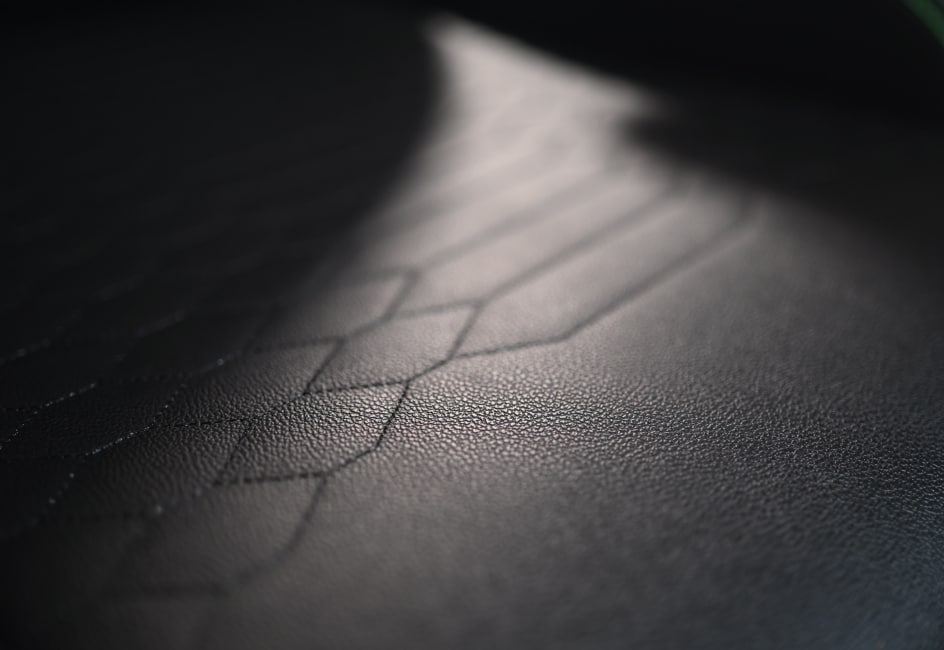 It can also be read here in the material archive: PVC is more robust than PU, but not breathable and much cheaper. Of course, Razer only advertises the cover's great robustness in its own store, but that's how advertising works. Advertise with the pros, the cons under the table. Maybe PVC was Razer's choice due to the low purchase price, I don't know.
The bottom line is that I wouldn't want a chair with a PVC cover for the summer, and there's certainly a reason why 98% of gaming chairs over 230€ are covered in PU instead of PVC. $380 and then PVC to deliver is for me anyway a no-go.
Apart from that, PVC is a real creaky leather. With every movement the chair creaks around because PVC rubs on PVC. This is not the biggest problem for me, but is more noticeable here than with other chairs.
How breathable covers actually work
Our seat cover is actually supposed to absorb our sweat, transport it away and release it again via the room air. Often the upholstery foams also help, they also absorb moisture and transport it further. But to do this, the material must also be able to absorb moisture.
PVC cannot absorb moisture, so it is also very popular as flooring. When we sit on it for a long time, this means for us: we sweat into the PVC cover, but it does not absorb the moisture, so it becomes and remains more and more humid between us and the cover.
The higher quality a PU cover is, the better it breathes. Fabric covers also breathe well, or genuine leather. PVC, however, does not.
Razer support: Slow, bad & annoying
In the package of my Razer Iskur, which I bought from Amazon, there was a little card: If I have problems with the chair, do not contact the retailer, but Razer directly. Presumably, they want to shine with particularly good statistics, because fewer chairs are returned and the RMA rates look low.
Unfortunately, I had to contact Razer because the lumbar support did not work. I have never experienced such poor customer support. Had I contacted Amazon, I would have returned the chair and had a new one in 2 days. Keep this in mind.
September 10:
On Sept. 10, I submitted to Razer all the requested documentation & information they asked for regarding my defect.
September 14:
Jan from Razer writes me that they are now asking the engineering team if a replacement backrest is available.
September 27:
Angelica from Razer lets me know that there is currently no backrest available. And it takes them 13 DAYS?! I express my disappointment that it took them almost 2 weeks to send me a message like this and it doesn't get me anywhere.They also offer to send me a black backrest. I decline, I ordered the black/green one and want it the same.
02 October:
Razer found a backrest for me and sends it to me.
06 October:
I receive my new backrest. This one is stained with grease stains that I have not been able to get off until today. I didn't feel like contacting them again about it and just accept it.

It just took 26 days from my request to receiving the replacement backrest, which is then also stained with grease stains. It's not like I'm short of chairs, but for a prospective buyer like you, that would be pretty annoying, right? Besides, Razer sends a mail every day saying that they haven't forgotten me. Absolutely annoying, I have received a total of 25 mails.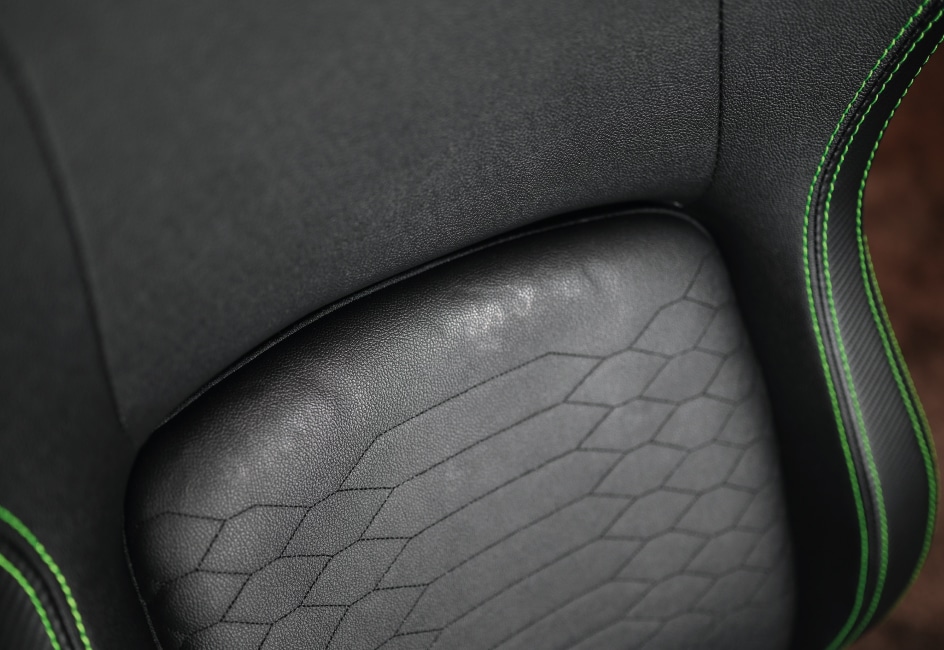 If the spare parts are not there, ok. But just the fact that you let 13 days pass until you even write that the spare parts warehouse is empty. And that there are no spare parts in stock, leads me to conclude that I was not the first with such problems.
I also found an Amazon review exciting. A customer also needed a spare part, which came from Singapore just like mine, and he even had to pay customs duty for it. And since the replacement delivery was also defective, he paid customs again for the 2nd delivery.
Conclusion: If your Razer Iskur is defective, do not contact Razer support. Send the chair back and have the retailer send you a replacement.
Workmanship & material quality: Problems here as well
I don't count the fact that my first backrest was defective as a workmanship problem, because that can happen anywhere. But I become more critical when my replacement backrest is also not quite in order and, as described above, grease stains are on it that cannot be wiped off.
However, aside from crooked seams at the top of the headrest, everything is fine here. But the bottom line I have to say: 2 defective backrests, odd seams & grease stains. That does not fit, so I'm probably unlucky with the processing, my experiences with the Razer Iskur are rather mixed here.
Positive: plywood construction
However, I have to praise one thing about the chair. Razer's choice of materials is mixed. I can understand even less why they chose a cheap PVC cover when you look at the construction of the chair.
The Razer Iskur is made of plywood, which actually speaks for the chair. For reinforcement, additional steel is used here, why I do not know, because office chair manufacturers who use high-quality wood actually do not need additional steel as a construction. But that may have its reasons, shaped wood is actually a very good thing. Why, you can find out on my homepage: progamingchair.com
Conclusion: No buy recommendation for Razer Iskur
I lack any argument to suggest you buy the Razer Iskurs. For the life of me, I can't understand how so many magazines and reviewers can recommend this chair so strongly. Whether monetary interests are behind it? I don't want to accuse anyone of anything, but I find this strange.
What I find good? The armrests are great and that plywood is used is also good. Unfortunately, that's all though, the Razer Iskur has strong side bolsters, the lumbar support is not a good design for me and rather invites you to adopt bad sitting postures. The memory foam head cushion has hardly any memory foam and cannot be adjusted well due to the wide headrest.
In addition, they have opted for robust, but breathable and creaky PVC leather and my experience with the Razer support was more than bad. The processing / material quality is also not the hit, considering that I needed 2 backrests and the 2nd has grease spots and crooked seams.
For me, the chair is nothing. Since there are definitely satisfied customers, I won't rule out that the Razer Iskur might suit you, but in my estimation there are better options on the market: Secretlab TITAN, noblechairs HERO, HP Omen Citadel, DXRacer Master, and if it can be more expensive, then of course Backforce One & Backforce One Plus.
Even chairs like the Nitro Concepts S300 or Nitro Concepts X1000 I would prefer to the Iskur, if you at least buy the memoryfoam cushions. There the mechanics are "worse" and there is 1D with the armrests less, but we have much more space and a solid finish.
Show the best price of the Iskur on Razer🠗
Show the best price of the Iskur on Amazon🠗