Nitro Concepts in the test - Cheap & Good - The price / performance hit
Nitro Concepts is one of the brands that offers chairs for little money. I'm not talking about categories like the Terena sports seat – you're already a class above here – or a few classes higher. The chairs of this brand are characterized by pleasant comfort at affordable prices. I myself have recently tested two gaming chairs from Nitro Concepts – I never really liked the C-series with the C80, then came the nicer E-series – meanwhile both are discontinued and there is the S300, the X1000 and the C100.
If you're looking for a mid-range chair that doesn't cost quite as much as one from AKRacing or DXRacer, but isn't as cheap as Terena & Co. either, then this might be the one for you – due to your smaller budget, you don't have to miss out on chairs whose design you can shine with, anyway – because the design team has got something.
My Nitro Concepts Tests - With Videos, Photos and Valuable Information
I have tested all Nitro Concepts chairs so far. So far, I have actually not been disappointed once in the price-performance ratio. While some chairs like the Corsair T1 Race are in my eyes rather less worth the money, the NC brand seems to make more of an effort to bring an attractively priced model to the market. My absolute favorite here: The S300 & the X1000.
Nitro Concepts X1000 - For gamers from 165cm-205cm
The X1000 came after the S300 and is just as much a price-performance wonder as its brother. The functions are basically almost the same, but there's even more space on the chair. Side bolsters are almost non-existent here.
It can also be used for normal to somewhat bulkier gamers without any problems. 3D armrests with soft touch and very solid workmanship – for around $245.
Nitro Concepts S300 - For gamers from 165cm-195cm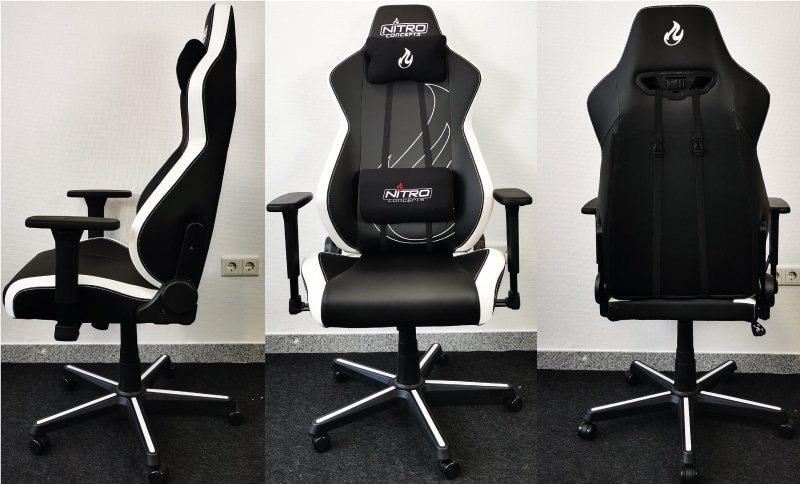 The S300 is by far the best value for money chair I've ever tested. The features are easily on par with chairs that cost over $300 – definitely check it out.
It can also be used by normal to somewhat bulkier gamers without any problems. It also comes with 3D armrests with soft touch and very solid workmanship – for 233$-245$.
Nitro Concepts C100 - For gamers from 170- approx. 180cm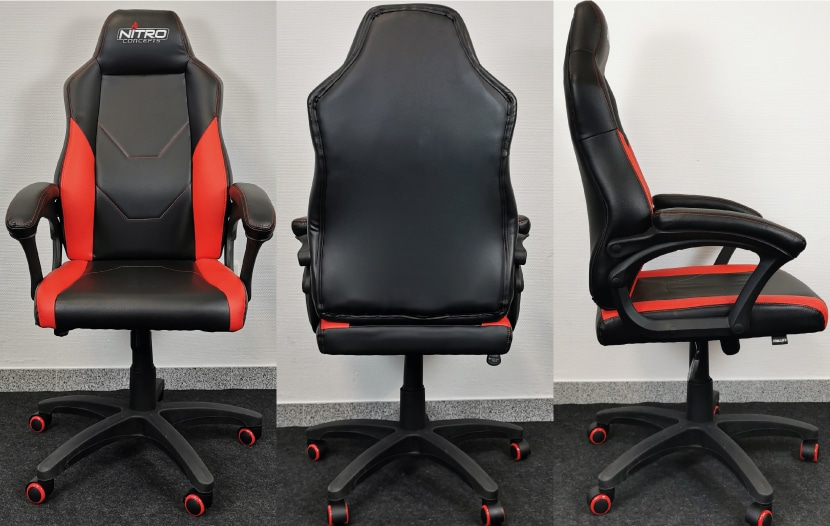 The C100 is a chair that is even available for under 200€. This makes it cheaper than the DXRacer 1, so it's a model for the real money-savers among us. But at least you get a cool look.
The chair is loadable up to 120kg and also offers a lot of space. However, the design is a bit difficult: due to the very deep seat and short backrest only suitable for users of about 170-180cm.
▷ Test report coming soon! ◁
High quality and durable chairs from Nitro Concepts
That's exactly what I like: Nitro Concepts chairs are high quality and solidly built: For use over years. Among other things, this is ensured by the steel frame of the S300, which is virtually indestructible. In addition, noticeably robust materials are used:
If you've never seen a gaming chair before and compared it along with 3 chairs from other major brands, you'd probably have a hard time telling which brand is ahead in the market. Therefore, check out my Nitro Concepts S300 review and see for yourself.
Super high standard of workmanship for series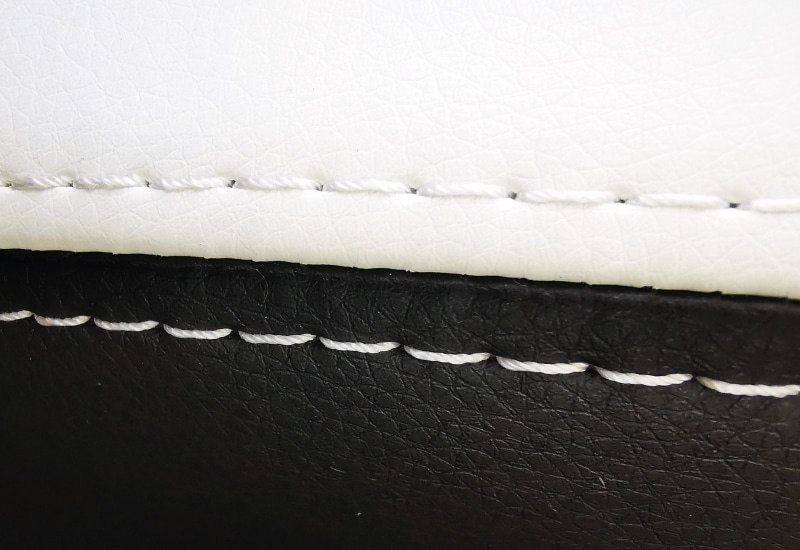 Here, for example, we see the seams of one of the chairs. These run absolutely straight and are not crooked at any point.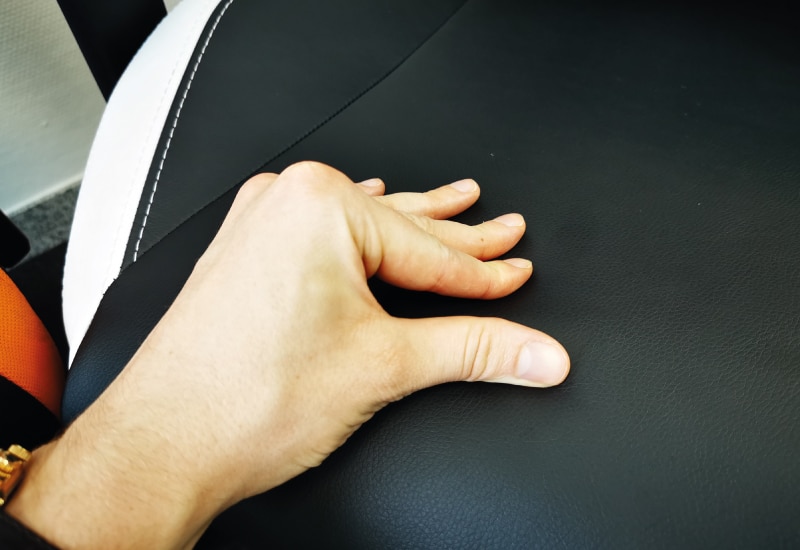 At the same time, the cover is very tightly strung, nothing flutters around here, nothing offers potential to wear out. Even after now 2 years, everything is in shape here
Much comfort for little money is the motto
For me, that would be the sentence that best describes Nitro Concepts. Even the earlier E220 Evo was very affordable, scored with a very cool design and was more than affordable at the same time. And that is exactly what runs through the entire product range:
So far, every Nitro Concepts chair has been able to convince and offer a surprising amount of quality and comfort for the price. I hope that this will continue and that many more models will appear.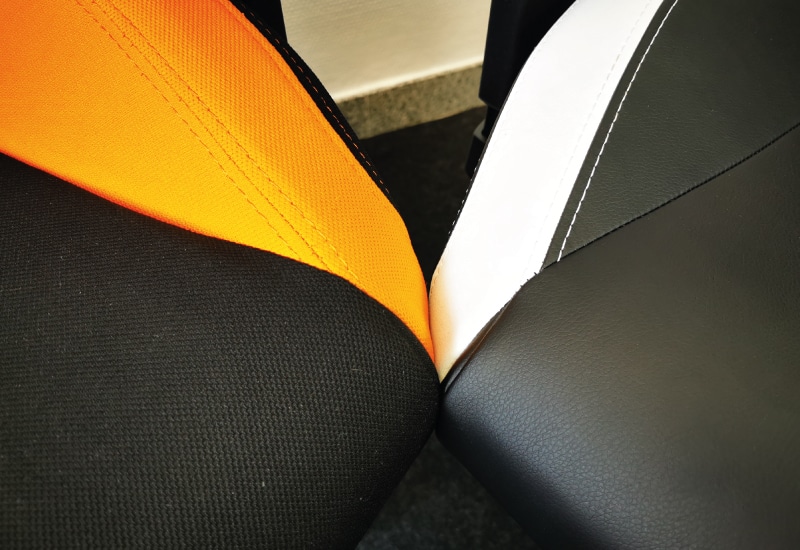 Because let's be honest: Not every gamer has the money to spend 350-400€ on a chair instead of putting it in his computer. That's why it's absolutely cool that there's a brand that's suitable for more frugal people.
Alternatives to Nitro Concepts
In the rather low price segment, there is no competitor for around 250$ that can compete with the S300, because it really offers the best price-performance ratio that I know of. If you are willing to spend more, noblechairs, AKRacing, DXRacer or Secretlab have something for you.
For the C100 I can think of alternatives: For example, the DXRacer 1. I personally like the design of this model better and there are adjustable armrests and a neck cushion. Other than that, I don't have enough experience in this price range to recommend anything else.
Otherwise, my Top5 is at your disposal! Each chair has been tested by me personally: