AKRacing - tests, size & purchase advice for all series
AKRacing chairs get a very good rating from me and I count them among my favorites on the market. In terms of quality and also seating comfort, AKRacing makes excellent gaming chairs that I put on par with those from DXRacer & noblechairs. I have been able to prove this in numerous tests. As a result, this brand is one of the big players that has greatly revised and improved its entire range since 2018.
AKRacing – quality, comfort and style – at fair prices.
If you want to take a closer look, then take a look at my AKRacing tests, you can find them a bit further down. Otherwise, very briefly: AKRacing is one of the largest chair manufacturers, which is also very active in the eSports scene.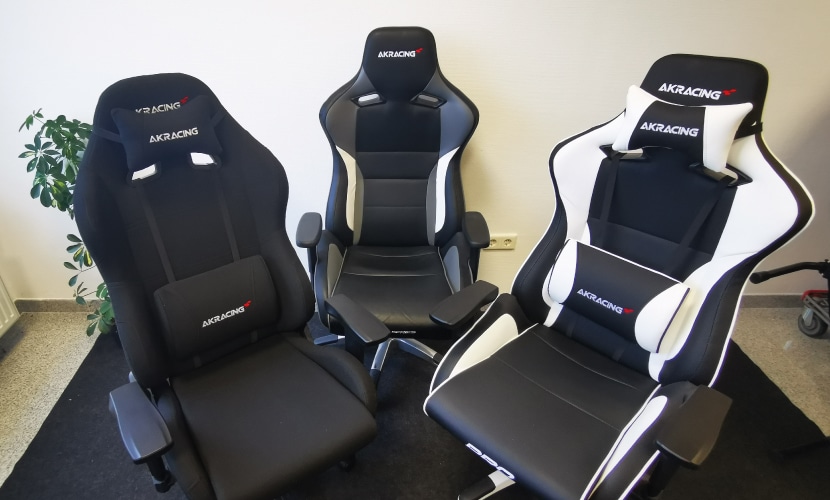 AKRacing in test - models tested by me so far
In the following, I will first briefly introduce you to the models of AKR, which I could already test. After this list you will find valuable information about the current series & efforts of the brand AKRacing. It's worth reading!
AKRacing Master Pro - For gamers from 175cm-205cm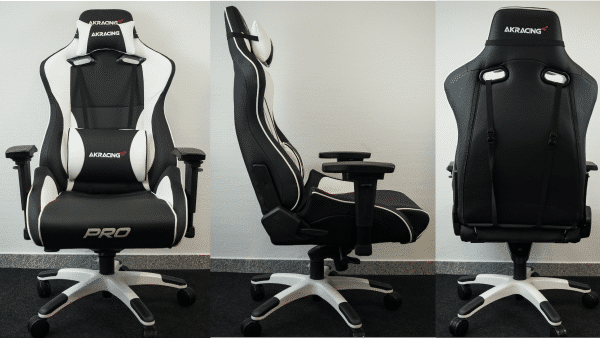 The Master Pro is the successor to the ProX (see below), basically a new edition with some extras. The model shines with very high quality, pleasantly soft padding and a stately & intimidating look.
The long seat provides pleasant support for the thighs and ensures a pleasant comfort experience. Due to its generous dimensions, it is suitable for gamers from 175cm tall and can support loads up to 150kg.
AKRacing Core Ex Wide - For gamers from 170cm-200cm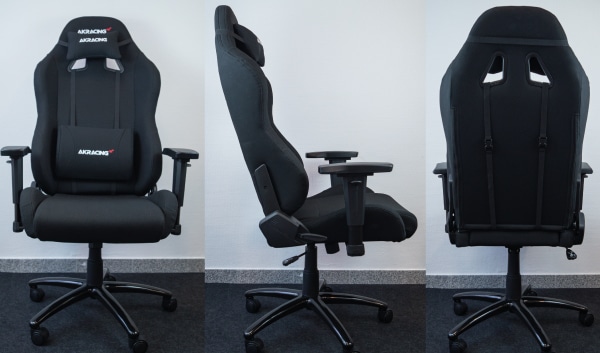 The Ex Wide from the Core Series comes with essential features that you want. What stands out: The chair is also suitable for larger and heavier gamers and remains under 300€ – that's rare.
There is the Core Ex and the "Wide" version, which, as the name suggests, has more generous dimensions. The seat is wider than the standard model and offers gamers over 170cm tall enough space to accommodate up to 150kg of body weight – at a more than fair price.
Core & Master: AKR brings clarity to the series tangle
Especially with DXRacer and AKRacing, I've always wondered why they throw inflationary chairs with different names on the market. There are simply so many series that it is probably very difficult for you to keep an overview. I manage better, but that's not the point, because:
It depends on YOU! AKRacing knows that, too!
So they decided to offer 3 main series in the future: The Core-Series, the Master-Series and the Office-Series. I'll tell you about the differences now.
Core Series: The "core" series with solid features
The name "Core" is the basic series and thus the cheaper one. There are not that many differences, but there are a few big ones.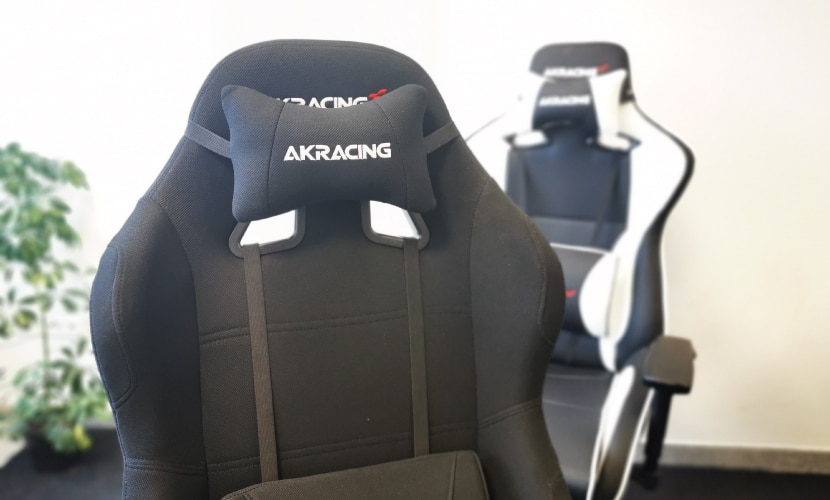 For example, the Core Series uses less cushion foam than the Master Series. Visually, this makes a difference; the Master Series looks a bit beefier due to more cushion volume.
In terms of comfort, however, I think it makes virtually no difference. I couldn't say that a "smaller" amount of padding would have affected the comfort in one of the Core Series.
Master-Series: The series for highest demands
Maybe you identify your claims with the word "master", which in German means so much master, lord or champion. For the real lords among us, there are therefore 4D armrests here, in the core series are 3D models.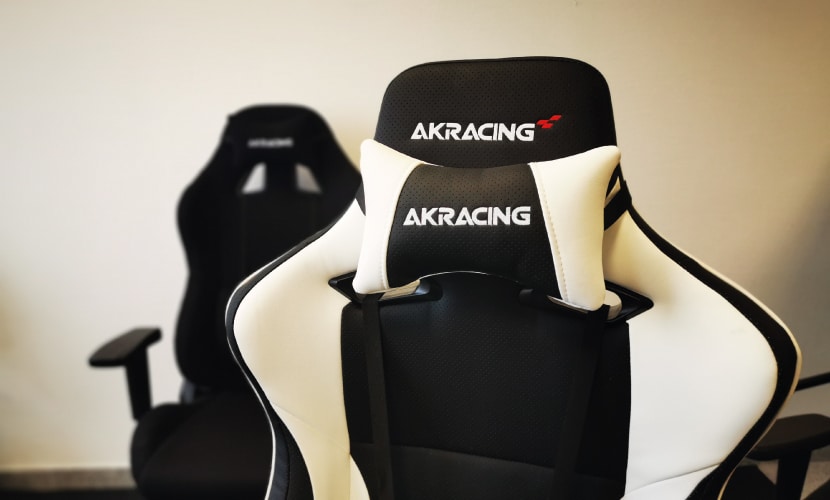 Also, in the Core Series, the rocker function is not lockable, while the Master comes with a knee rocker mechanism that you can also lock in different positions.
Otherwise, beefier designs and more built-in upholstery are offered here, making the Master the Master and letting the Core Series cover the basic requirements.
What makes the brand special
There are a few points that make a brand like AKRacing special and set it apart from the typical China brands on Amazon. Let's face it: There are countless brands on Amazon whose name you've never heard.
Chairs are ordered by catalog from the Far East, logo on it and off you go. Established brands like AKRacing invest much more attention to detail and customers.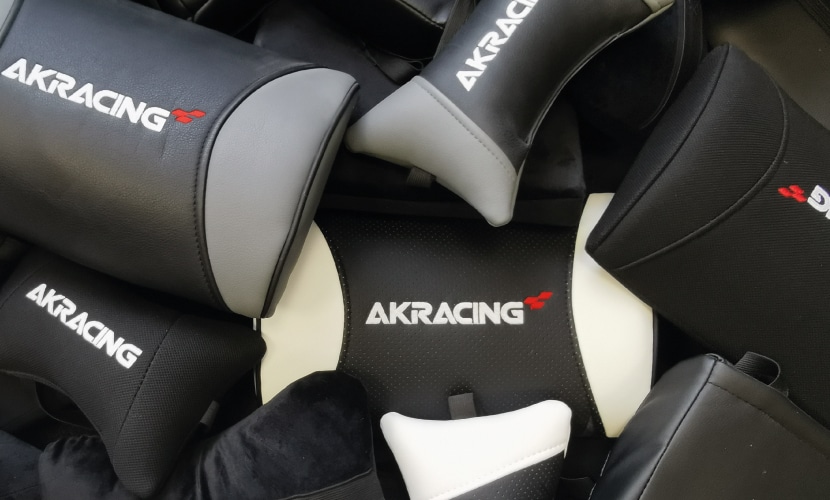 5-10 years warranty on new series
On the Core and Master series, AKRacing has become spendy when it comes to warranty. The indestructible steel frame comes with a 10-year warranty, and all other parts are covered for 5 years. In case of defective casters, footrests or armrests, you are well covered.
Of course, this warranty is only limited for wear parts: You can't call AKR after 4 years and say that you can tell your chair has been used for 4 years. But that should be clear.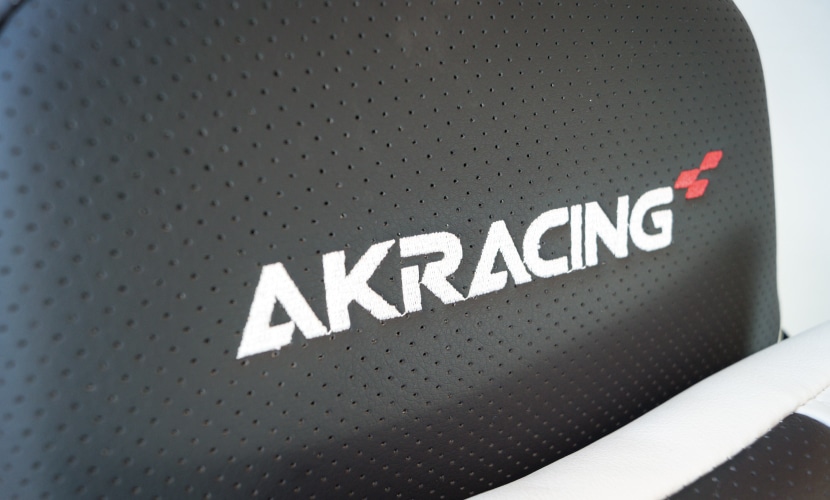 For some time now, I no longer say that this or that chair is the "best" of a brand. Because there is no such thing as THE best gaming chair from AKRacing. Just as there is not THE best sweater, because the sweater must also fit you, just like a chair. Therefore, there is a best model for you and your stature, but I can not say that in general.
Basically, by the way, apart from small differences in dimensions & features, the chairs from AKRacing are equally recommendable. A manufacturer usually has its models produced with similar quality standards.
Other popular AKRacing chairs
Whether Nitro, Premium or Prime – I can recommend them all. Look at them and then decide which one suits you best optically. Before you buy, however, you should definitely take a look at my size guide to make sure that your favorite fits you.
Which AKRacing chair fits your height/stature?
Just like the DXRacer chair, the one from AKRacing can be easily adjusted – although only the ProX has armrests that can be adjusted in 3 directions. So both brands are super suitable for small people from about 1.60m, but also for much taller gamers. In my experience, an AKRacing chair is still suitable for people who are 2m or taller and/or particularly heavy (150kg and more) – the ProX in particular lends itself to this. The tallest gamer I've personally interviewed is 2.02m tall and very satisfied and I, at just under 1.90, can still manage with the Prime.
Of course, the same applies to the AKRacing chair: It's hard to set fixed limits, since most of them are built very individually. Nevertheless, here is a small table with guidelines based on my personal experience:
Body size:
average to very tall
180cm-205cm
Stature:
average to broad
Body size:
rather small to average
160cm-190cm
Stature:
narrow to average
Accessories wanted? My tips!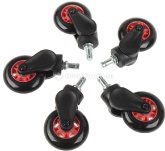 Another great way to optimally protect your floor – or that of your parents – and to ensure that you can glide freely back and forth with your gaming chair without effort, are special Rollerblade wheels. A soft, particularly floor-friendly material and smooth-running ball bearings ensure optimal results on carpet & parquet. You can read my article about the rollers here: ▷ AKRacing Rollerblade wheels.
You are especially tall? Then you will like this:
The aforementioned Rollerblade wheels not only let you float across the parquet, they also ensure that your chair grows by a whole 6cm in seat height – but that's not all: With every AKRacing chair, it is possible to install an extra-long gas lift. That's child's play and raises you another 5.5cm in height. In combination with the ProX, even the tallest gamer among you should be able to adopt an ergonomic sitting posture.