Buy the best computer chair - comfort and convenience
Similar to a bed, many contemporaries often underestimate the need to own a good computer chair (also gaming chair) to own. A first-class computer chair does not necessarily have to be expensive. The right seat is in any case a good investment for body, mind and your health. A comfortable chair not only provides a high level of comfort, it also leads to less fatigue and increased alertness, while gaming or even during a long and hard day of work at the computer.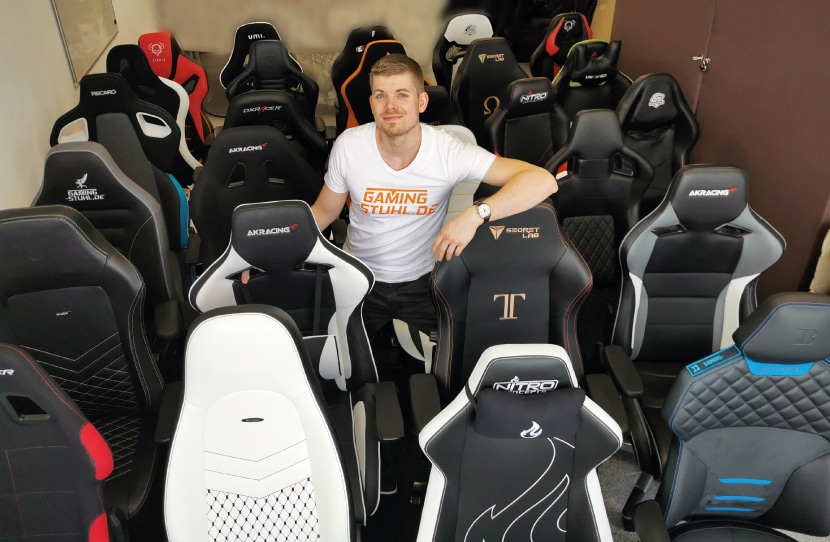 What makes a good computer chair
During working hours (or even when playing computer games), most people spend many hours on a computer chair. But unfortunately, humans are born for movement, not for sitting for hours on end. If you already have to sit, you should find a computer chair that supports dynamic, active and natural sitting. A perfect computer chair for gamers fully adapts to the needs of its user. It fits the body measurements, is versatile adjustable, supports an individual sitting position and promotes natural movements. There are as many things you should consider when looking for a top computer chair. We have tested many computer chairs. Check out our advice before you buy a computer chair. Here are the main indicators that distinguish a good chair from a bad one.
Marco's TOP recommendations - find your computer chair!
On the page now linked, you'll find my absolute favorites from the more than 20 chairs tested. I have tested in detail and tell you exactly what is important in the individual models and what they bring you. There you also have the opportunity to view the test reports:
There really is something for everyone here: for those who want to save money, those who don't want to spend so much money and those who simply want the very best. Take a look and find the chair that suits you personally:
Ergonomics - support for prolonged sitting
Actually, it's a given: a good computer chair for work or a computer chair for gaming offers a proper ergonomic design that duly supports the body and especially the back when sitting for long periods of time. While no chair can eliminate problems with the hip and lumbar spine, it can alleviate the pain that can result from sitting for hours on end.
Even a $250 computer chair can support the lower and upper back areas and reduce pressure on the touch points on the buttocks or back. If you're looking to buy a computer chair, be sure to consider the hip position when choosing. Some chairs allow you to move the seat forward or backward, which changes your posture. Ultimately, the chair should form an S-shape in the back for a healthier posture. At this point, a good computer chair can be compared to a high-quality mattress.
Adjustability - for the individual adjustment
Adjustability mainly refers to the ergonomics of a computer chair. Before you buy a chair, you should find out to what extent the chair can be adjusted. Is it possible to adjust the armrests, is there a lumbar support, do I even need one with this chair and does the chair fit my body?
A few very difficult questions that I would like to help you with my tests.
Breathable - For really hot working days
Our computer chair test has proven: Everyone sweats, even when sitting. This is not a heavy sweat, but our body still secretes moisture. Therefore, the fabric under the buttocks must absorb this moisture. Otherwise, it becomes uncomfortable and the chair starts to smell. The options:
Fabric is considered the most breathable material of all – but that's not necessarily true, because it depends on the type of fabric. Polyester, for example, is a fabric, but it is also a plastic. And plastics do not always breathe optimally, although much better than cheap artificial leather.
Polyurethane covers are considered less breathable. But importantly, it also depends. At home, for example, I have very cheap dining chairs covered with cheap PU. I can't sit on these for an entire evening because I sweat. However, there are also the higher quality PU materials. For example, I've been working on gaming chairs for 6 years and I don't sweat much on the PU models either.
As long as you don't live in the attic or generally tend to sweat a lot, a high quality PU is fine too.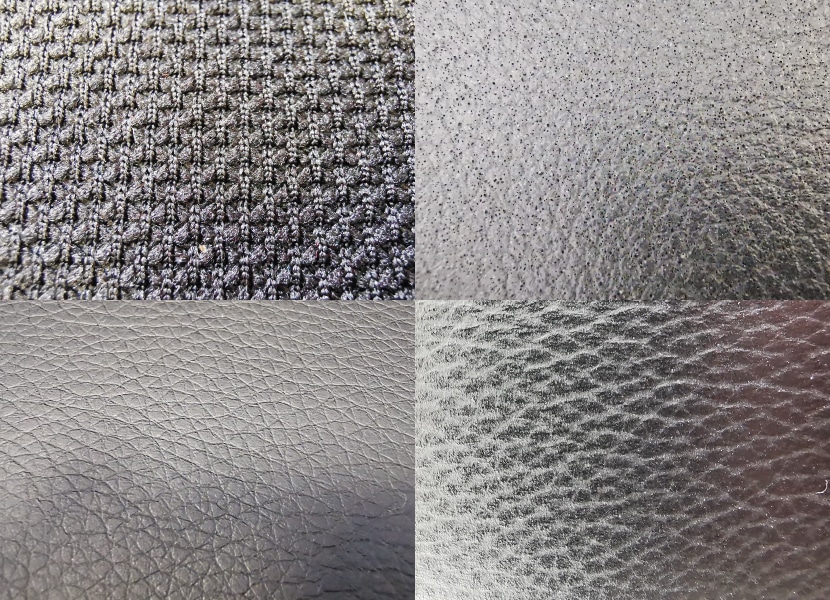 You also have to pay attention to the details when it comes to genuine leather, because some manufacturers try to trick you here. AKRacing, noblechairs and Secretlab, for example, use very high-quality and pure genuine leather. The seat is excellently air-conditioned here, but genuine leather is also really expensive.
Material mix of vinyl & PU
For example, a new production process that creates covers from vinyl and PU stands out in particular. The noblechairs Black Edition, for example, is covered with it. It is a unique material mix of vinyl & PU that easily keeps up with the breathing properties of real leather and is also very robust. The advantage: It breathes like real leather, but costs significantly less.
Other important features of a computer chair
+ Seat area & Adequate padding
There should be a balance between density (hardness) and resistance to deformation. Hard cushions retain their shape longer and are less likely to sag, but cushions that are too hard are also perceived as uncomfortable. A good average value must be found here to reduce one-sided stress.
The seat should also be deep enough for your height. In general, it is important that the computer chair also fits you.
+ Adjustable backrest (mechanism)
The important thing is the mechanics of the chair, which allows you to make the computer chair movable. The more you can adjust, the more dynamic you can sit. The best choice is a synchronous mechanism that provides movement in the back. However, such a mechanism is usually only available for expensive models.
At least a rocker mechanism and an adjustable backrest would be welcome and are usually available.
Even if these adjustment options are not quite as important as those of the backrest, adjustable armrests are one of the keys to comfort and the right sitting position. In addition, each desk has a different height, so you can adjust the adjustable armrests to work comfortably at the desk. This reduces the strain on your shoulders.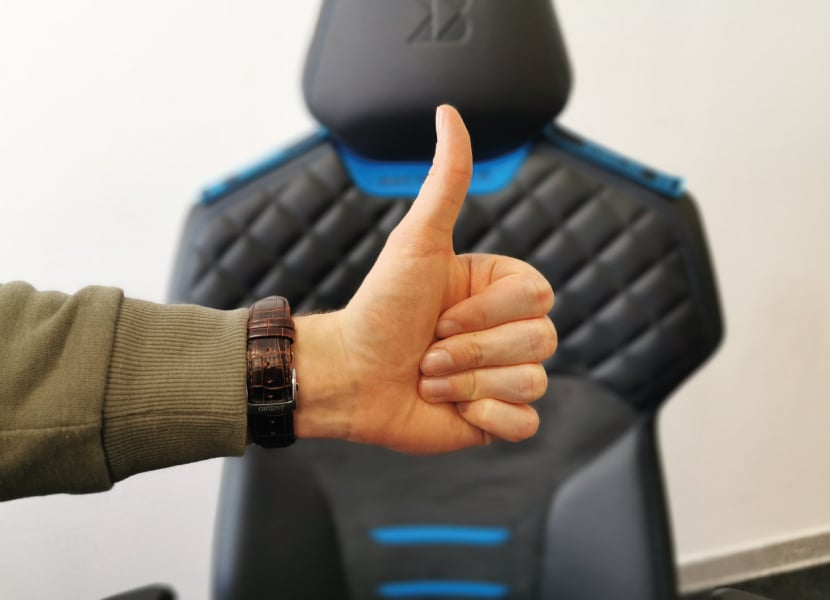 A computer chair should have five legs (casters) on the floor, so most of today's computer chairs have this number of legs. This is important for stability when sitting and moving. Before buying, you should test whether the casters fit the floor in question (hard floor, carpet, etc.). Otherwise, a good movement is difficult and the floor can be damaged.
+ Headrest - not only for restful breaks.
Appropriate placement of the headrest can reduce neck fatigue and provide relaxing breaks. Users who suffer from a stiff shoulder should definitely take a chair that is high enough to reach the head in the first place.
Criteria for the selection of a computer chair
A computer chair that is well designed and appropriately adjusted is considered an essential component of a productive computer workstation. A good chair provides the necessary support to the back, buttocks and legs and reduces harmful effects on the body, such as uncomfortable posture, pressure and heavy exertion.
Good chair adjustment ensures more comfortable use and provides support for the user in a variety of sitting postures. Variability in seating position is especially important for long workdays, even more so when a chair has multiple users.
To make sure a chair provides the appropriate support, check out my chair reviews before you decide to buy. Parts like the backrest, seat and armrest are important components of a computer chair you should consider when setting up a safe and productive workspace. The same guidelines apply to a computer chair for gamers. Before you buy a computer chair cheap the following advice will show you the way to a safe, comfortable and productive computer chair.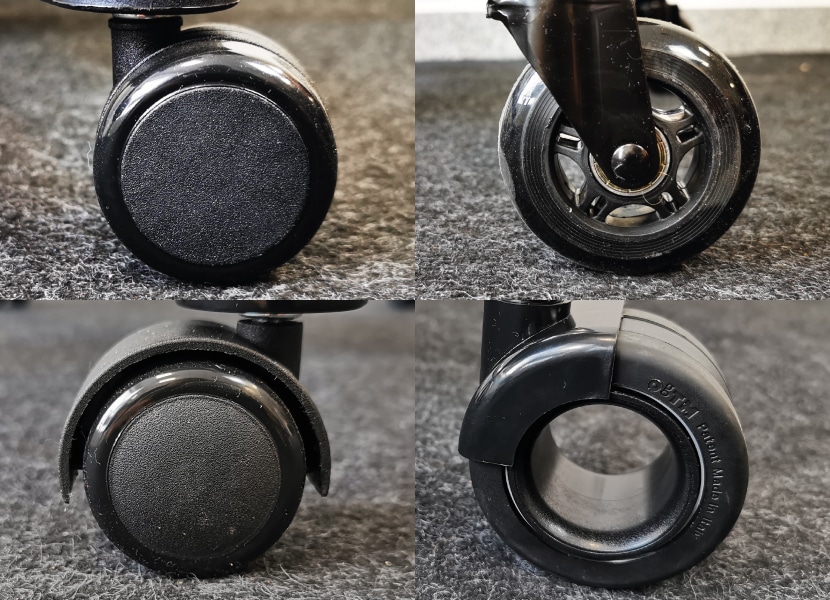 Possible faults with computer chairs
Chairs with four or fewer legs provide inadequate postural support and tend to tip over. In addition, choosing casters unsuitable for the floor, as well as a chair without casters, can make positioning at the desk difficult. This increases the risk of bending physically to access components, which can lead to fatigue or even muscle strain.
A computer chair for work or a computer chair for gaming should have a five-legged base and allow for easy movement of the chair. You should also make sure that the casters are suitable for the existing flooring.
Marco's TOP recommendations - find your computer chair!
On the page now linked, you'll find my absolute favorites from the more than 20 chairs tested. I have tested in detail and tell you exactly what is important in the individual models and what they bring you. There you also have the opportunity to view the test reports:
There really is something for everyone here: for those who want to save money, those who don't want to spend so much money and those who simply want the very best. Take a look and find the chair that suits you personally:
The backrest - support for correct posture
The backrest should correspond to the natural curvature of the spine and provide adequate support for the lumbar spine.
Possible errors with the backrest
Insufficient size, the wrong material or improper positioning of the backrest can result in insufficient support of the back and therefore unhealthy posture. Working in incorrect positions quickly leads to back pain, lack of concentration and fatigue.
A chair without an appropriate or adjustable backrest does not provide adequate spinal support and is not helpful in maintaining the natural S-shape of the spinal curve. Prolonged, one-sided and uncomfortable sitting puts stress on the spine, especially in the lower back. This can lead to poor posture, known as a hunchback, which is often associated with severe pain. In some cases, the pain radiates along the sciatic nerve into the leg.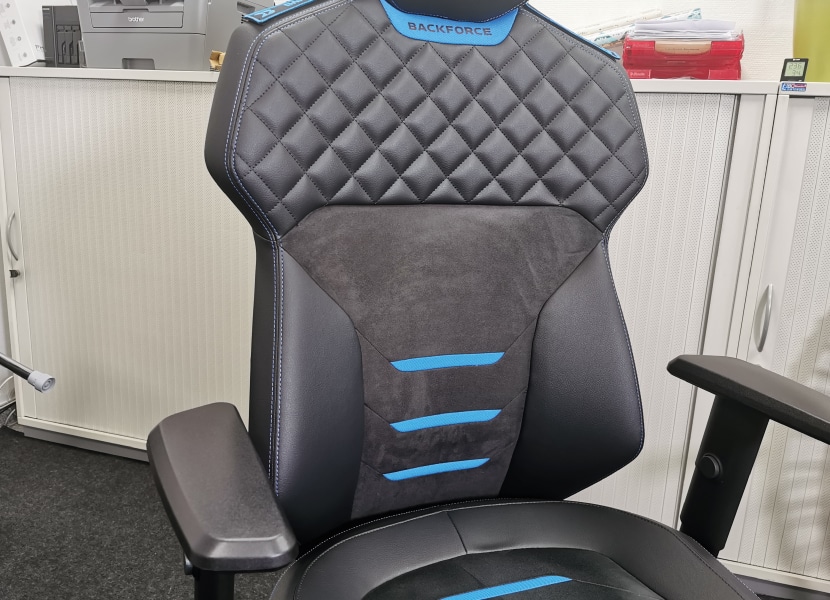 The first thing to check is whether your chair already provides sufficient support. With the Backforce One, for example, additional support is only necessary in the case of extreme hollow backs; in my case, the lordosis is already fully supported. If your current computer chair is different and you also don't have lumbar support, you can temporarily support your spine with a rolled-up towel or a back support pillow. In the long run, however, it's more advisable to buy a chair that fits.
Before buying a computer chair, find out whether it has good lumbar support and can relieve and support the lumbar region when sitting for long periods. With the right chair, you can prevent poor posture and pain.
If you have a chair with an adjustable backrest, you can adjust it so that the backrest supports you in different sitting positions. Therefore, a backrest should have the following features:
A lumbar support is adjustable and can support your back in different positions. The outer curvature of the backrest should follow the curvature of the back.
The backrest should allow the user to move at least 15 degrees away from the vertical. In doing so, the backrest should lock in place or provide adequate resistance to back movement.
A movable backrest allows smaller people to have their buttocks and thighs fully supported. Some chairs also allow you to change the position of the seat pan.
The seat - relaxed and comfortable sitting
The seat should be comfortable and allow your feet to rest flat on the floor or a footrest. The seat pan should be adequate for most hip sizes. Larger seat shells are available for users with a wider pelvis.
Possible dangers due to incorrect adjustment of the seat surface
If you use a chair with a seat that is too high, you are either forced to work without the foot support or to slide forward on the seat pan. As a result, your back is no longer properly supported or the S-shape of your spine cannot be maintained. These inappropriate postures can lead to fatigue, restricted circulation, swelling, numbness and pain.
Use a footrest if the seat cannot be lowered because, for example, a keyboard or monitor is then too high. A chair with a height adjustment of the seat shell also offers a comfortable solution. Before buying a computer chair, test whether the height of the chair is appropriate. In this case, the entire sole of the foot rests on the floor and the back of the knee is slightly higher than the seat of the chair. Ideally, the upholstery of the seat is rounded towards the front.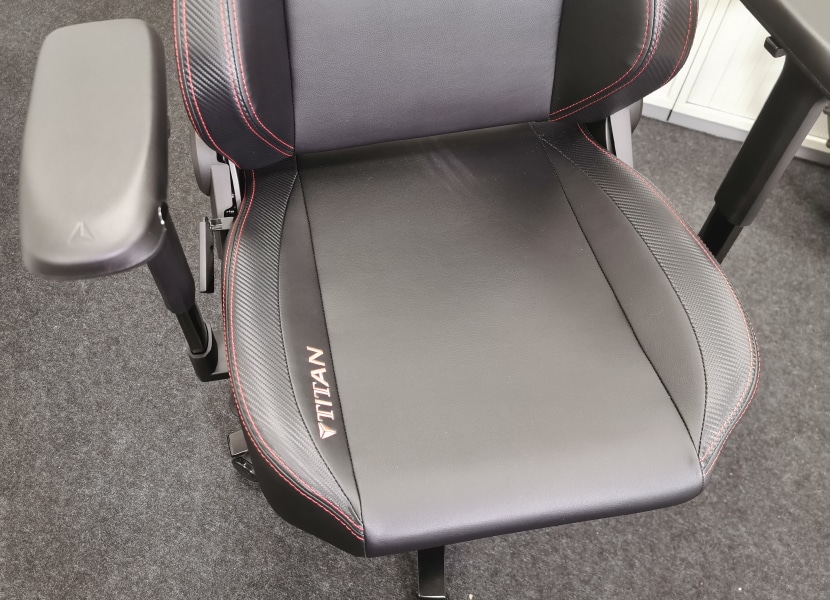 Possible dangers due to an inappropriate seating surface
An unsuitable seat pan can be very uncomfortable, not provide good support for the legs and restrict movement. If the seat is too short, it can lead to increased pressure on the buttocks for taller users. A seat that is too long increases pressure on the knee area for smaller users and minimizes support for the back. A seat surface that is too small can restrict range of motion and provide insufficient support. Prolonged use of the wrong seat can restrict blood flow to the legs and cause irritation and pain.
The seat shell of your computer chair should ideally be adjustable in depth to adequately support taller users. However, a seat depth adjustment is rarely available, which is why you can check with me beforehand whether the chair fits you. In each test report I describe for which body sizes the respective model is still suitable.
Smaller users should be informed before buying a chair whether the back is fully supported when sitting. An appropriate seat shell supports most of the thigh and does not contact the back of the knee. A footrest can raise the knee slightly, preventing pressure on the back of the leg. If a chair is shared by multiple users, it makes sense to provide a chair for small users and a chair for large users if there is a very large difference in body size.
Armrests relieve pressure on important body regions
In an office with predominantly sedentary work, armrests relieve the arms, neck and shoulder area. They are also very helpful when sitting down and standing up. In a good computer chair, the height of the armrests can be adjusted, which promotes optimal posture during work. In principle, the armrests should be at the same height as the desk. For corpulent people, it is important that the armrests can also be adjusted in width.
Possible problems with armrests
Non-adjustable or poorly adjusted armrests do not provide adequate support for the body, which can lead to poor posture. Armrests set too low or too high can cause tension and fatigue in the neck, forearm and shoulders. If the armrests are set too wide, the arm is moved too far away from the body, which can also lead to tension.
Armrests that are set too close restrict movement. Armrests that are made of hard material or have sharp corners and edges can irritate nerves and the blood vessels of the forearm. This can manifest itself as pain or tingling in the hand or fingers.
If armrests are present, they should be soft. Before buying a computer chair, find out whether the armrests relax your shoulders and keep your elbows close to your body. You should not use armrests that are not adjustable. Position the armrests to support your forearm and keep your upper arm close to your body. Adjust the backrests so that they allow you to get in and out of the chair comfortably.
They should be low enough to relax the shoulders while working and high enough to support the forearms. Good armrests are large enough to support most of the forearm, but small enough not to interfere with chair positioning. Use only padded armrests with soft and rounded edges.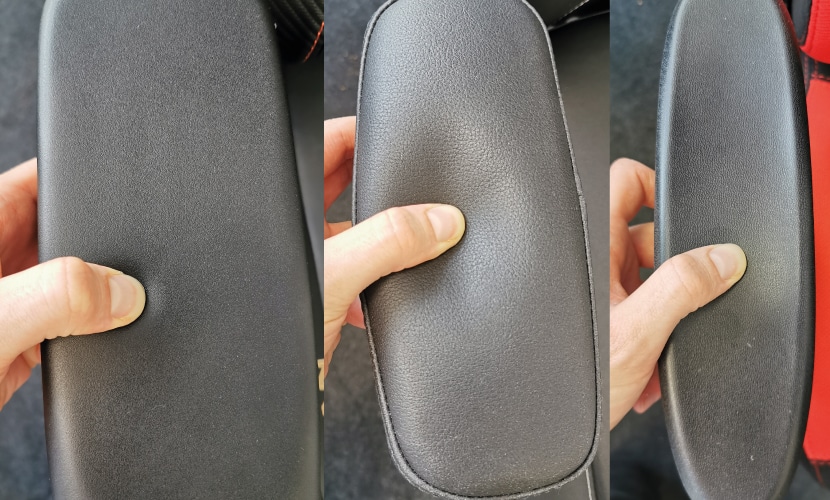 It's not just about a good chair
The right chair is a good start. It will allow you to work in a relaxed manner, even if it takes hours. If you sit on a computer chair for several hours a day, you should buy an ergonomic and high-quality chair. While this is a good investment in one's health, permanent sitting can still lead to health problems.
After sitting still for some time, it's time for some exercise. Then you should take a break, get up and get your body moving again with some gymnastics. Even a short walk of a few minutes promotes circulation and loosens muscles, ligaments and tendons.
Marco's TOP recommendations - find your computer chair!
On the page now linked, you'll find my absolute favorites from the more than 20 chairs tested. I have tested in detail and tell you exactly what is important in the individual models and what they bring you. There you also have the opportunity to view the test reports:
There really is something for everyone here: for those who want to save money, those who don't want to spend so much money and those who simply want the very best. Take a look and find the chair that suits you personally: