AKRacing Premium Series v2 / plus
One of the most popular gaming chair series is the AKRacing Premium Series V2 or Plus – why is this series called Premium? Well, to be honest, I have asked myself the same question and came to this conclusion: It looks premium somehow. It sounds dull, but I think the main purpose of this series was to appeal to a certain target group that likes to buy "something better". Apart from that, this is in fact a fairly standard AKRacing chair with a particularly chic look and shape.
The AKRacing Premium Series offers solid chairs for average sizes & shines with a special look – the new Premium Plus series comes in a fresh color scheme, but otherwise brings no changes.
Of course, there is nothing to be said against that, on the contrary: The quality is top notch and is in no way inferior to other top gamers' chairs. The AKRacing Premium Series does not have particularly generous dimensions either and is thus on par with common industry colleagues like the DXRacer F-Series or Nitro and Prime from its own ranks. To its credit, this series – just like any other from AKRacing – can carry up to 150kg. To get to the point, here is an overview of size and weight ranges for which the Premium V2 offers optimal comfort:
Größen & Gewicht: Premium Series
Testimonials: 165-190cm according to community, loadable up to 150kg.
Of course, these empirical values do not always apply, there are swings upwards – I know people who are a good 2 meters tall and are satisfied with the Premium – and just as downwards – 160cm, for example, also often still go through. Regarding the weight, note the following: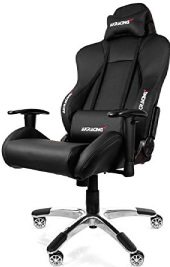 As you can see, the AKRacing Premium Series- is suitable for rather average sizes. In terms of weight, it can withstand up to 150 kilograms, but the width of the seat is more likely to be the bottleneck for somewhat stouter gamers heading for this number. 37.5 centimeters of effective width – that's when you touch the part that sticks out a bit upwards – doesn't offer quite as much leeway as the load rating might suggest.
Nevertheless, anything up to 100kg is definitely save, if you are above that, it depends a bit on how wide your thighs actually are. If you are 190cm and a bit more muscular, 110 or 120kg are certainly ok. For a person with 170cm height and 140kg it looks different – but as I said, this is quite individual. I hope I have been able to make it a little easier for you to estimate with my information.
Product features of the AKRacing Premium Series:
All facts about the premium models at a glance:
Accessories for AKRacing Premium Series
As usual from the top brands, the AKRacing Premium series also comes with lumbar and neck cushions. Additionally, you have the option to push the seat height of the PC chair by 5.5cm via a larger gas lift.
You can go one step further with the so-called "Rollerblade wheels". These not only raise the AKRacing Premium Series by about 6 centimeters in height, they let the chairs roll silently and absolutely scratch-free over any kind of floor. For me, the rollers have become a must-have.
The alternatives to Premium Plus and V2
Here I have some alternatives to the AKRacing Premium Series in store for you. Just check them out if you don't like the Premium. If it doesn't fit your stature or you're not sure, be sure to use my size advice tool below.
For the same size or weight is also suitable:
DXRacer: DXRacer Iron Series, DXRacer King Series. Info about the manufacturer at a glance: DXRacer Chair
Vertagear: SL-5000. Detailed info about all models: Vertagear Chair