RECARO Exo Platinum Test - My experiences with the flagship from Germany
Today I'm testing a chair from probably the biggest company ever in the gaming chair market: RECARO. RECARO (CAPSLOCK!!1) may be completely new to the gaming market, but the company's history goes back over 50 years.
If the company is known for one thing, it's seating: Anyone who enjoys sporty cars knows that RECARO seats are considered THE premium seats. Likewise, RECARO equips aircraft manufacturers with its seats, and it also produces children's seats.
So you can be curious about what the RECARO gaming chair has to offer in terms of seating. RECARO is not building chairs for the first time – there are already office chairs from RECARO that start at €2,000 – fortunately, they are cheaper in the gaming segment.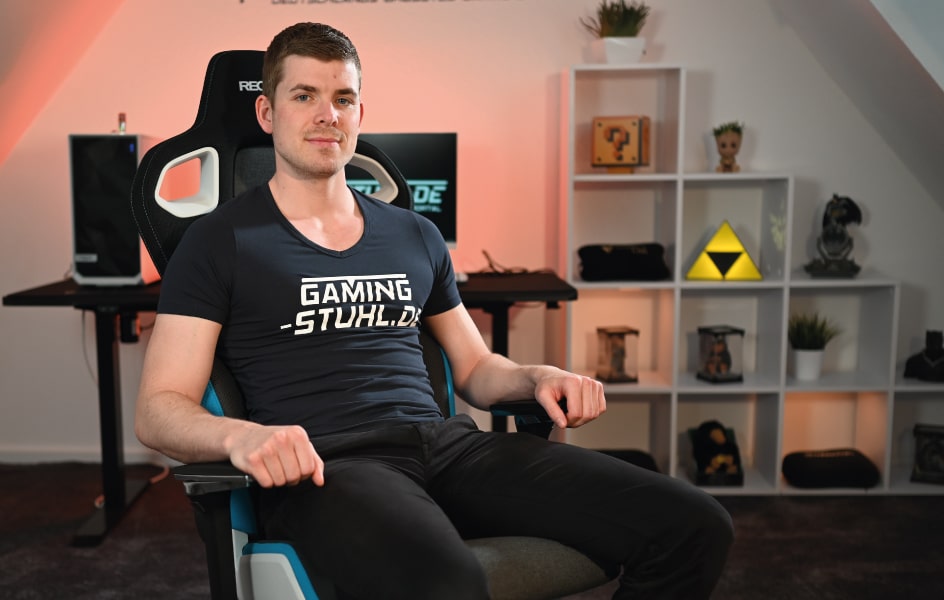 Anyway, they started with the Exo series – there's the standard Exo, the Exo Fx with more features, and finally the Exo Platinum with everything – that's the one I have here and I'll introduce it to you.
Innovations, Features & Advantages of the Super Premium Brand
Anyone who has already seen the RECARO gaming chair on the net has noticed: The design is very different from other models. The RECARO team has tried to completely redesign the approach from design to functionality. The most important differences, innovations and new features are presented first in brief, later in detail: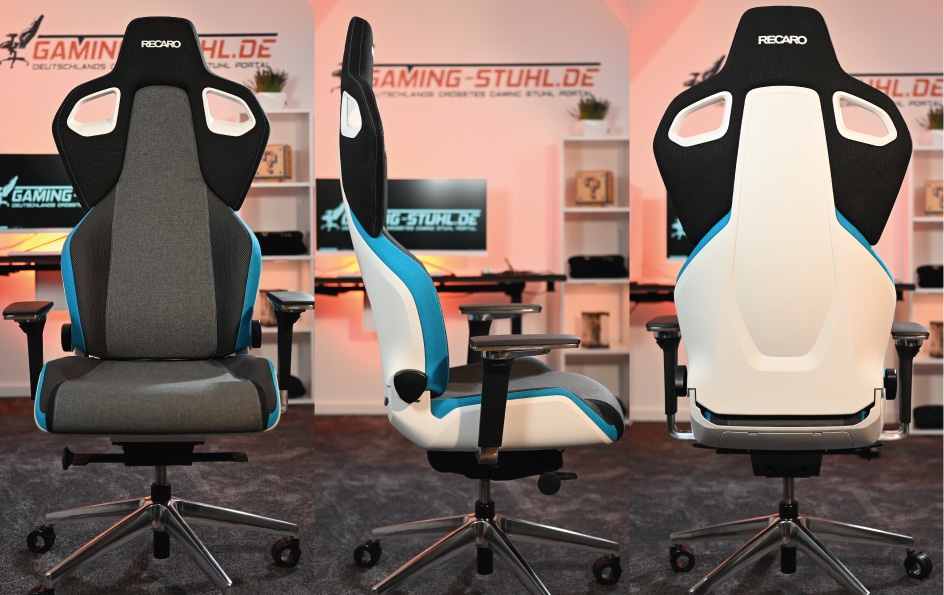 Seating comfort: My experience with the seating feel of the Exo Platinum
So how does it feel to sit on a chair that costs €999? There's no negative surprise here – comfort-wise, it's good. It's not like you immediately think, "WOW!" when you sit down, because a chair is still a chair, more or less. However, it is many of the features mentioned that bring the comfort to a solid level.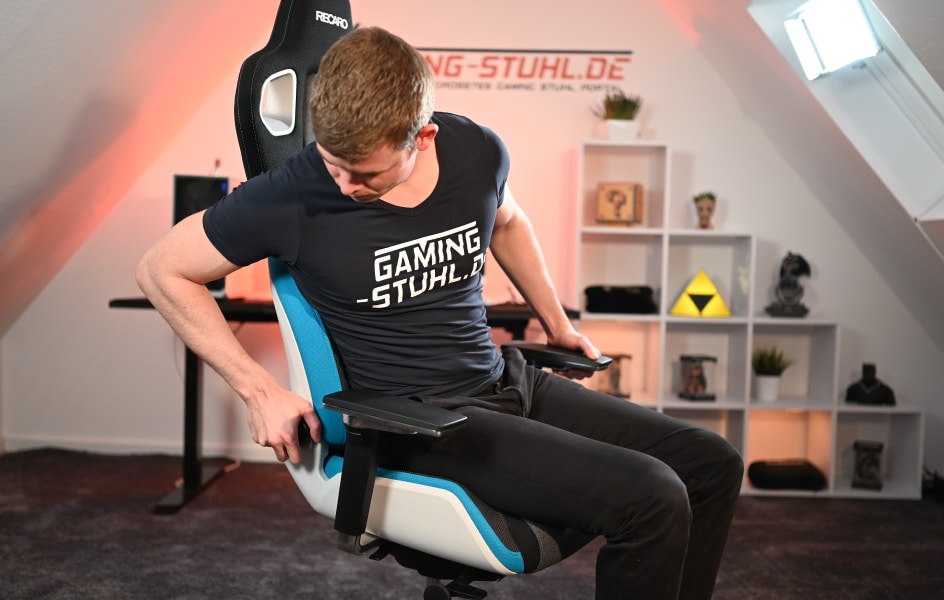 Namely, the armrests, the backrest adjustability to the nearest millimeter (has advantages and disadvantages), the variable intensity of its own kind rocking mechanism and the anti-slip fabric together with the anti-submarining hill ensure this. All these features can work synergistically together to create an absolute feel-good effect on the chair, because we can have it exactly the way we want. Only the mechanics still leaves room for greater comfort and I would not need the anti-submarining hill now.
Multi-zone upholstery foam: proprietary development from automotive sector
Here, no random upholstery foam is poured onto steel tubes, no. A foam specially developed by RECARO with different hardnesses is used here, which is also used in the automotive sector, i.e. for sports seats. Just as with mattresses, there are different zones with individual degrees of hardness, so that every area of the body experiences the right hardness.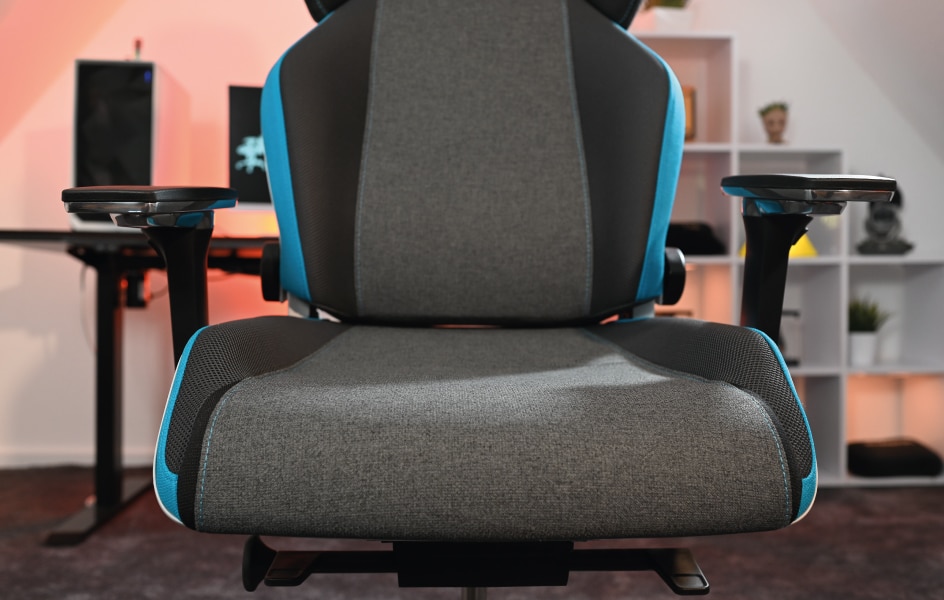 So here you get an original RECARO sports seat foam for home. The cushion is also not particularly hard like noblechairs, but also not as soft as the AKRacing Master Pro. The hardness is pretty much in between and should please everyone.
Cross-legged test: Enough space for it?
Since many of you like to sit cross-legged, we also do the cross-legged test, as always. We do have a seat limit – it's a bucket seat – but it's not a problem because the seat is very wide anyway.
As you can see here, the cross-legged seat is neither a problem with 189cm height, nor with 167cm height.
Barely any side bolsters on seat & backrest
Both the seat and the backrest are almost free of side bolsters. In the seat area, we do have a boundary on the sides, but I wouldn't call this a typical side bolster. The elevations are softly padded, we have a lot of space on the seat here.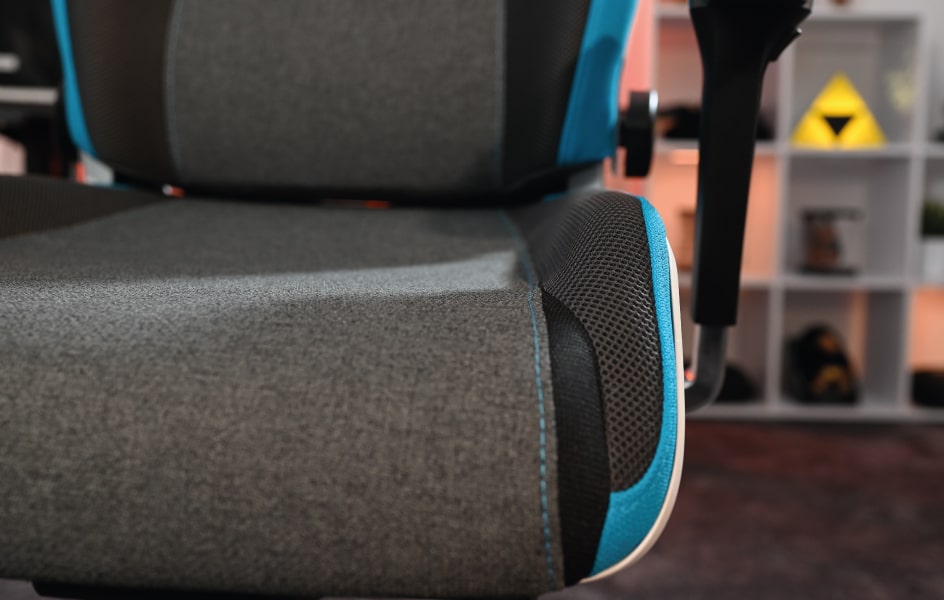 In the backrest area, we absolutely cannot speak of side bolsters. The Cobra neck shield has a minimal curvature, as many office chairs do. However, if we use the protractor here, we can see that the backrest is not curved at all:
At a value of about 172° between the backrest & seat, we can hardly speak of side bolsters. At 180°, the backrest would be completely flat, with only 8° missing. Thus, we can at most speak of a minimal curvature here.
Cobra neck shield discreetly shields
In the Cobra it is called the neck shield, the counterpart to it in the RECARO Exo Platinum is the shoulder attachment with the "belt holes". Due to the special width & especially height, it shields us slightly from the environment. You're somehow more in the game and get a little more peace of mind when playing on a fairly crowded LAN or competition.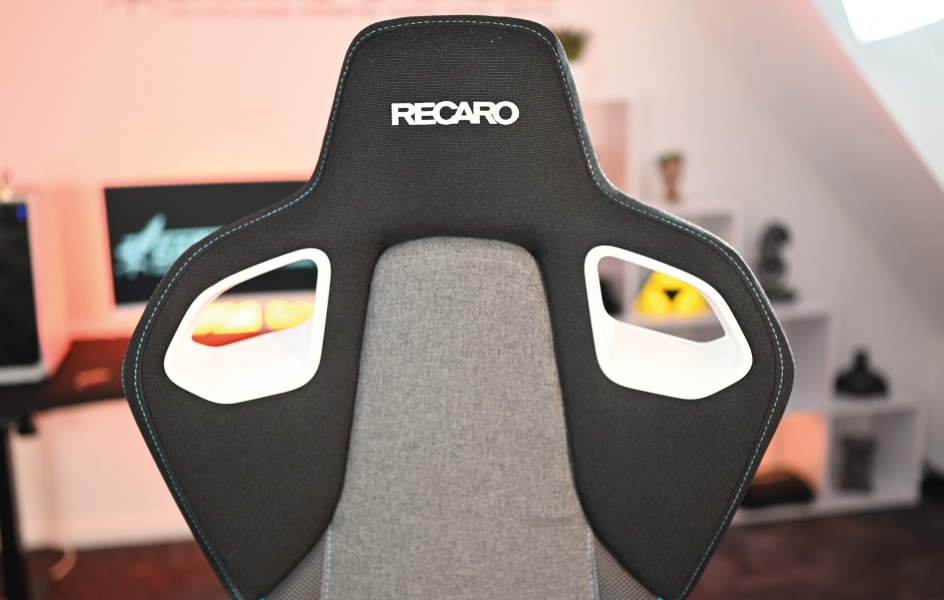 Suitable body sizes - Does the Exo fit you?
As always, it is important that the chair fits your height and weight. The maximum allowed total weight is 150kg. For the assessment, I take myself with 189cm height and my test person with 167cm height.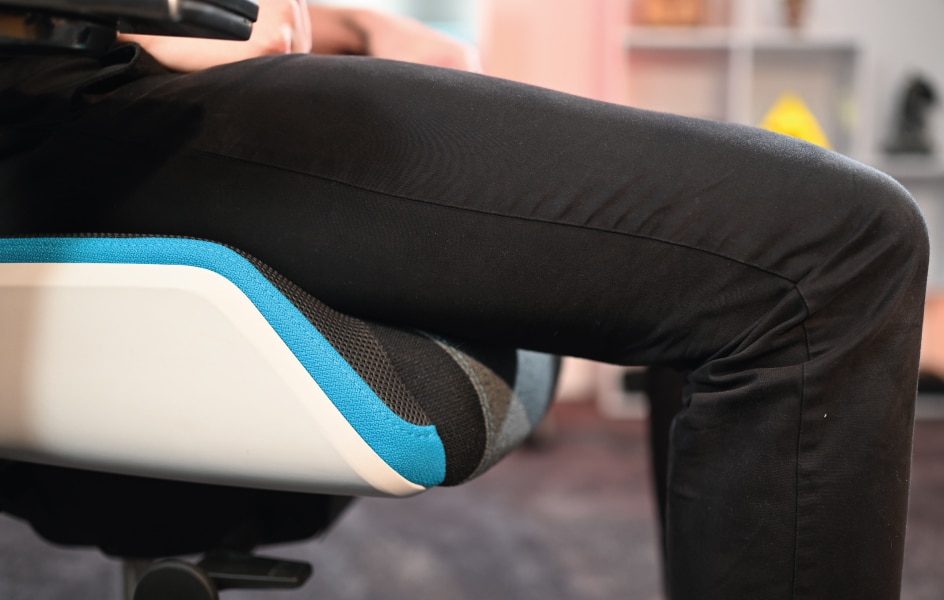 With my 189cm I find the distance between the end of the seat and the back of the knee just appropriate. 2-finger width would be optimal, here's rather 4. That does not lead to the fact that I do not sit comfortably on the chair, this is all still within the framework. However, in my opinion, you can't be taller than 190cm.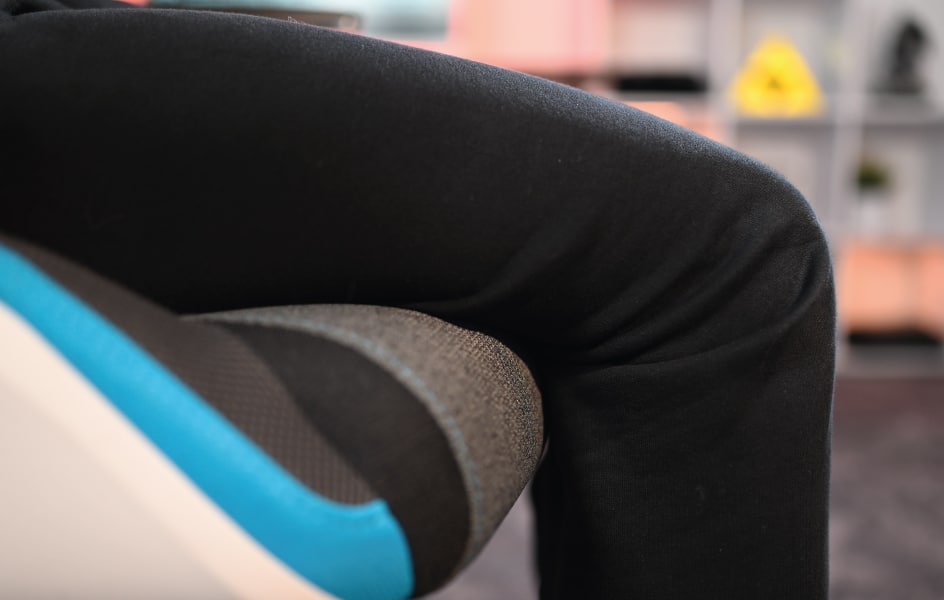 Here at 167cm height, it's less than 2-finger wide, but still okay. Therefore, I would set the lower limit at 165cm height. By the way, with her 55kg she can't manage to adjust the chair lower because she is not heavy enough. She has to "hop" a bit to make it work.
So between 165cm and 190cm you can fit the Exo. The two-finger method gives the optimal ratio for orientation. A little more or less is absolutely no problem. Note: Depending on the torso – leg length ratio, this can vary.
RECARO Exo Platinum test in detail: The special features
I'm really into this section. Why? I have the opportunity to describe a few new things to you. You can't wait to find out what the Exo Platinum's submarining hill is all about, what you can do with the armrests, and how it feels to sit on the new flagship from Stuttgart. Above all, how different does a specially developed foam feel that no chair has ever had before?
The wide shoulder area at the top reminds me a bit of a stately cobra. Although other gaming seats also have a bulge in the shoulder area, I particularly notice it in the Exo Platinum, but that could be due to the color contrast. In terms of width, we have about 60cm in the shoulder area, just like the Master Pro. That's only 4 cm less than the EPIC, for example. However, the shoulder element is higher than on the other models – that could be the reason.
After I have analyzed the cobra look: The rest of the design is also really something. Elegance is my keyword for the Exo. You can see the chair's price at first, and that's the way it should be. From the unique armrests to the polished aluminum base to the certainly elaborate use of various fabric accents, everything is right here for me. However, it only gets really exciting when we look at the functions.
Also unique: the Exo is a bucket seat made of high-strength plastic
No, the fact that other chairs have a steel frame is not an advantage over a plastic shell. A high-strength plastic is used here, which you won't break while sitting or even when freaking out in front of the computer. The RECARO company knows exactly what it's doing here and pursues an ergonomic ulterior motive in addition to the design aspect.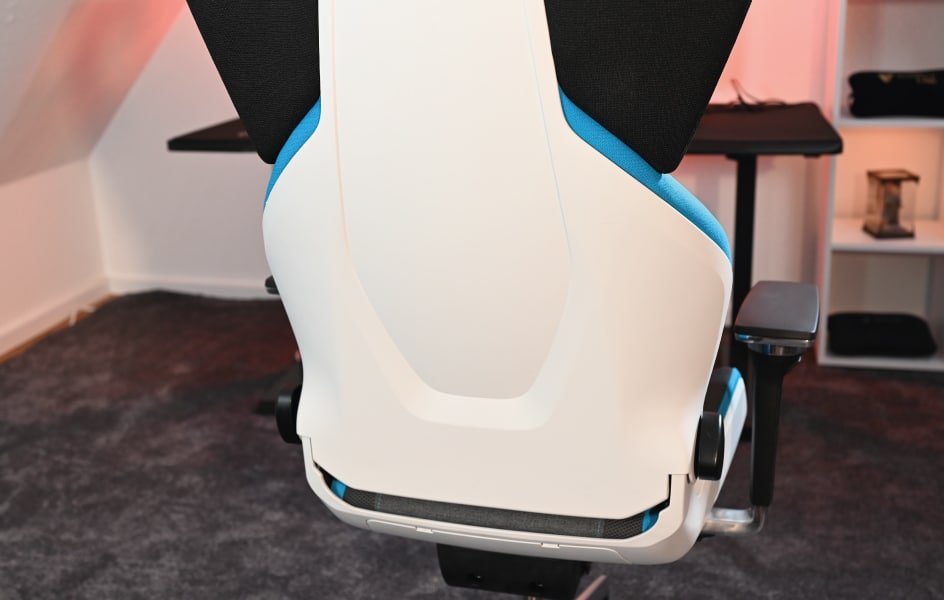 The models you're familiar with usually use steel frames – though, of course, they don't use a steel plate, but rather several steel tubes give the foam a chance to adhere and form your backrest. How this looks exactly, you can see here: Marco destroys 2 gaming chairs. Problem: Theoretically, this creates pressure points on each steel strut when leaning against it. With a complete plastic shell, however, the foam can lie completely against it and thus offers a uniform support.
Even if it's hard to notice while sitting – optimal quality & ergonomics seem to be important points and these are served with a plastic shell.
Problem of a bucket seat: a synchronous mechanism is not possible
As ergonomically sensible as an optimal contact of the upholstery with the plastic shell seems, it is a pity that there is no synchronous mechanism option for the chair with this design. A synchro mechanism is much better than a rocker mechanism, which is the tendency here – but more on that later.
White plastic shell - dark streaks after impact?
With sensitive colors such as white, it's hard to say whether the reverse side will remain white even if I bump into something with it. Yes, it does. This is because the tray made of highly stable plastic is actually made of white plastic, not just painted white. So if there is a scratch at all when it is bumped, it remains white and is hardly noticeable. Ultra close-up: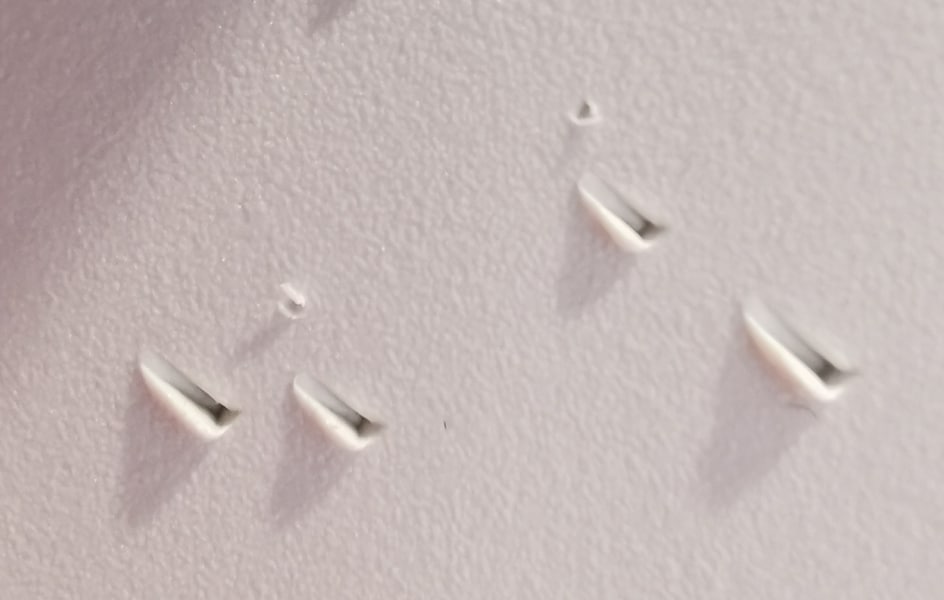 Here we see it: I went GTA-style with a screwdriver on my Exo Platinum in the test and lo and behold: There are no ugly stripes, the plastic is completely white. The dark spots here are just shadows or dirt from the screwdriver.
Apart from the fact that it is an absolute rarity to hit your backrest so hard somewhere anyway, nothing can happen here.
Base: aluminum mirror polished
The three most commonly used materials for foot crosses are aluminum, nylon (plastic) or steel. A highly polished aluminum cross has been chosen here, which contributes to the high-quality appearance and of course also provides sufficient stability.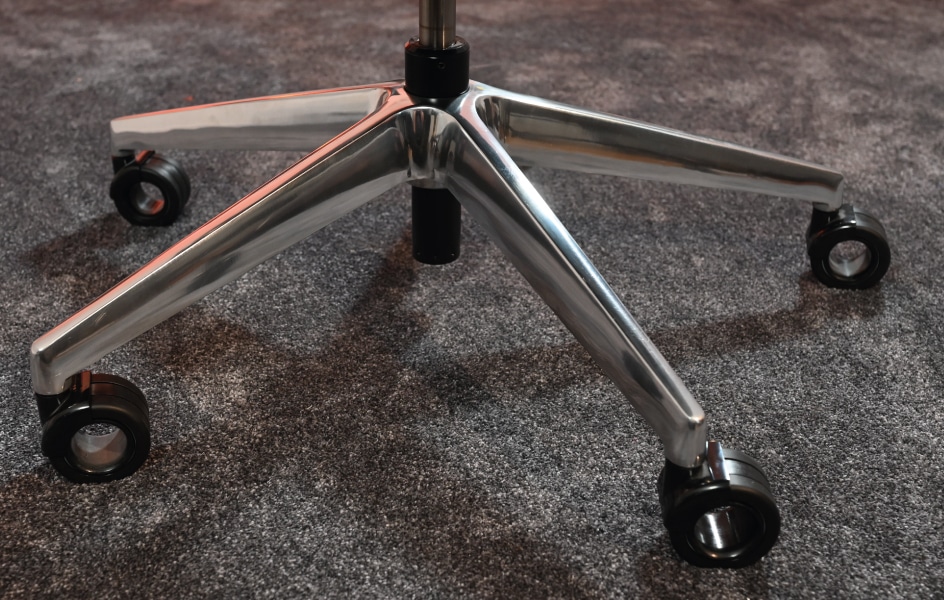 Made in Germany, parts from DE & EU, handmade
RECARO produces the Exo Platinum in an ecologically and sociologically sustainable way. This means that not all parts have to be transported around the world from Asia to be assembled in Germany, because the parts for the Exo come directly from Germany & the EU. Sociological sustainability is becoming more and more important in times of globalization and I think it's really cool that so much is made possible in Germany. Because that not only secures jobs at RECARO, but also at all of its German suppliers.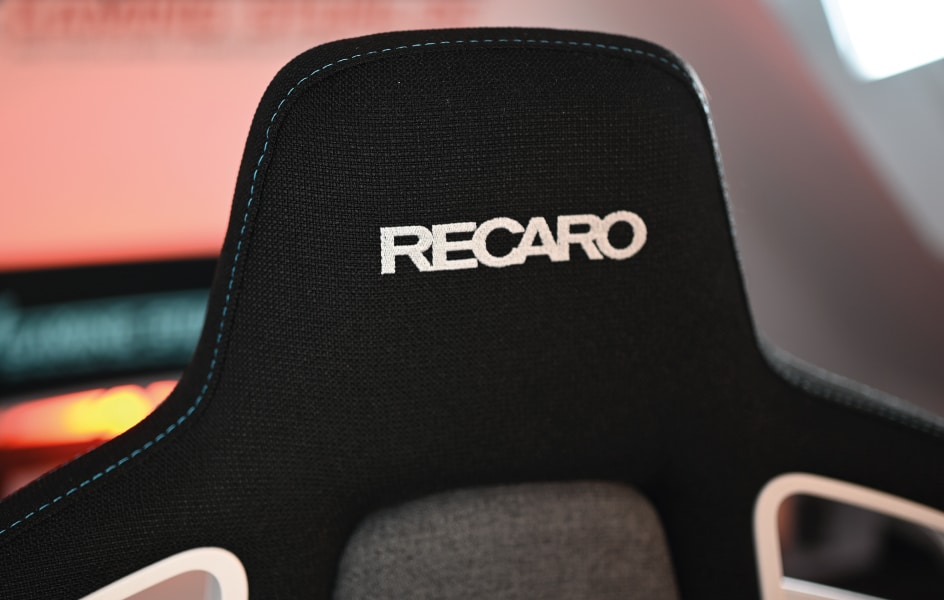 The chair is partly manufactured by extremely precise machines, but some important things, such as attaching the upholstery, can only be done by man and his hand, which is why they rely on handwork by skilled personnel.
Slowly, even those who already know the price of the chair should realize why it is not the cheapest. Here simply ecological & sociological responsibility meets outstanding quality through tradition. But whether it is really worth its price in the end remains questionable.
Rocking mechanism - Synchronous mechanism Mechanism developed in-house
Normally, swivel chairs use rocker or synchronous mechanisms that allow the user to swing or move the seat and backrest.
However, because RECARO considered offering different preset seat positions for the RECARO Exo, which according to RECARO could not be realized with either a rocker or a synchro mechanism, they developed their own mechanism, which I can only partially see as an advantage, because the mechanism is more of a rocker than a synchro mechanism.
When rocking, we can adjust the resistance of the mechanics via a wheel on the right underneath the seat and adapt it to our body weight.
This is the only way to implement the "attack position" that many gamers want. And that brings us to this feature:
The preset seating positions - Developed through collaboration with gamers
The design & development of the RECARO Gaming Chair has been in the works since 2017 – 2 years before market launch. Many gamers were consulted and their seating behavior was analyzed in order to finally implement these 4 most selected seating positions, which can be quickly adjusted through the pre-setting: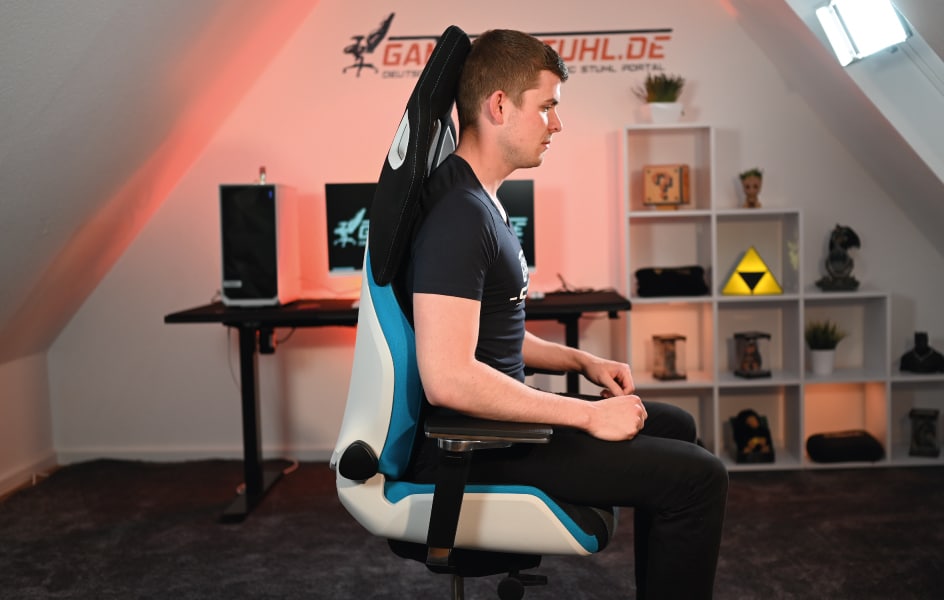 This is the attack position. You probably know this from yourselves – when you're playing with real concentration, you like to bend forward longer. The problem is that our posture sucks and we end up with a hunchback. But with the Attack Setting our posture stays much better and thanks to a special feature we shouldn't slip off the chair. I'll show you this feature in a moment.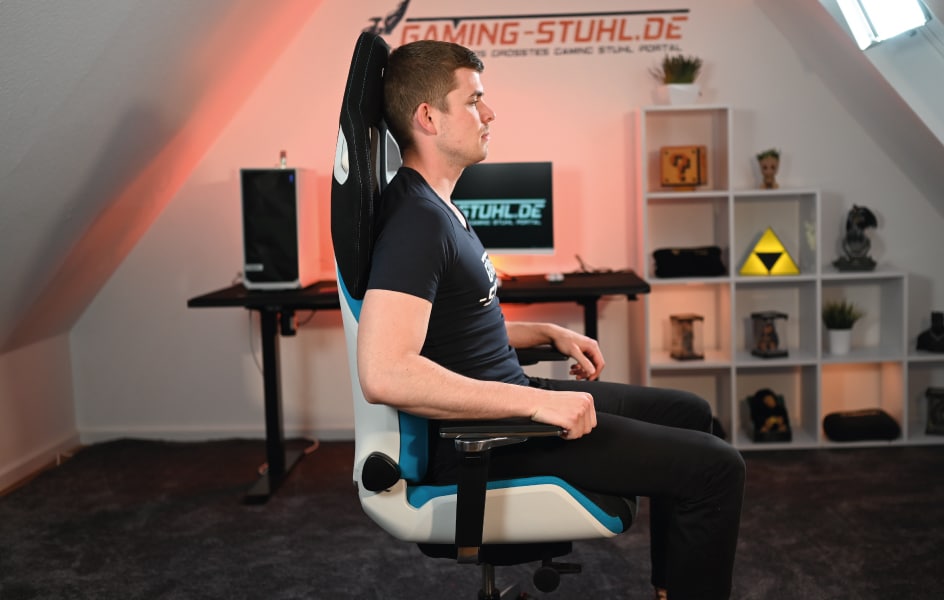 This is the Core Focus position. Here we lean a little further back, so we don't sit quite as tense and chasing as we do in the Attack position. This sitting position is also supposed to be perfect for playing in a focused and goal-oriented manner.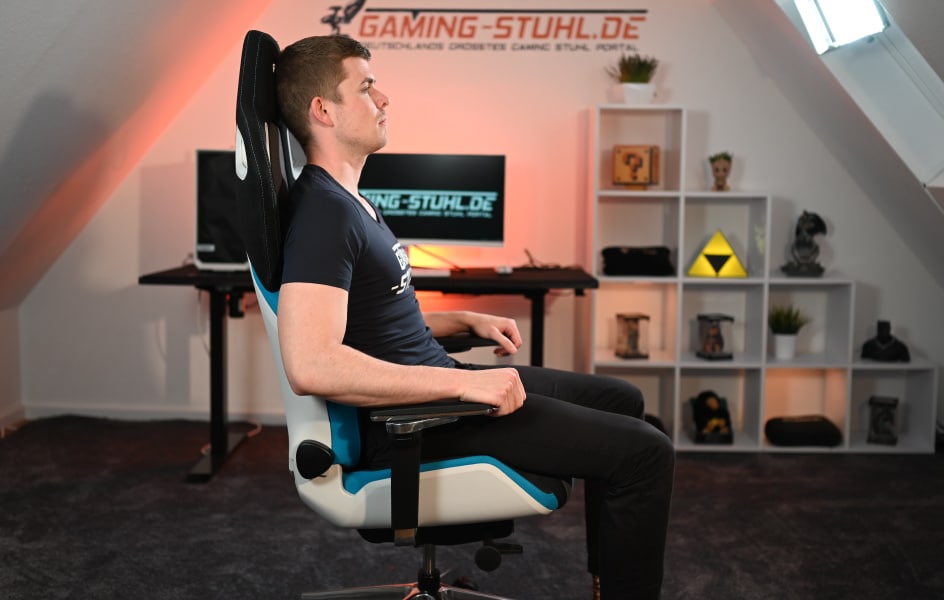 This is the Core Relax function. A more relaxed position than the previous two, optimal for those sessions where we don't need to give 100% performance, but rather mess around a bit for fun. So already on the computer, you get the idea.
This is the Relax position, meanwhile it has been renamed to Recharge. The name of the position says it all – when the session is over, we relax and sit back – just like when we're watching a movie or on YouTube or whatever.
My problem: price vs. mechanics vs. ergonomics potential
High-quality office or gaming chairs in this price segment almost exclusively use synchronized mechanisms. These ensure that the seat tilts back less than the backrest when the user reclines. This gives the back "real" movement, which is necessary for a decent supply of nutritive fluid to the intervertebral discs, for example.
The Exo has a rocker mechanism. Even though it comes from RECARO and has been optimized, it remains a rocker mechanism. And I don't know that from such strong price ranges. Meanwhile, there are, for example, the Backforce One and One Plus to buy, with synchronous mechanism and priced at $540 go.
I think that RECARO wanted to stay true to the tradition of the bucket seat, which in my opinion is at the expense of ergonomics. The Exo sits not shit, so I sit well on it – ergonomically would have been with a synchronous mechanism but just more in it – discs & back would be grateful. I can not forgive that in a chair for the price almost.
Update: RECARO has written to me that they deliberately decided against a synchronous mechanism, because this is more useful for everyday office use and you could not have specified the individual positions with a synchronous mechanism. However, I can't really understand the reasons, especially because gaming chairs from Germany with a synchro mechanism have been rapidly gaining popularity for a few years now and are very well bought.
So far I haven't met anyone who says that their mechanics compete with their personal gaming positions. And what you have to remember is that very few of us are highly professional tournament players who sit in front of the computer for hours in the attack position. Even with a lot of gaming, movement in the back is important and you can mimic almost all of RECARO's positions with a synchronized mechanism, except for the attack position.
Anti-submarining hill - My experience with the Exo Platinum
This feature didn't mean anything to me at first. Submarining is when a passenger slips under the lap belt in a car accident, causing serious injuries upon impact. At the gaming table, the consequences are less dramatic, but in some seating positions, we get stuck and slide forward with our butts – like in a car when submarining.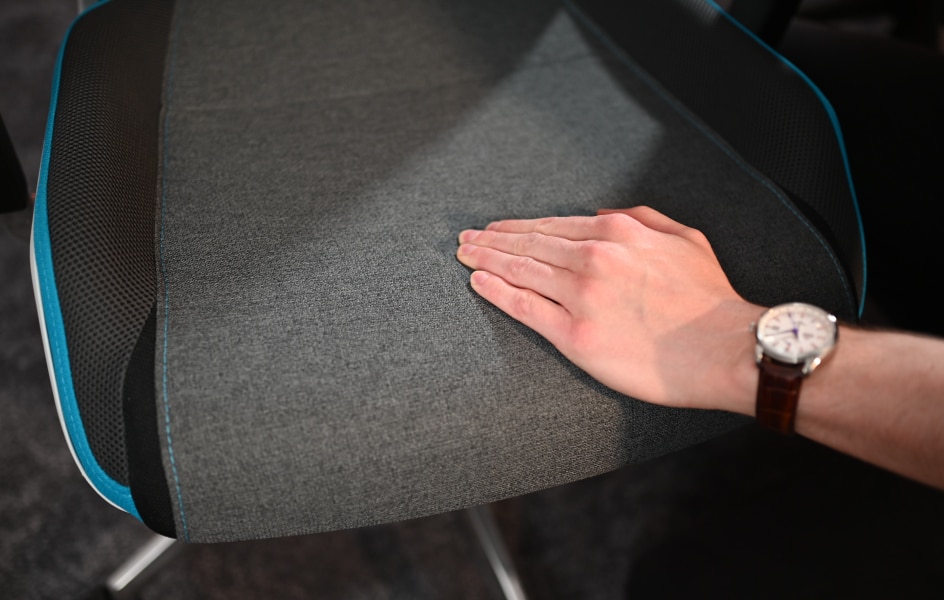 The anti-submarining hill is designed to prevent just that. The idea is that there is a hill in the front area that keeps us in our sitting position. Initially, I was quite convinced of this, but over time I noticed it while testing many other gaming chairs: I never actually slide off the chair, even when wearing slick chino pants. In this respect, I can't really chalk up this feature as a win for me; the already low-slip cover of the RECARO Exo Platinum in the test would probably have been enough.
However, I do not want to exclude that this hill can have a benefit for one or the other.
Adjustment options and other features in the RECARO Exo Platinum test
There's no question that a chair has to deliver when it comes to adjustability. That you can adjust the height is little worth mentioning & clear, but there are a few other very good features. I'll show you those now, starting with the absolutely awesome armrests.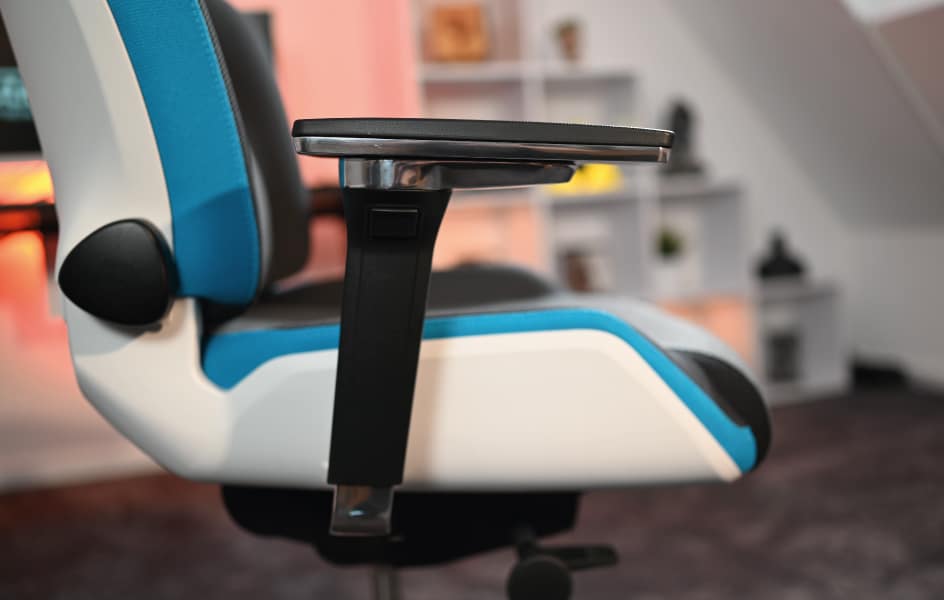 The most valuable, innovative & stable 5D armrests I have ever seen
The Backforce One has been the chair where the armrests wobbled the least. Otherwise, no matter which manufacturer: The armrests always seemed a bit cheap and were not stable, they always had a lot of play and wobbled. Not with the RECARO Exo Platinum. In our experience, many people complain about this wobble, but the new armrests here are bombproof. Nothing wobbles at all.
And quite apart from that, these armrests are a highlight that I've never seen before. They run completely smoothly, can be moved into any conceivable position, and simply look so premium.
In addition, there is a soft-touch pad that is harder than a cushion, but softer than the standard armrests made of soft plastic. My elbows love it!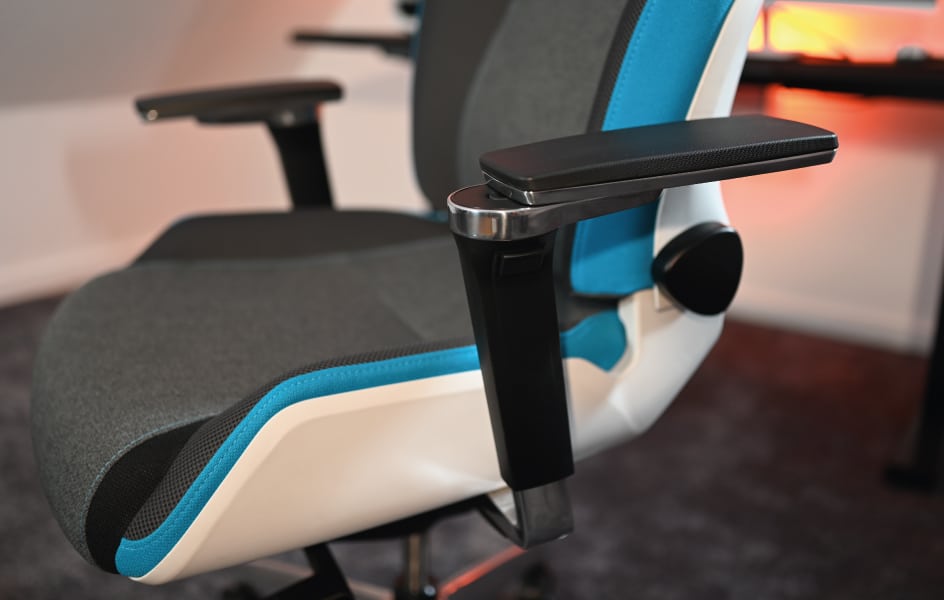 Those who find the armrests annoying can also fold them very far back and sit cross-legged on the chair, for example. Here, too, you can see that the target group has been intensively studied, because you can realize any position with the armrests.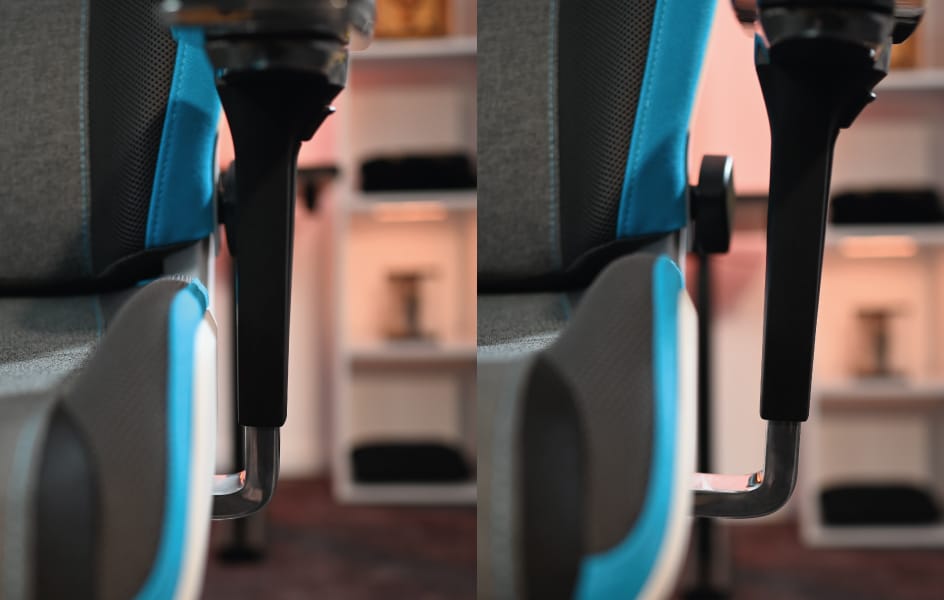 A lever below the seat allows the armrests to be adjusted separately outward and inward.
Backrest like in a car - Turning wheel instead of lever - Adjustment accurate to the millimeter
You can adjust the angle of the backrest to the seat surface according to your taste. However, a sports seat manufacturer doesn't do this with a lever like other gaming chairs, but with a rotary wheel – just like in a car. The advantage: We can adjust the position of the backrest with millimeter precision.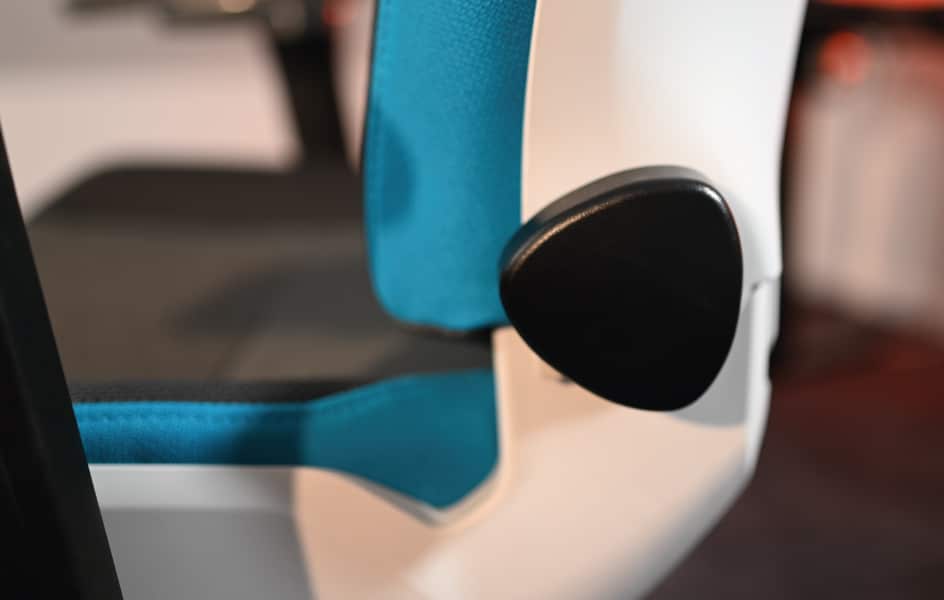 The downside: It's a bit of a hassle to adjust the backrest angle more often. My girlfriend, for example, tested the Exo Platinum for a while, she usually likes to adjust the backrest. With the standard gaming chairs, you adjusted the tilt with a lever in seconds. Here, the process takes its time.
Hybrid rollers - chic, but not as easy to run as expected
The RECARO Exo Platinum comes with hybrid rollers that are equally suitable for hard and soft floors. I can confirm that, I can roll on both tiles and carpet without any problems.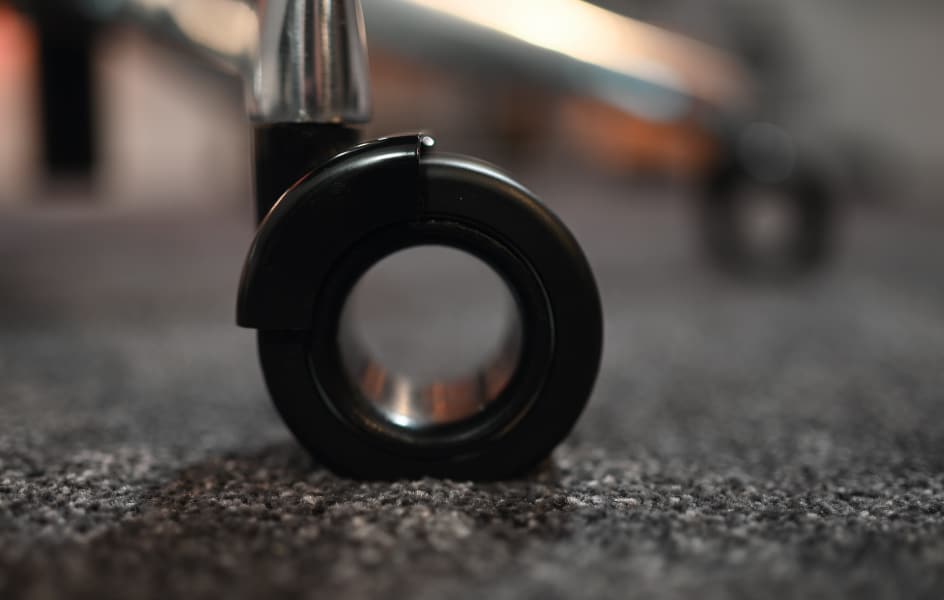 The rollers are also nice and quiet, but they don't run as smoothly as I expected. That's not a big deal, but there should be a bit of rework.
Fabric covers for all exo chairs
All Recaro Exos are covered with a high-quality fabric to ensure a healthy level of breathability. The fabric feels quality and comfortable, I'm very happy with it. I never got too hot on the Exo.
Exo Platinum: What does "high-quality breathable fabrics in a composite" mean?
Recaro writes about the most expensive model, the Recaro Exo Platinum, that it is equipped with "high-quality breathable fabrics in the composite". I asked Recaro what that actually means and whether a different cover is used here than in the Exo or Exo FX: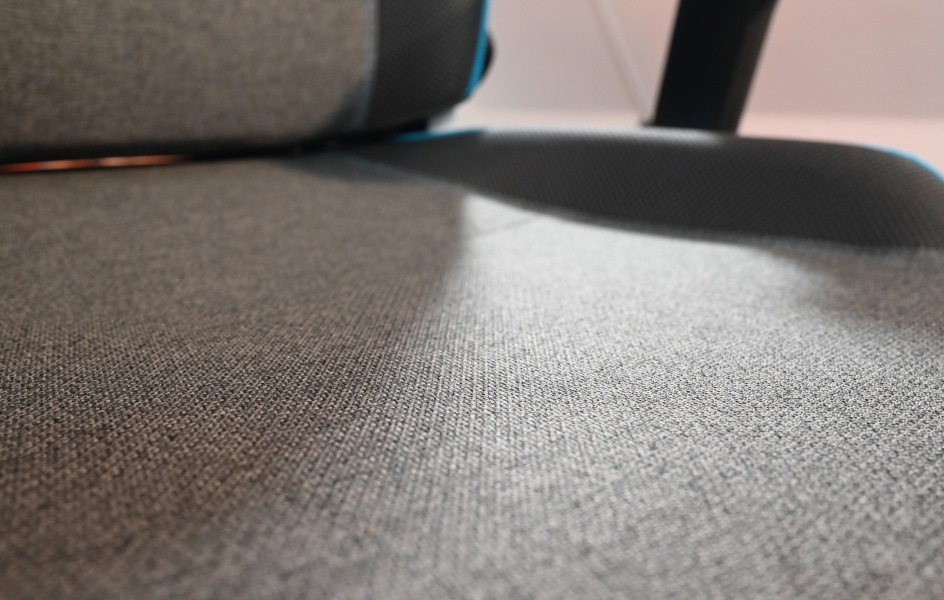 No, the fabric covers are the same everywhere. The breathable fabrics of the Platinum refer to the mesh applications on the side bolsters. However, we did not experience a real plus in breathability compared to the other models. Customer service also said that this was more of an optical element.
High price - justified? No.
The Exo starts at 799€, my Exo Platinum is 999€, in between there is a model for 929€. Proud price, no question – if you deal with the chair, you also know that the Exo must cost a bit.
However, it is still too expensive in my eyes. Compared to competitors, which are at 500-700€, none of the Exos performs more – on the contrary – even less. The synchronous mechanism is missing in this price range. At around 1,000€, features like a seat depth adjustment or seat tilt adjustment would also make sense. Features that the competition already offers at much lower prices.
No warranty - only legal warranty
In addition, there is no warranty – where other manufacturers in these price segments offer 5, 10 or even 12 years warranty, RECARO gives no warranty at all. More than the statutory warranty is not included here. That is a pity.
If you produce Made in Germany, with high-quality components and fully stand by your product, you should offer something. Even manufacturers from China sometimes give a 3-5 year warranty. To be one of the most expensive brands on the market, but to offer the least warranty, does not fit for me.
Why are the prices so high? No own production
The first reason: RECARO does not produce its gaming chairs itself. They are manufactured by the company Bock 1 GmbH & Co. KG in Postbauer-Heng, which of course greatly increases costs: The producer is, after all, an external party who also wants to make a profit.
The second reason, according to my theory, is that RECARO thought they could get away with a lot in terms of price because of the name. Because there's not really a good reason to sell the chairs from 800-1,200€. I think through the company's history they thought they could calculate generous margins.
This thesis is supported by RECARO itself, because you have a large part of the year juicy discount promotions: At very regular intervals there are vouchers and discounts, with which you can easily get 150-400€ off. To me, it looks like they overestimated the price, so they have to boost sales with heavy discounts.
Of course, they still earn money even with the discounts, after all, no company has anything to give away. Personally, this shows me that the price was set too high from the start.
Another argument for the overly high price are Amazon's prices. For some time now, Amazon itself has been buying RECARO models and selling them themselves with Prime shipping. The Exos as well as the Raes are much cheaper than at RECARO directly. Some are even more than 200€ cheaper – and here, too, you can assume that Amazon still earns money on the models.
Criticism of customer service accessibility
At least at the market launch, RECARO proudly claimed that it wanted to support the customer with support options. Apparently, this only works sometimes. There is a hotline that is supposed to be available Monday to Friday from 10 a.m. to 4 p.m. and also a live chat.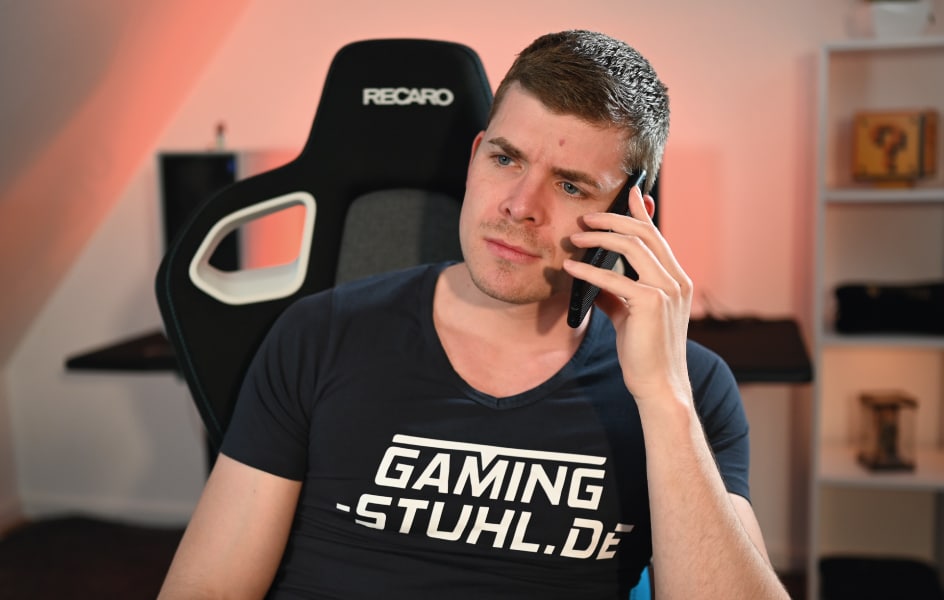 In the past few weeks, I have wanted to call the hotline a few times – on Tuesdays at 13:20, the tape announcement tells me that I would be calling outside of business hours. Sometimes you are on hold for a few seconds until you are told that all employees are on the line and then they hang up.
It doesn't quite work out with the live chat either. I've asked a question or two there, too – even though it said I was in position 1 in the queue, I still didn't get an answer after 15 minutes and finally left. That can be quite annoying.
TL;DR: Conclusion & review of the RECARO Exo Platinum in test - Buy?
For those who didn't want to read this text block in its entirety, here it is again in brief: Can I recommend the RECARO Exo Platinum based on my current experience? If it's purely about the functions: Yes, I could. I sit well in the chair, it is comfortable and has many adjustment options.
But when I put the features in relation to the price, the recommendation turns. In my eyes, the RECARO gaming chairs are simply too expensive. You have to shell out 750-1,200€ for the EXO, which I simply don't think is okay considering the lack of warranty & synchro mechanism.
Of course, there are also some good arguments for a higher price:
In summary, you get a well-tuned gaming seat that invites you to relax, focus and deliver thanks to the preset seating positions. Quality and workmanship are also impeccable here – there is not a seam out of place.
On the other hand, there are also quite a few minus points that diminished the fun of the RECARO Exo Platinum test:
Update: My criticism regarding mechanics
In this price range, the material quality of the RECARO gaming chair is impeccable, no question: However, there is more ergonomic potential in the chair at this price, which the manufacturer does not take advantage of. Thus, the Exo "only" gets a rocker mechanism instead of a more valuable synchro mechanism.
For this price range, a synchro mechanism is actually a must when you look at the competition from the gaming or office chair sector. This would allow the back to move more when sitting, which would nourish the intervertebral discs and relieve muscle groups. When sitting in the rocker mechanism, the angle between the upper and lower body always remains the same. We do move with the chair when we lean back, but our backs don't move.
So if you don't want to miss this ergonomic feature, you should take another look at the Backforce One Plus or Backforce One. If you want maximum material quality, go for the RECARO Exo; if you want maximum ergonomics and very good quality at the same time, go for its two competitors.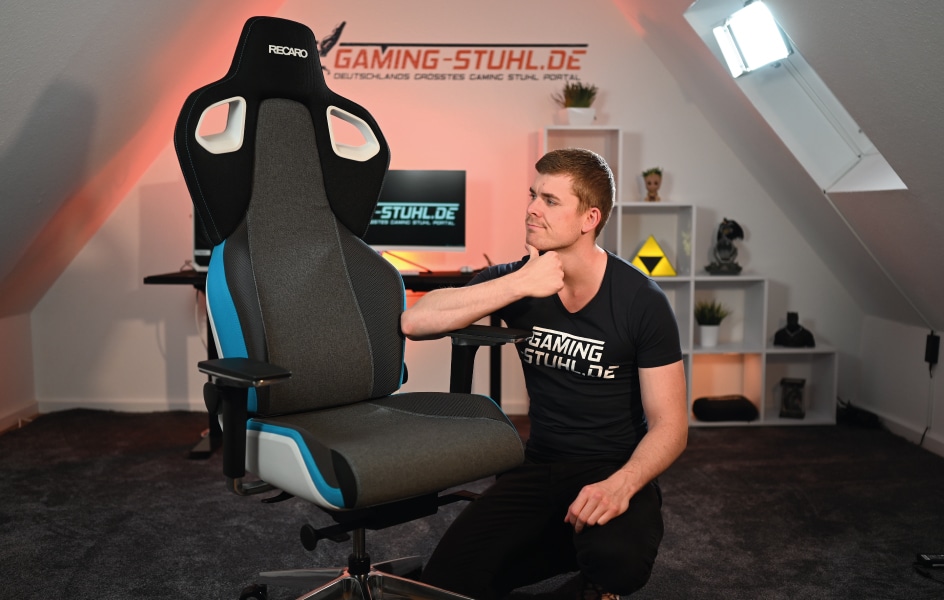 Note: Returning the RECARO Exo costs 30-40€.
RECARO does not offer free return shipping. So if you don't like the chair, you will have to pay 30-40€ for the return. This is of course not nice, but in this day and age it is becoming more and more common: Backforce & Secretlab also charge return shipping costs. For this, shipping is free with most sellers, with others it is charged, but the return costs nothing. So, on the whole, it's a balanced deal.