Arozzi Enzo Purchase & Size Guide
It's time to throw your old, worn-out office chair in the garbage can. Arozzi offers you a comfortable and above all affordable gaming chair with the Arozzi Enzo. Now you really have no excuse not to join the gaming chair club.
You know: If you want to conquer the ladder, you need the right gear.
Especially ultra-long gaming sessions like raids and boot camps put an enormous strain on your back. This not only affects your health, but also your mental capacity and consequently your performance.
The chair is inspired by the design of racing bucket seats. It looks chic, but you shouldn't expect the support and comfort that the name suggests in reference to the Italian sports car.
The Swedish manufacturer Arozzi achieves the starting price of $250 through good workmanship of inexpensive materials. The cover is made of imitation leather and the frame of the gamer chair is made of composite wood.
The most important facts about the Enzo
Sit down and start gambling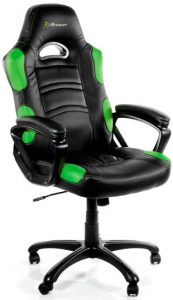 Unfortunately, the low price also ensures that you should not set your expectations too high. The Enzo only has the standard features like 360° rotatability, five double nylon casters, a class 4 gas column and a rocker function with a 12° tilt angle.
The very thick hard foam padding on the armrests as well as the seat and back is quite comfortable, but it also gets warm very quickly and, combined with the easy-to-clean faux leather cover, will probably leave many with sweaty backs. By using a frame made of composite wood, the Enzo has a weight of only 15kg. Thus, the load capacity is also only 105kg.
The dimensions of the Enzo
Total height (with base): approx. 115 – 125 cm
Width backrest: approx. 51 cm
Width seat: approx. 53 cm
Depth seat: approx. 51 cm
seat height: approx. 46 – 56 cm
Height backrest: approx. 76 cm
Available Designs & Accessories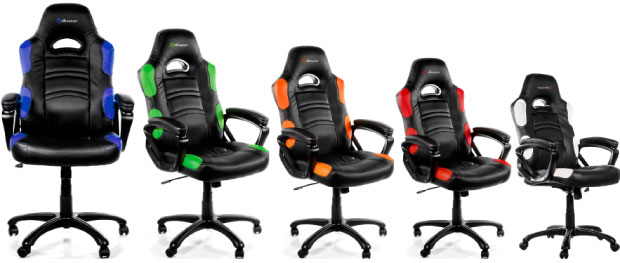 A variety of color designs await you should you choose the Enzo. The black base in combination with the colored highlights provide a sporty and appealing look. You can get the entry-level chair in a black version and in the color version with the highlights in the colors blue, green, orange, red and white.
No additional parts such as cushions or a headrest are available for the Enzo.
Arozzi Enzo size consulting
The design of the Enzo is clearly aimed at gamers of average stature. With a load capacity of 105kg, this gaming chair is rather in the lower range. Although this upper limit is sufficient for most people, it is also an indication of lower durability compared to chairs whose load capacity is sometimes beyond the 150kg mark. The dimensions are very generous, so that the Enzo offers enough space for everyone. If you are between 1.70m and 1.9m tall, you can expect to find a comfortable seat.