DXRacer Formula F08 Test: What does the F-Series offer for the money?
One of the oldest series available on the gaming chair market is the DXRacer Formula Series. So "F" stands for Formula – what does that make you think of? Exactly, Formula 1. The word Formula describes different racing series, so there is the E-, D- or even 1-Series, which we all know.
With the DXRacer Formula Series, the company initially wanted to launch a chair that looks similar to the sports seats of racing drivers and offers a similar seating feel.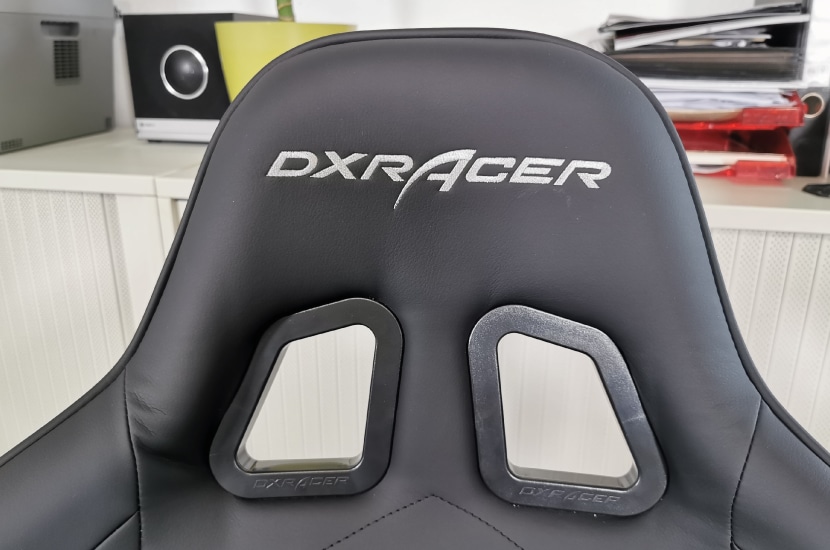 It was the same with the Drifting series. Probably at the time, no one imagined that these chairs would one day be so in demand and famous. Today, you can find the popular gaming chairs at every event. Whether Gamescom, Maxlan or E3 – these chairs were everywhere.
Anyway, today is my DXRacer Formula review: I put every component here under the microscope, test sat the chair for a few full working days and shot a video. After this test you should be absolutely enlightened whether the F-Series is something for your body and whether the quality is right.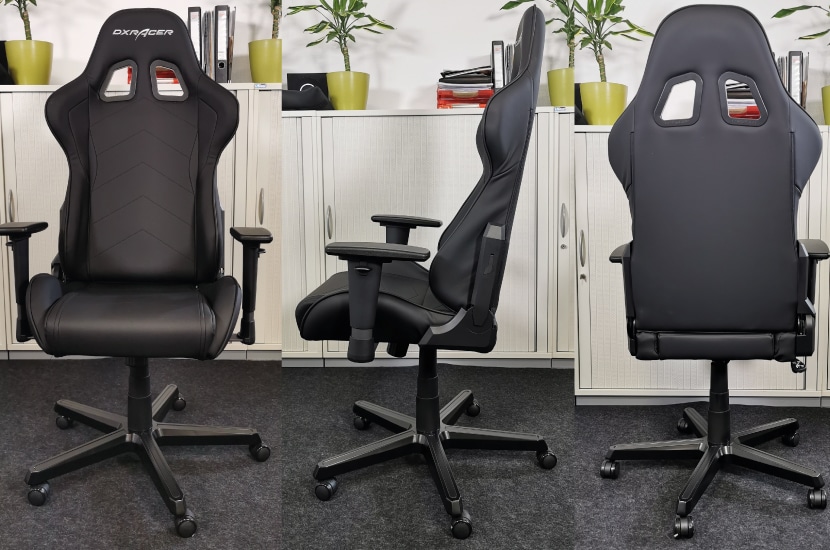 F01, F99, F08, F11, F00 - all F series, but what are the differences?
Besides the F08 group I have here, there are F01, F99, F11 & F0. So there is a Formula series, which is again divided into 5 categories. Each of these categories has then again different models with different equipment, more about that in a moment.
For example, while F08 & F11 have aluminum base crosses and 1D or 3D armrests, F01 & F99 have plastic base crosses and 1D armrests. F01 & F11 are also upholstered in fabric instead of faux leather.
The F00 category differs in terms of upholstery: it features carbon look trim, 1D armrests and an aluminum base.
Attention: FH08, FE08 etc confusing: Partly same prices, different equipment.
My DXRacer Formula in the test belongs to the F08 group, however, there are below the F08 group again different models. As if DXRacer does not already have enough different series á la F-, D-, R- and so on, which cause confusion, each series has many different models again.
It is important to mention here: For example, my FH08 has 3D armrests, while the FE08 only has 1D armrests. But the price is the same. So when you read my review, make sure you get one of the models with 3D armrests. Chairs for around 250€ with 1D armrests are no longer up to date in my opinion anyway.
Otherwise the F08 models are very similar. I hope that I could clarify the whole thing to some extent.
DXRacer1 - also F-Series? What is it?
In addition, there is also the DXRacer1, for example, on Amazon. This belongs to the F series, but is an economy version for those who simply cannot spend more than around 200€ for their chair. This economy version differs accordingly with less padding, 1D armrests and generally cheaper features. My test of it can be found here: DXRacer1 test
DXRacer Formula Test: Components & Features of the F-Series (F08)
The F-Series from DXRacer is available for around $310-340. This means that the probably oldest gaming chair in the world competes with the Nitro Concepts S300, for example, which has a lot to offer in terms of price-performance. Let's take a look at what the Formula Series can do:
Comfort and size advice: this is how tall & heavy you can be to sit well on the Formula series
In the DXRacer Formula test I was again dependent on my 167cm tall test person. According to DXRacer, I'm already too tall for the chair. They say you can be 160-185cm tall, and I'm 189cm tall. Nevertheless, I spent a few days on the chair, just like my test person.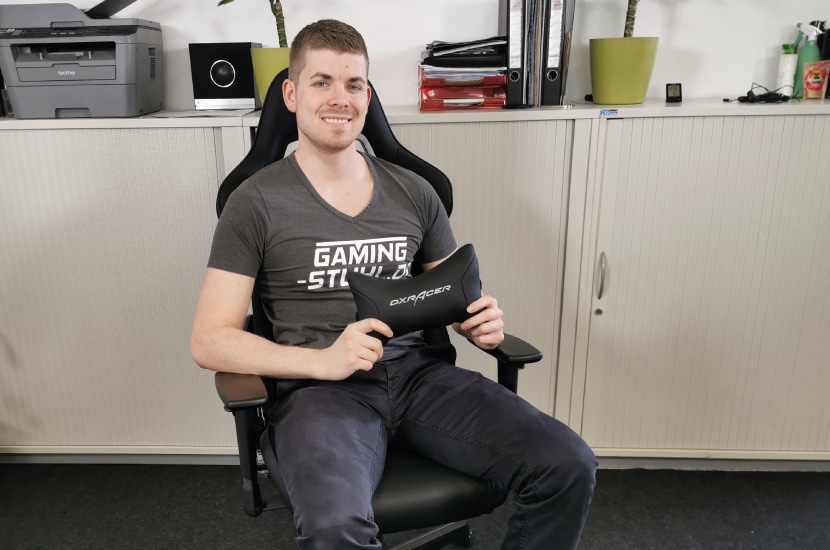 When testing the DXRacer Racing series, it was noticeable that my test person with a body weight of 52kg could not use the rocker function properly, for example. Let's see how it looks with the F series.
The cushion is nice and soft, typical of DXRacer. While there are representatives who use rather hard upholstery, see Arozzi Vernazza or noblechairs & Secretlab, DXRacer has always relied on softer upholstery. This pleases my test person in particular:
Because the hard chairs are too hard for her, unlike the F-Series. The less you weigh, the harder cushions feel, so she feels comfortable here.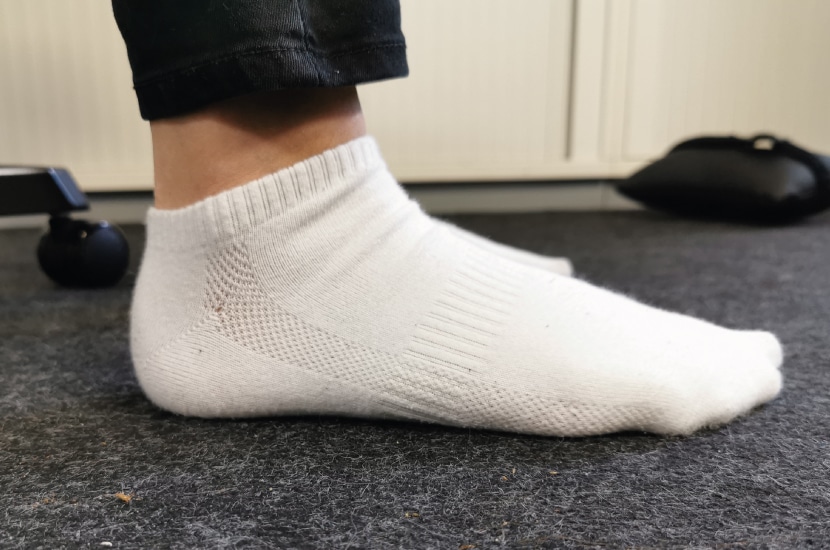 The seat height here is again a few centimeters lower than in the R-series, which is why it is also very good with the feet on the ground here. Everything also fits here in the area between the seat and lower leg.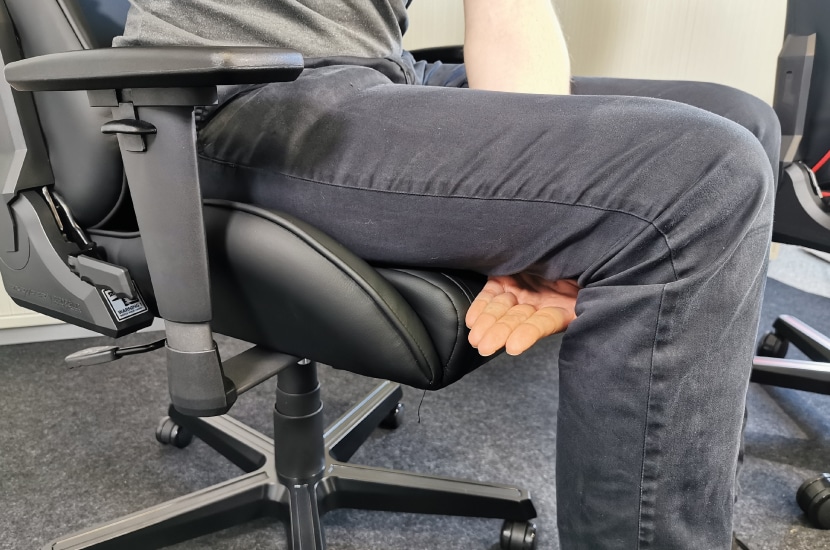 Here you can see me with 189cm on the DXRacer Formula series in the test: Two-finger width are the guideline value that you should have here in air. Guideline means that more or less but is okay.
I'm out here with a whole hand in between. However, as described, I am too tall for this model anyway, I would have to go more towards King.
Overall, however, we both sit comfortably on the chair. Also, the soft leatherette feels good and disturbing here is first nothing.
Seat: pronounced side bolsters adapted to narrow target group
Always a very important point: the side bolsters in the seat area. They are familiar from cars, where they also make sense: They prevent us from flying through the car in sharp curves. In front of the computer, we absolutely never need these side bolsters, and many people are annoyed by them because they can restrict legroom.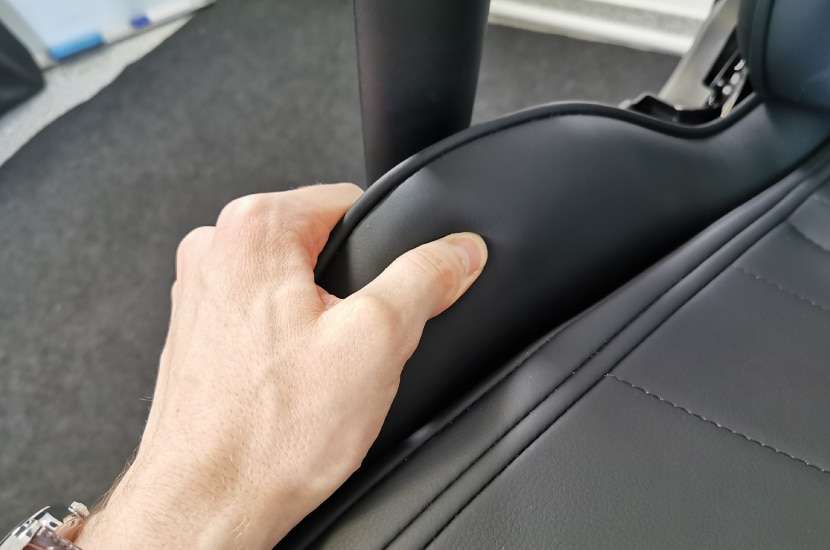 Behind these cheeks are steel tubes that give the chair its shape and are still upholstered. The side bolsters of the DXRacer Formula series in my test are quite pronounced and underline the criterion that a buyer of this chair must meet: slimness.
I generally like to sit with my legs wide apart or put my foot up sometimes. I can only do both to a limited extent here: I notice the chair's design almost constantly and the space in the seat area is enough, but I would prefer more.
My test person sees it differently: with 167cm and 52kg body weight, she has enough legroom. Because she is smaller and narrower, my criticism is superfluous for her. So here it depends strongly on your physique.
For example, she also likes to sit like this. In this case, she even praises the side bolster because her feet find support on them in this position. Accordingly, it's a very individual thing. By the way, I find the side bolsters less constricting in the R series because they are much smaller here.
Backrest: Also side bolsters in the middle back, less than Racing.
The backrest of the F08, like its brothers, sisters and sundry (gender equality, you know it) of the DXRacer Formula series, is also equipped with side bolsters that only fit the narrower target group.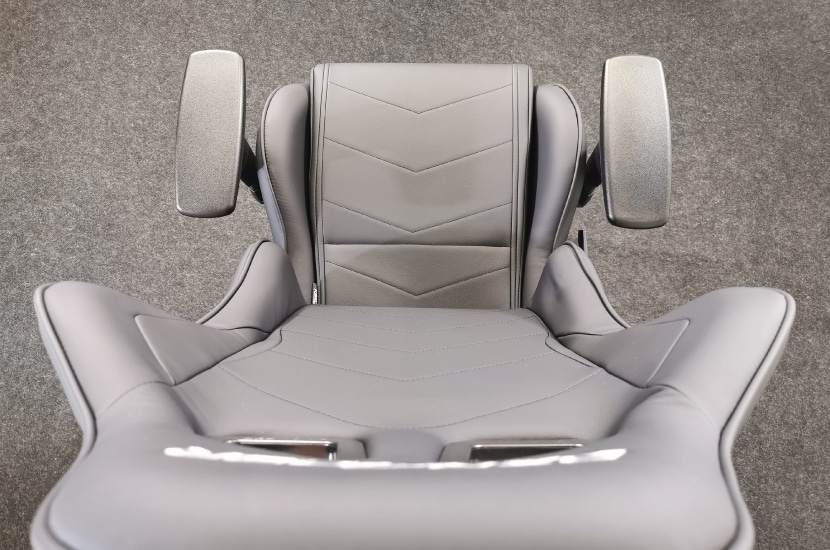 While the side bolsters in the seat area are more pronounced in the F series than in the R series, it's the other way around for the bolsters in the back area: I have it tighter in the R series than here in the F series. Here I have a little more space in the area of the hip to the latissimus muscle.
With the R series, I already felt the side bolsters on my ribs when I took a deep breath, but not here. So we have a narrower seat and a wider backrest. Why they thought of that may not be clear to me.
In any case, you sit in a relatively straight posture in the Formula series because the side bolsters force you to do so. That's not bad in principle, as long as you can still vary your sitting position.
After all, the most important thing about ergonomic sitting is the dynamics: frequent repositioning ensures a varied load on the back structures.
Rocking Mechanism: Needs body weight & height
In order to use the rocking function well, 2 things must be given: The person must be tall & heavy enough. When testing the R-Series, my 167cm tall & 52kg test subject had difficulty: She wasn't tall enough to push off the ground & rock, plus she didn't bring enough weight.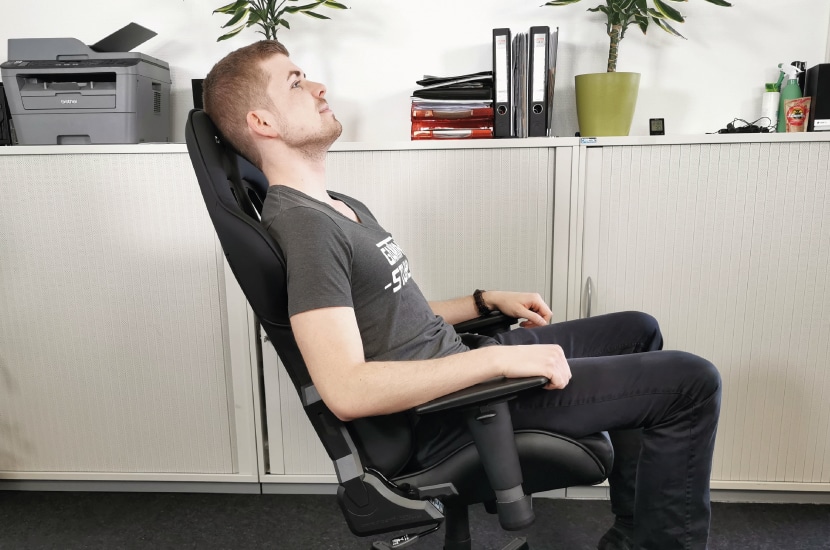 DXRacer states a recommended weight of at least 60kg, because to rock well you also need to have some body weight to put into the backrest.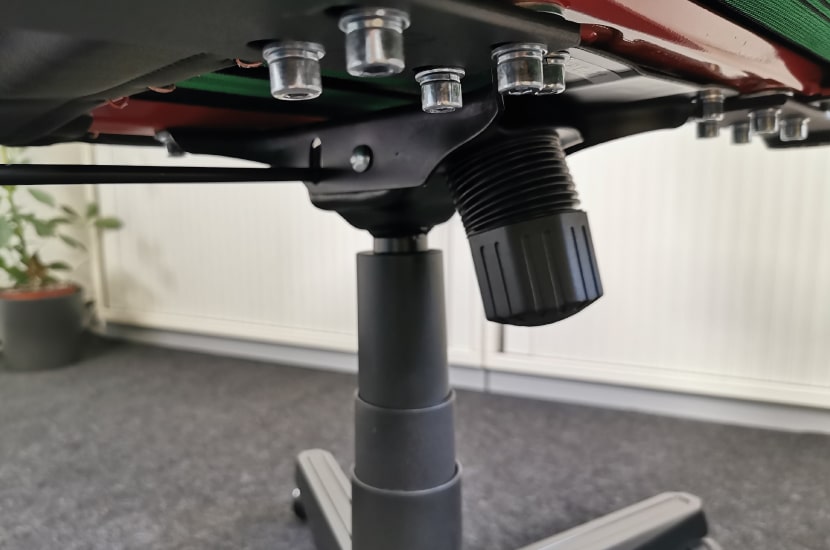 In the test of the DXRacer Formula Series, it already succeeds much better. The reason for this is that the chair is a bit lower, also because of the smaller casters. Rocking is thus still very good here with 167cm & 52kg, even if the entire rocking function is not exhausted.
Conclusion: You can be that big and heavy for the F-Series:
I do not really have to correct the body sizes that DXRacer specifies this time. There it is stated that 160-185cm at 60-80kg are fine. I see it at least similar. The sidewalls are already quite borderline at 189cm & 82kg, in the back area goes's.
I'm only not sure about one thing: And that is whether you can actually use the rocker mechanism to its full extent with 160cm body height. I suspect that this is not the case. Whereby it must be said here that there are probably also no alternative chairs for very small people.
Overall, in my estimation 165cm-185cm is fine and I would also say that you can't be heavier than 80kg. Otherwise it will be too tight with legroom. If your physique doesn't quite pass for slim anymore, I recommend taking a look at the S300.
DXRacer Formula test: armrests, cushions and other components
Before I finally tell you about the build quality and close the bag with a conclusion, I would like to introduce you to the remaining components of the DXRacer Formula F08 and give my assessment:
Imitation leather cover with pleasant feel (fabric if necessary)
My F08 is equipped with a PU synthetic leather. However, there are also F-series models that are covered with fabric, like the F01 or F11. In any case, the artificial leather of the F-series feels very pleasant.
The same synthetic leather is used as in the Racing Series, for example, and it is characterized by a particularly soft feel. The softest synthetic leathers that I have seen in gaming chairs are used here. Compared to inferior synthetic leathers, the breathability should also be better here.
However, PU leathers are not really breathable, even though there are differences. At 24° room temperature, however, I do not sweat on the chair. It only gets unpleasant for gamers who generally sweat a lot or have to endure hot summers in the attic.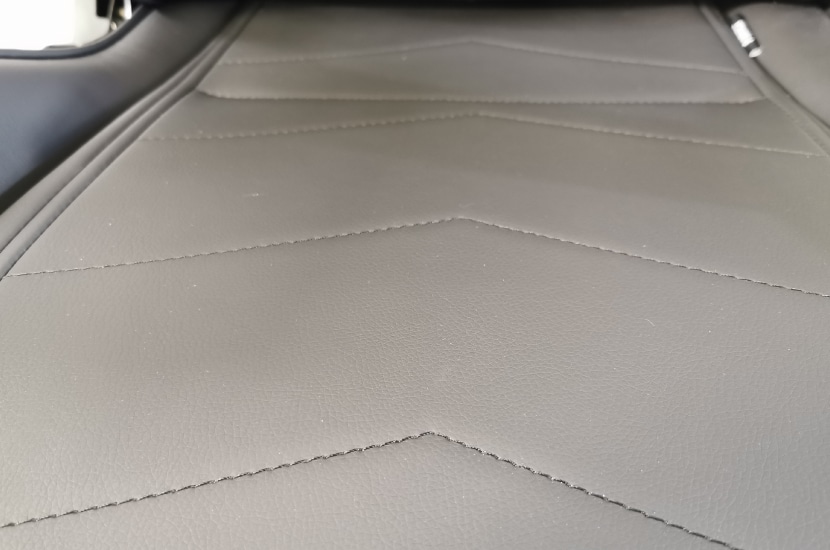 Covers have REACH certificate
The covers from the house DXRacer are REACH certified. This is an EU regulation that certifies products if they remain below the limits for certain chemicals. It even bans the use of some chemicals altogether.
Since this material is certified, we can assume that we don't have more chemistry in the cover here than is necessary. Good thing!
3D armrests with soft plastic (also 1D)
My DXRacer Formula F08, or more accurately FH08, came home to me with 3D armrests. However, caution is advised here: There are also models like the FE08, which only has 1D armrests at the same price. This system seems incomprehensible to me, but if you look around for the Formula series to buy, pay attention.
In any case, the 3D armrests do what they are supposed to: Provide space for the forearms.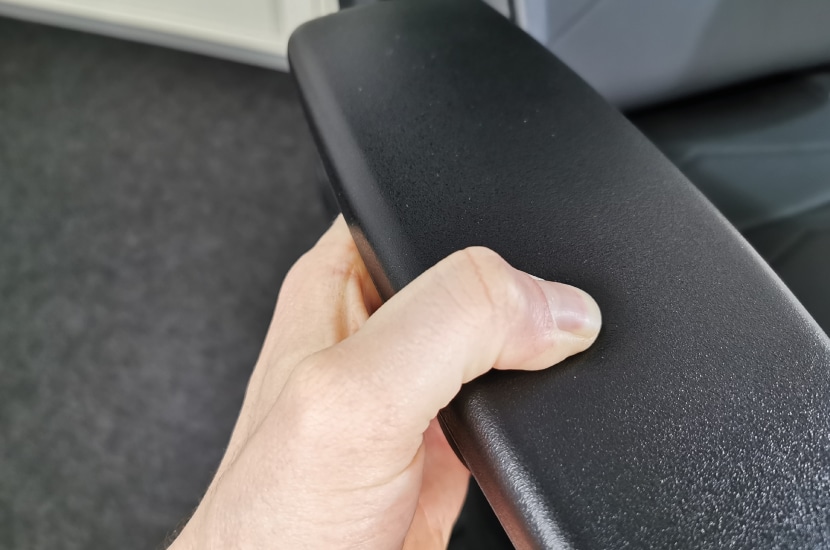 Due to the fact that the pad is made of a soft plastic, putting the bare arm also feels good.
The lever on the right can of course also be used to tilt the backrest. While up to 180° to the seat surface was common here in the past, the madness has been reduced to a reasonable 135°.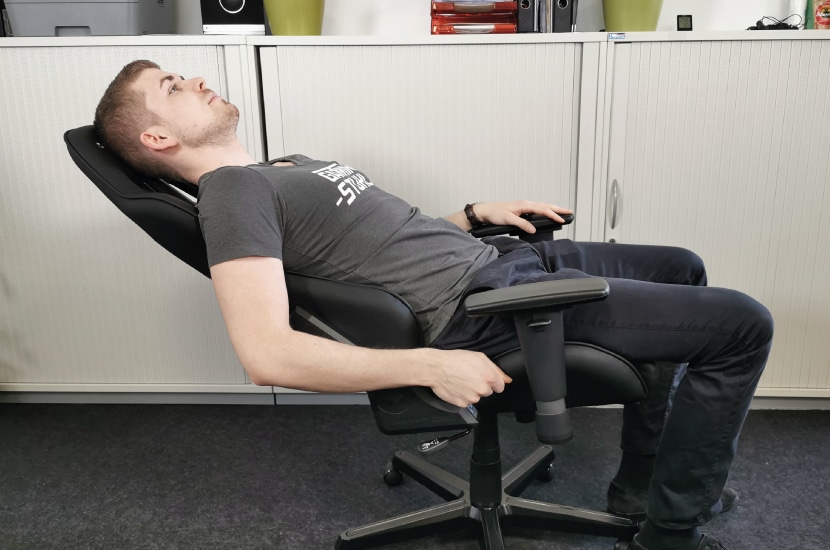 Because this angle is quite enough to lean back comfortably and watch videos or movies in front of the computer.
Lumbar and neck pillows: Partly worthy of criticism
Personally, I don't like neck pillows that are covered with imitation leather. I find the material too rigid and uncomfortable. The lumbar cushion of the DXRacer Formula F08 is also a bit too big for me, which is why I prefer to sit on the chair without it.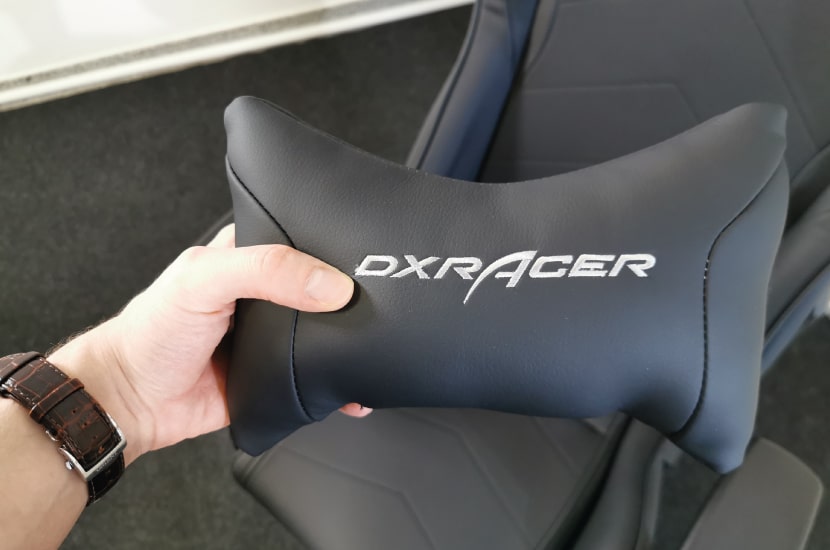 My test person sees it differently: The PU cover doesn't bother her at all and the size is optimal for her neck area. It must be mentioned here that the feeling depends on the person, his preferences and his personal anatomy.
In addition, the pillow can either be put over the headrest or clamped by a supplied plastic part at the belt holes.
We both take a slightly different view of the lumbar pillow. Almost every manufacturer makes these cushions just too big in my opinion. After all, they're only supposed to fill our lower lordosis, or hollow back.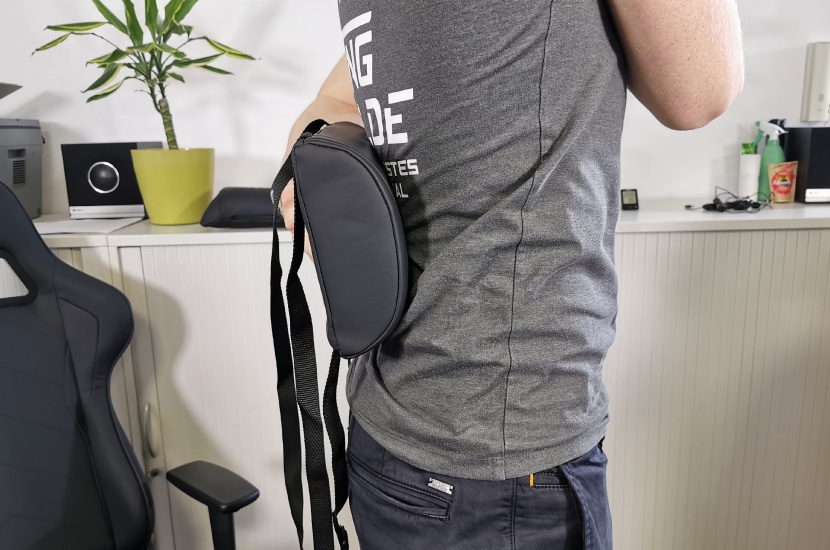 However, when I use this pillow, I am forced into a more hunched back than I have. If that's the case for you, too, then don't use it. You can tell when the pillow is too big, for example, because it forces you to stick your stomach out when you sit.
So what we need here is smaller and/or more adjustable, compliant cushions. I can't imagine this pillow will fit very many backs.
Base & casters: Model dependent
The rollers are the same for all models of the DXRacer Formula series: They are approx. 5cm large plastic rollers.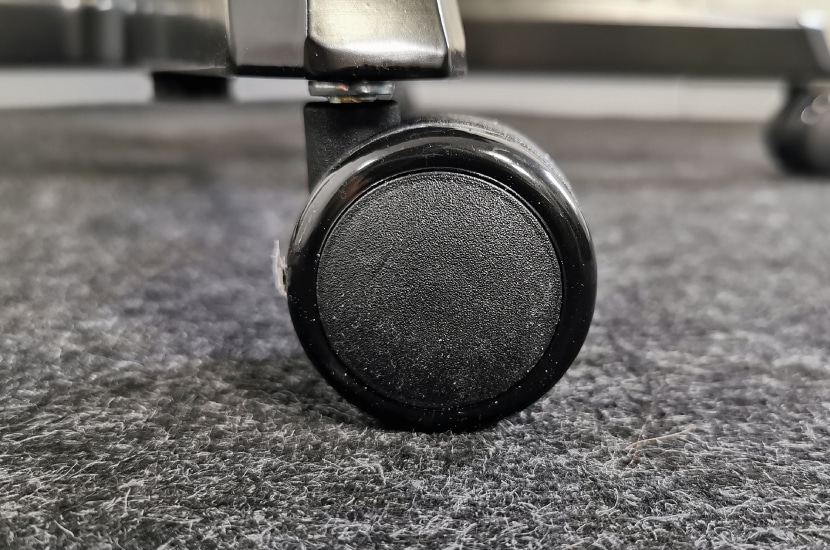 These also roll smoothly. Larger rollers run a bit more smoothly, but the rolling characteristics are also completely okay here and will not be noticed negatively by anyone.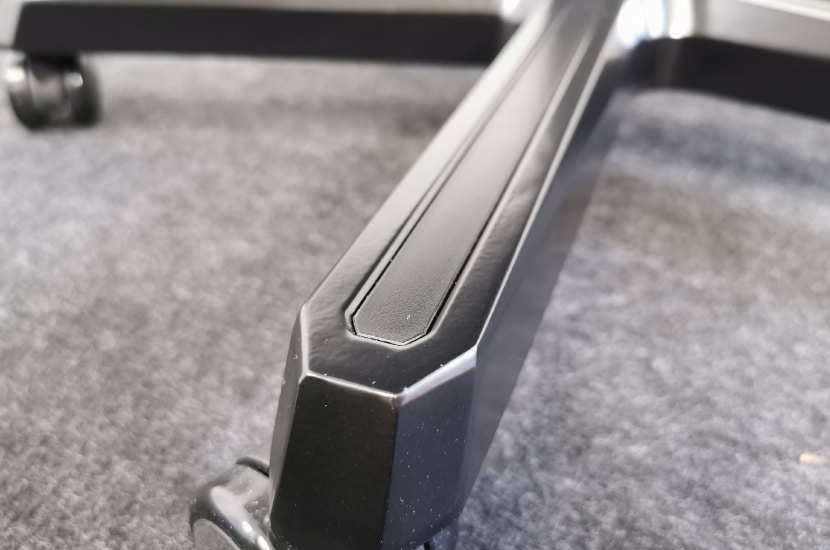 The design of the base again depends on the model: here are some that are made of aluminum and have colored inserts, but also some made of plastic. In the F08 series, all chairs have an aluminum base.
Workmanship & quality: Is the DXRacer Formula series worth the money?
The F series costs around $300 depending on the model. I bought my F08 last year on Black Friday. The question is: Are workmanship & quality here on a level that fits the price of the chair?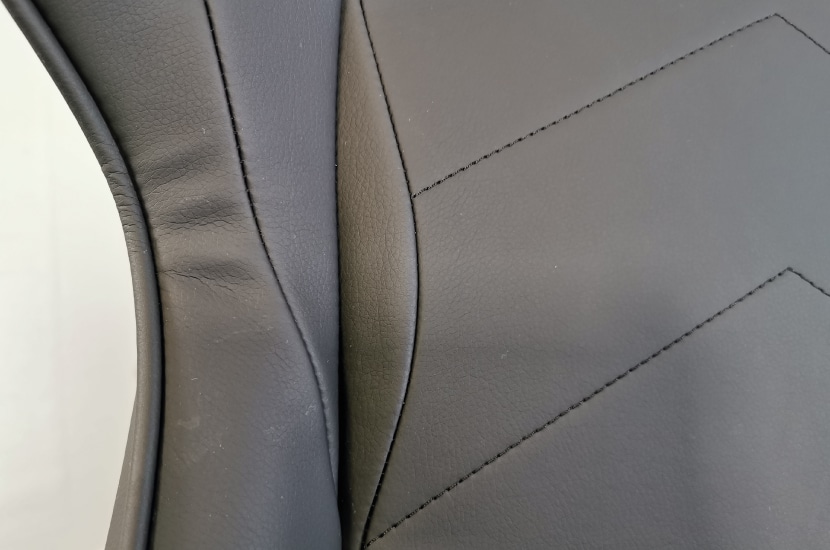 The seams run very straight, there are no lops or the like. Those who have seen the DXRacer Racing test will have noticed that I have found some obvious flaws in the workmanship. A few small defects, which are less obvious, are also present here: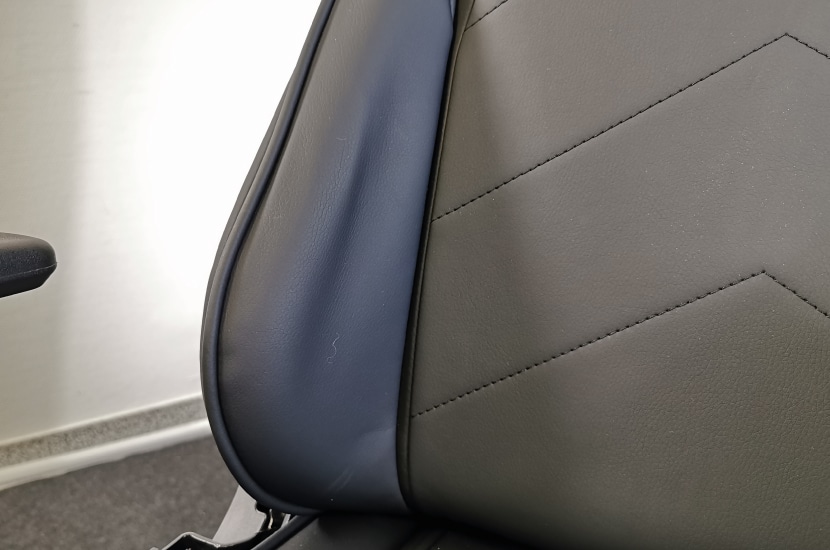 Thus, we see a dent here on the left side cheek in the lower back area.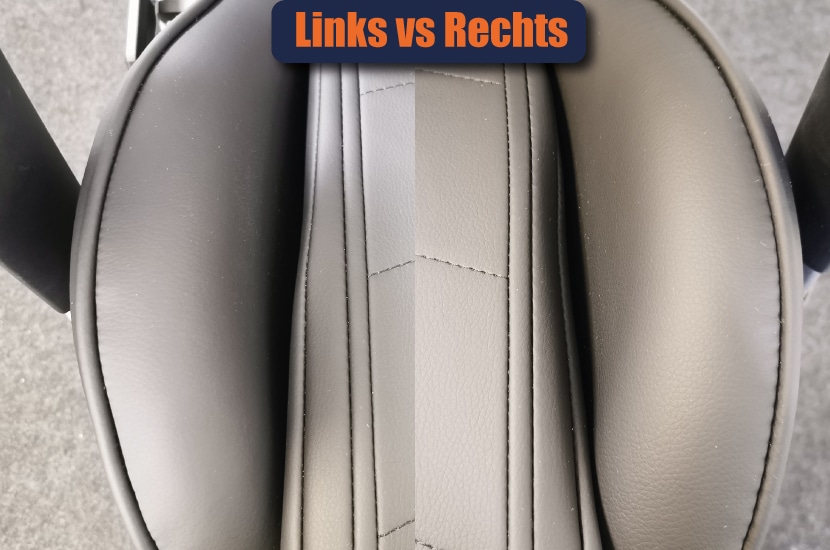 Here, the distance between the seat cushion and the side panel is greater on the left than on the right. The PU components have also been sewn slightly differently on the sides.
But that's all there is to it. Whether these little things must be is again the question. Schöner wär's without these small errors, at a price of about $300 I find too much.
Conclusion: Buy DXRacer Formula? Final test recommendation
The Formula Series from DXRacer has turned out well. My test subject and I both sit very well on the chair and we have very few things to complain about. What makes the chair stand out:
As shown, the workmanship has a few small issues that we can't overlook when using it. The lumbar pillow is too big for both of us, which is why we don't recommend using it if it feels weird in your back as well. The backrest offers support even without the cushion.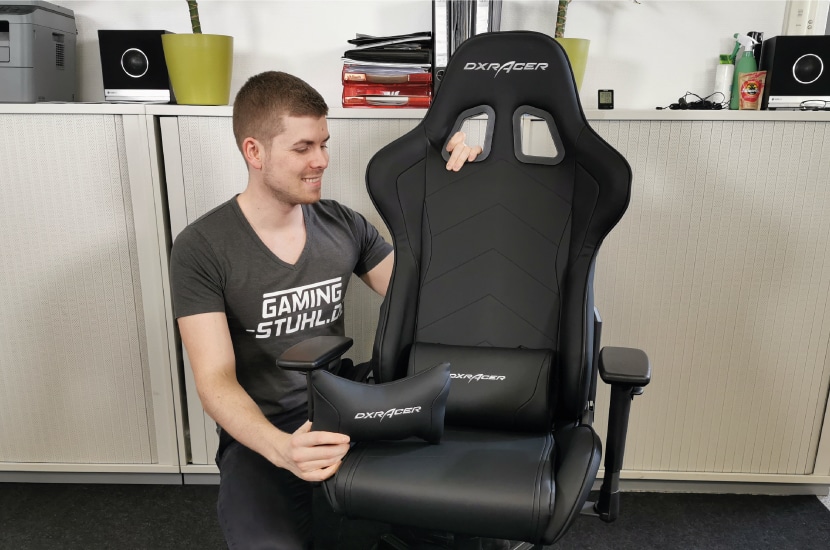 What really bothers me are the absolutely confusing model designations. DXRacer already has quite a few series, but then to divide an F-series into 5 sub-series (F08, F11, etc.) and then offer models with different features for each sub-series, that really doesn't have to be the case. At least the armrests could be upgraded:
Because between the many variations, there are still models with only height-adjustable 1D armrests, which are hardly up to date and have no place at prices around 260€.
Alternative to the Formula series for wider gamers
If you are built wider, the F-Series is not suitable for you. If you are still looking for a cheap chair and don't want to spend $350 and more for the larger space, I can recommend my Nitro Concepts S300 review. The S300 offers significantly more space, has flatter side bolsters, is available in fabric or PU, and delivers mega for its price of around $233.