Marco's top 5 gamer chair recommendations
I always emphasize that there are three basic criteria that must be met when buying a gaming chair:
The chair must fit into your budget,
you should like it visually and
Size & stature must fit your dimensions.
So much for that. However, since I am often asked "Which chairs are the best?", I have picked out the 5 most recommendable chairs in my opinion. Marco's Top 5 should help you to find the right chair quickly. Good luck!
Update 2021: Admittedly, it's no longer a Top5, because there are now too many really good chairs on the market for that. Therefore, it is now a Top6 or 7, which consists of hand-picked and recommendable models.
Sustainable, comfortable & good-looking: Backforce One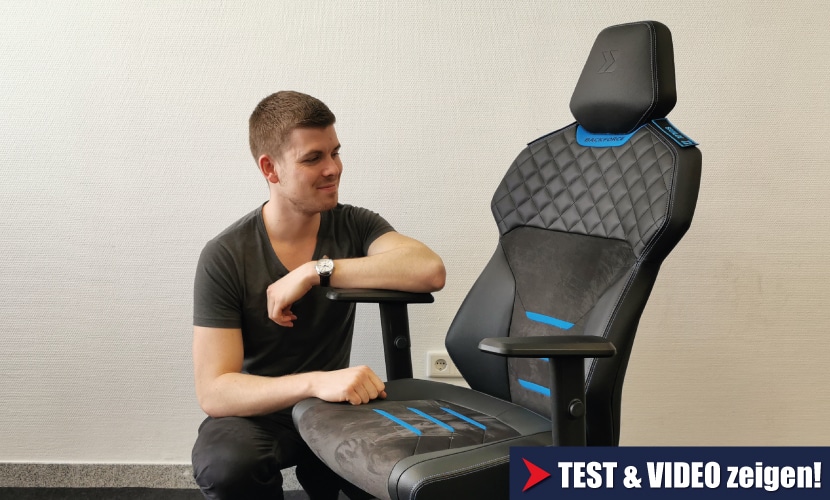 The Backforce One – a chair that comes with particularly high-quality ergonomic components. Price-wise, it doesn't seem like a bargain at first, but it's definitely worth the money. It is handmade in Germany, benefits from 5 decades of experience in the construction of ergonomic seating and looks great. Besides, it is 100% recyclable, which is good for the environment. With its very high comfort level, it delivers neatly on several levels.
Secretlab TITAN & noblechairs HERO
Two equal giants, which is why the two share the space. High-precision workmanship, high-quality materials, and the whole thing comes in a completely innovative guise. The fresh silhouette not only looks elegant, it also offers special ergonomic advantages: It doesn't pinch the back, shoulders and thighs are free, and the back of the head is gently supported (the HERO even has memory foam in the headrest).
Another special feature is that HERO and TITAN can also be purchased with genuine leather covers, and TITAN with fabric covers. In addition, the two shine with neck cushions (the TITAN even with memory foam) and an ingenious look with decorative stitching. An optimal interplay of sports seat design and at the same time generous space round off the luxurious overall picture.
Extremely many functions, high quality & convenient: Secretlab TITAN Evo 2022
Brand new is the Secretlab TITAN Evo. A combination of the two previous models of the Secretlab series with a wealth of new & useful features that significantly improve your seating comfort in the long run. Highly crafted & thought out in every detail, the Evo is one of the biggest surprises this year for me:
Absolute price-performance champ: S300 & X1000!
No chair has been able to score with such an extraordinarily good price-performance ratio as S300 & X1000 from Nitro Concepts. Here you really get an incredible deal for a chair that can be had for as little as $233-245. You can expect a comfort experience that hardly has to hide from chairs that are a good $100 more expensive. That means:
The S300 & X1000 are very generously padded for this. In other models in the price range are often palpable, for example, the steel frame, because the struts are not reasonably upholstered. This is not noticeable here at all, on the contrary: Anyone who does not know the price would think the chair is beyond $300!
Upper class from AK: the Master Pro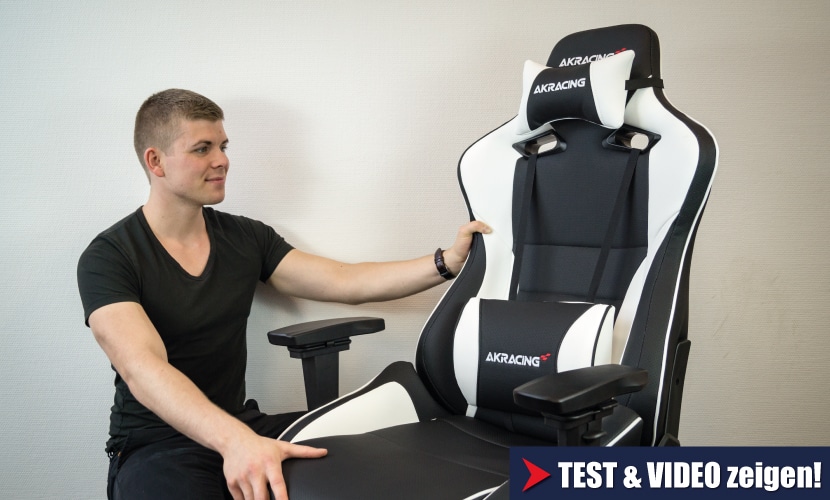 The AKRacing Master Pro is the predecessor of the ProX and basically the counterpart to the K-Series of DX. It is loadable up to 150kg and is suitable for gamers with a body height between 167cm & 203cm. Likewise, it features 4D armrests, a tilt & rock function, and adjustable lumbar & neck cushions. I can recommend this chair especially to somewhat obese gamers but also friends of comfort and free space are served. I, for example, prefer to sit on King and ProX although I am certainly not a heavyweight with about 85kg. One of the gaming chairs with the best seating feel – see for yourself: ▷ Master Pro in the test!
The S300 is very generously padded for this. In other models in the price range, the steel frames are often palpable, for example, because the struts are not upholstered properly. You don't notice that here at all, on the contrary: If you didn't know the price, you would think the chair was beyond $350!